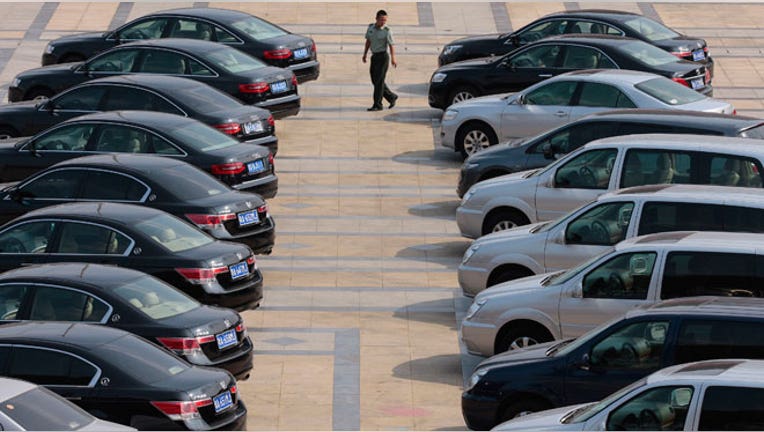 U.S. auto sales in January are expected to continue the torrid pace set at the end of last year, with sales rising as much as 15 percent due to an improving housing market and pent-up demand for cars and trucks.
The industry is expected to report on Feb. 1 an annual sales rate in January of 15.3 million vehicles, according to analysts polled by Thomson Reuters. Auto sales are an early indicator each month of U.S. consumer demand.
J.D. Power and LMC Automotive, in a joint press release, said they expect U.S. retail sales in January to reach the highest rate in five years. Including fleet sales to commercial customers, the research firms expect an annual sales rate for the month of 15 million vehicles. That would follow the strong showings in November and December, when the rate topped 15 million.
"The year is off to a fast start, which bodes well for the remainder of 2013," J.D. Power Senior Vice President John Humphrey said. "Sales remain on a trajectory to return to pre-recession levels within a few years."
While U.S. consumer confidence deteriorated during the recent "fiscal cliff" debate in Washington, auto sales have remained strong, rising 13 percent last year to 14.5 million vehicles.
In addition, the price of U.S. homes being sold rose again in December, indicating a housing recovery remains on track. A strong housing market typically translates to increased sales of pickup trucks, which drive profits higher at the U.S. automakers General Motors Co, Ford Motor Co and Chrysler.
Steve Winters, general manager of Fox Grand Traverse in northern Michigan, a dealer who sells several brands including Ford, BMW, Mercedes and Mazda, said consumers in January didn't mention the fiscal cliff talks. "It's business as usual," he said. "Business is good. We're up."
Overall, executives and analysts have forecast industry sales in 2013 to rise to a range of 15 million to 15.5 million, although some suggested estimates will rise. J.D. Power and LMC, citing the strong end to last year and start to 2013, raised their forecast for this year by 100,000 vehicles to 15.1 million.
Another plus for the industry is the expected increase in sales occurred despite a decline in consumer incentives and the ebbing benefit of delayed sales caused by superstorm Sandy last fall, analysts said.
"It does appear retail strength is accelerating sequentially, perhaps owing to the passing of fiscal cliff concerns," RBC Capital Markets analyst Joseph Spak said in a research note.
He pointed out that January is typically a slow sales month, so a small change in sales can have a large impact on the annual sales rate for the month. Spak said he expects 2013 industry sales of 15.1 million vehicles, though that number could rise.
Another factor driving demand, which has been cited repeatedly by industry officials, is the rising age of cars and trucks on the road. The average age has increased to just above 11 years, an all-time high.
J.D. Power and LMC, as well as J.P. Morgan, see January sales up 8 percent from the prior year, while RBC and Edmunds.com have forecast increases of 15 percent and 14.5 percent, respectively.
J.P. Morgan sees an annual sales rate in January of 15 million, while RBC and Edmunds estimate 15.4 million and 15.3 million, respectively.