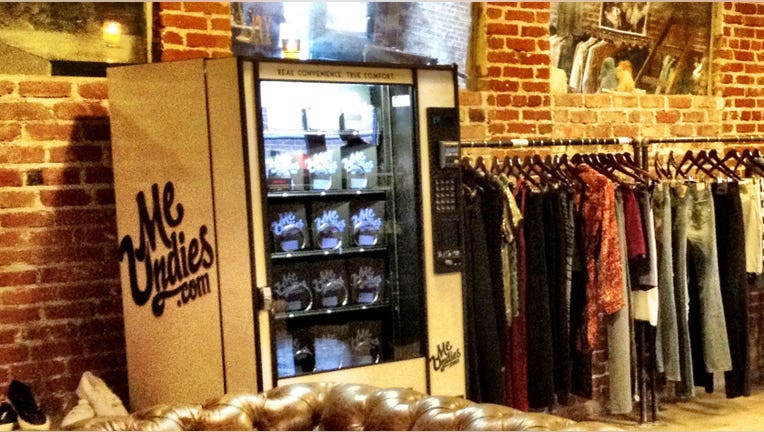 When Sprinkles opened a 24-hour "cupcake ATM" outside of its flagship store in Beverly Hills earlier this month, news outlets were all over it.
Only a few of those news outlets mentioned the vending machine a few miles away that happened to be selling unmentionables.
That's right. In the same way that they buy Snickers and Skittles, shoppers in Los Angeles can just as easily buy a new set of skivvies.
Spearheading this concept are Barak Diskin, 28, and Jonathan Shokrian, 27, the founders of a fledgling e-commerce company called MeUndies that sends basic apparel to subscribers each month.
Diskin says the idea to create automated underwear dispensers came from a desire to make buying underwear more convenient, particularly for avid travelers like himself whom often find themselves short a pair or two. He envisions the vending machines being installed at hotels, airports and boutique clothing stores that don't typically carry basic apparel.
"We said to ourselves, let's not focus entirely on just reinventing the way the product is sold, but where it's sold and how it's thought about," he says.
MeUndies' first and only vending machine to date is at Confederacy, a men's apparel boutique in Los Angeles. The machine holds about 200 pairs of men's underwear in a variety of sizes, styles and colors. Each pair costs $16, the same as it does through the company's website.
MeUndies isn't the only company that has jumped on the "automated retail" bandwagon. Two of the best known are Best Buy (NYSE:BBY), which sells electronic gadgets through Best Buy Express vending kiosks at airports and hotels, and RedBox, which has transformed the movie-rental industry by making DVDs available at the push of a button. Some lesser-known companies include Rollasole, which sells disposable ballet flats at vending machines in clubs in the U.K. and Las Vegas, and Gold to Go, which makes ATMs that dispense physical gold. (Yes, seriously!)
Diskin says reaction to the machine has been positive so far. He says customers enjoy the novelty of it – so much so that, when the credit-card reader stopped working and Confederacy offered to sell the underwear from the back of the machine, customers wouldn't have it.
"People love it," he says.
MeUndies' next vending machine will be placed at a women's store in New York, though Diskin could not reveal where. He said he would love to have 10 or 20 more machines installed by the end of the year and believes the underwear dispenser has the potential to become standard at airports someday.
"It's kind of surprising to me that it's not already," he says.