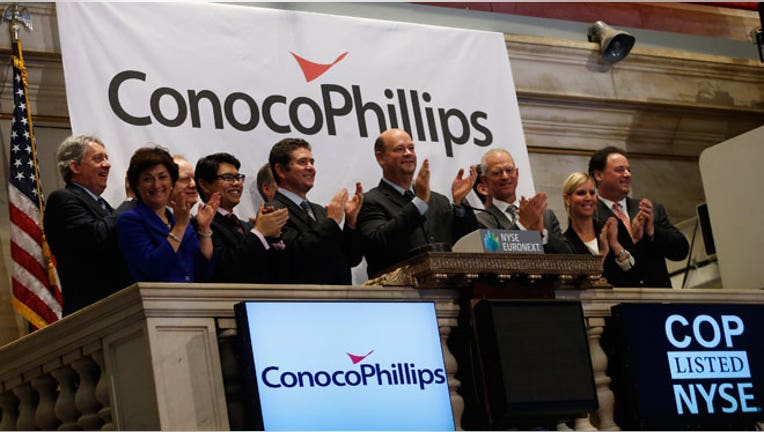 ConocoPhillips (NYSE:COP) reported a 74% surge in its fourth-quarter earnings, as gains related to asset sales offset declines in revenue and production.
The Houston-based oil and gas company said Thursday its profit jumped to $2.5 billion, or $2 a share, from $1.43 billion, or $1.16 a share, in the same period a year earlier. Adjusted earnings, which exclude the impact of asset sales and other one-time items, slipped to $1.40 a share from $1.43.
Total revenue and other income dropped 15% to $13.99 billion.
Analysts were looking for an adjusted profit of just $1.31 a share but stronger revenue of $15.13 billion.
ConocoPhillips said it received $7 billion in proceeds from asset sales in the latest period. The company has been shedding assets, such as its Algeria business, to focus on more profitable areas. For all of fiscal 2013, ConocoPhillips logged $10.2 billion in proceeds.
Meanwhile, production was down 5.9% on an oil equivalent basis, partly due to disruptions in Libya. Average realized prices ticked 3% lower overall.
ConocoPhillips estimated that its proved reserves totaled 8.9 billion barrels of oil equivalent at the end of the year, 3% higher than 2012. Proved organic reserve additions were estimated at 1.1 billion BOE. Asset sales last year reduced reserves by 188 million BOE.
Phillips 66 (NYSE:PSX), which was spun off from ConocoPhillips in 2012, reported on Wednesday a 17% gain in fourth-quarter earnings. The company said it exported a record volume of refined products during the period.
Shares of ConocoPhillips edged 21 cents lower to $65.61 in recent trading.