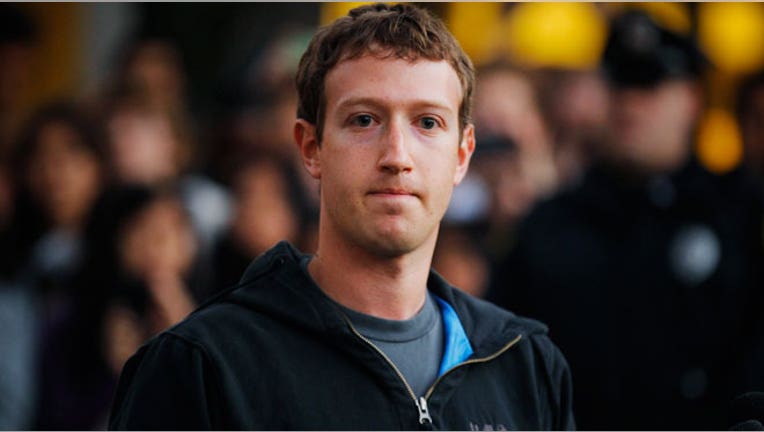 As Facebook attempts to convince investors at next week's road show that it deserves a lofty valuation north of $75 billion, the social network is likely to confront understandable skepticism about its fledgling advertising platform.
This doubt is being fueled by the difficulty of accurately measuring the relationship between spending ad dollars on Facebook and a positive impact on the bottom line.
"It tends to be akin to dark matter: People are confident it's having an effect, but they haven't been able to quantify it," said Wes Nichols, CEO of cross-media analytics firm MarketShare.
For Facebook and CEO Mark Zuckerberg, which are in a careful balancing act between pleasing users and placating data-hungry advertisers, this is a crucial question that needs to be answered in the coming quarters.
After all, Facebook relies on ad sales for 85% of its $3.71 billion in annual revenue and later this month it's likely to become the largest Internet IPO ever.
"Bringing it to the public market is going to be a big shift in philosophy for the company because they're going to have drivers forcing them to focus more on the dollar than the user," said Todd Steinman, CEO at M80, a GroupM social-media marketing provider that is owned by the WPP Group (NASDAQ:WPPGY)
Ripple Effect
Facebook has a slew of advertising characteristics that support the enormous potential its valuation implies. The social network's pool of 900 million users is unrivaled and comScore (NASDAQ:SCOR) estimates that one in seven overall minutes spent online are spent on Facebook.
This massive scale along with coveted attention combines to create a word-of-mouth effect that can make advertisers drool.
In this valued phenomenon, marketers are able to influence customers' decision-making by highlighting friends' approval of goods and services. For example, consumers are much more likely to splurge on a Sony (NYSE:SNE) TV if a friend has already endorsed it through a paid ad on Facebook.
"We know where word of mouth sits in the decision-making process. It's at the top," said Steinman.
Facebook also tends to have an ability to amplify the effectiveness of advertising in traditional media like TV and print. For example, a video of a hilarious DirecTV (NASDAQ:DTV) commercial that is "liked" by friends on Facebook can fuel conversation that eventually leads to a rise in subscriptions.
"The ripple effect that is caused by these other activities that can make its way to social media is something we're having success measuring and linking P&L to," said Nichols. He called this process an "assist rate," explaining, "It's not always the one getting the point, but it's the one influencing getting that point."
It makes sense that fans of Starbucks (NASDAQ:SBUX) visit the coffee giant's website 418% more than the average Internet user, according to comScore.
But the research firm also said in a 2011 report that friends of these fans visit the site 230% more than the baseline and – more importantly to shareholders – fans and friends of fans spend 8% more per buy and generate 11% more transactions than the average Internet user.
Advertising Obstacles Loom
Thanks in part to these promising characteristics, Facebook is the largest publisher of online display ad impressions, publishing 28% of these ads as of the third quarter of 2011, according to comScore.
However, all of this hasn't yet translated to a corresponding share of ad budgets. In October 2011, social networking websites received just 14.8% of overall estimated display ad spending, comScore said.
"There is a lot of headroom for share shift towards social media platforms but what's going to have to come first is a more transparent and believable form of measurement that will convince marketers to accelerate that share shift," said Nichols.
While 84% of North American execs in a new eMarketer study believe social-media campaigns increased marketing effectiveness and sales efforts, over 50% believe the lack of a standardized metric that can measure a return on investment remains a major obstacle.
"The onus is on Facebook to provide the answers and educate the media buying unit around what the value is," said Steinman.
Facebook reported a 37% year-over-year leap in ad revenue to $872 million in the first quarter, but a 7.5% decline sequentially due to "seasonal trends" and shifting user growth.
Some of the skepticism stems from the fact that social media is far less transactional in nature than Google (NASDAQ:GOOG), which generated $8.31 billion in ad sales last quarter.
Emphasis on Users Rattles Advertisers
At the same time, Facebook has been understandably reluctant to do anything on the ad side that could disrupt user experience and lead to a decline in users or engagement.
"Facebook is turning the dial slowly to see what the pain threshold is for their users," said Steinman. "They're extremely afraid to shake up the user experience in exchange for ad revenue."
Facebook has repeatedly turned down requests from advertisers that could rile users. For example, it usually doesn't allow ads to be tagged with "cookies" that track users' activities following an ad click.
"A lot of other platforms are much more willing to break the user experience and be more flexible," said Ben Bloom, digital strategist at Wunderman, the largest digital network in the world and also a member of the WPP Group. "From a creative perspective, I think there is a very big disconnect. That can be shocking and disruptive for an advertiser used to having a little more influence and used to being listened to."
To be sure, this focus on protecting the user experience only makes sense. After all, advertisers would have little reason to buy ads on Facebook if the social network suffered an exodus in users.
Hunger for Better Data
All of this helps explain why Facebook can provide specific data on fan growth and engagement, but often not on how many users actually pull the trigger and make a purchase.
Some advertisers "are becoming more skeptical as they are not able to connect the dots to purchase to give them the confidence that's where they want to continue to spend their money," said Steinman.
A Kia Motors executive summed it up to The Wall Street Journal this way: "The question with Facebook and many of the social media sites is, 'What are we getting for our dollars?'"
Of course, it's important to remember Facebook is just beginning to zero in on advertising after years of neglect to focus on users and technology.
As this advertising model evolves and more accurate metrics become available, the dots will finally be connected for ad buyers, Steinman said, predicting this could happen in the next 12 months.
In the mean time, analytics firms are striving to guide marketers in their quest to find better metrics on the impact of social media spending.
Last month MarketShare unveiled a new platform in tandem with Adobe (NASDAQ:ADBE) that strives to help marketers optimize their resources.
"The good news for social media companies is we're seeing more clients than not mis-measuring and underestimating the effects of social media on their business," said Nichols of MarketShare.