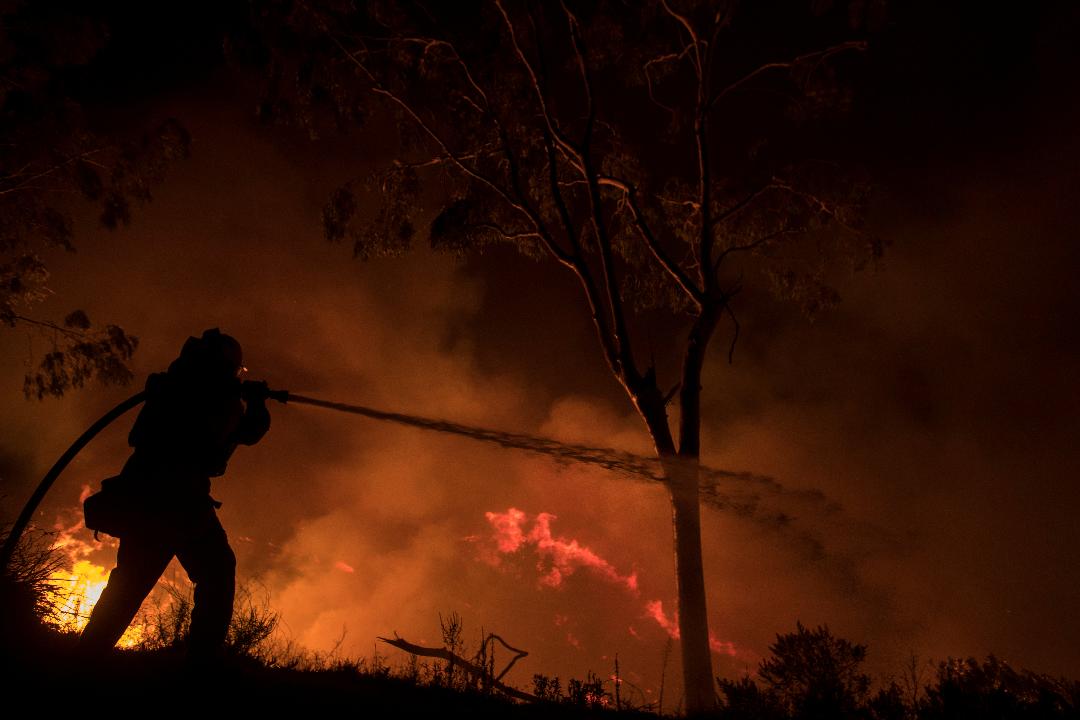 As Southern California continues to battle several of its most destructive wildfires in state history that have destroyed over 141,000 acres and forced nearly 200,000 residents to evacuate their homes, many of the country's top insurers are sending in private firefighters to salvage anything they can.
The push comes as property damage claims have surpassed $3.3 billion this year from devastating wildfires in Northern California that burned across its treasured wine country less than two months ago.
Viraj D'Costa, lead analyst at IBISWorld, a research firm, told FOX Business that the wildland suppression this year left insurers no choice but to step in as soon as they could, narrowing their focus on its biggest ticketed properties.
"The largest insurers currently using private firefighting services include Chubb Ltd., PURE and USAA, which have focused spending on these services to their most wealthy clientele," D'Costa said.
Six of the largest fires currently raging are hitting some of California's priciest zip codes, including Los Angeles, Ventura, and San Diego counties, which are home to many of Hollywood's elite.
Chubb (NYSE:CB), PURE, USAA, and Allianz have all confirmed to FOX Business that they are currently using private firefighters in California to help give them on-the-ground insight and to possibly help retain the situation for their members as much as possible. Other insurers like State Farm and Travelers, however, said they don't use any private services.
Both Chubb and USAA said they have contracts with WildFire Defense Systems (WDS), one of the leaders in the private firefighting services that provides real-time data to many insurers.
David Torgerson, president of Wildfire Defense Systems, said despite the uptick in wildfires, this isn't new; insurances companies have been using their services for nearly a decade, starting in 2008.
"Our work is to provide extra support to the process and take actions which contribute to the survivability of policyholder homes," Torgerson told FOX Business, adding that with more than 120 wildfires this year, their work in tandem with local, state and federal officials has resulted in a higher home survival rate.
A spokesperson for USAA said using WDS allows certified firefighters to "safely go behind the fire lines (with permission from the incident commander) to assess potential risk and assist with mitigation efforts, which includes: moving combustible materials away from the home, closing any windows or doors, and clearing any leaf debris from the roof or near the home."
USAA also said most of its members in the 15 wildfire-prone states are automatically enrolled in the program and members who are not can do it manually with no additional costs but exemptions do apply. However, its service is not focused on wealthy.
Allianz SE added that its corporate insurer retains a company called Consumer Fire Products Inc. to "patrol and prioritize protective responses based on their professional judgement." Services include an overall assessment of the wildfires, judgement around the imminent nature of property exposure, and potentially establishing a "variety of defense lines around a property."
"It's important during these times that not only are we visible, but that we maintain open lines of communication and provide clients with expert services to face any challenge," an Allianz spokesperson told FOX Business.
While PURE said its Wildfire Mitigation Program is not only active during emergency situations, it extends the service to its members who live in wildfire prone states all year-round through consultations.
"In the event of an active wildfire, [we] use sophisticated satellite technology to monitor the fire and deploy crews in an effort to both safeguard and respond to the needs of our membership," a PURE spokesperson said.
According to IBIS World study, private firefighting is growing rapidly in the U.S, with an estimated 320 private companies today, up from 256 in 2012, creating an estimated 27,000 jobs. The increase in privatization is driven by efforts from state and local governments, whose institutions have struggled with the decline in tax revenue and stressed budgets, causing the consolidation of publicly funded fire suppression resources.
The Forest Service Department of Agriculture estimated that on average, using a public agency versus a private one could be 30% more costly.
However, Deborah Miley, executive director of the National Wildfire Suppression Association (NWSA), which is the national agency for private firefighter vendors, said a majority of the contracts she sees are for state and federal help, not with insurers.
"I was recently contacted by an insurer, but I don't think they understood how we work. A lot of our contracts are multi-year, so no new vendors can apply during the cycle," Miley said, adding that a majority of insurers make deals with agencies directly instead of contacting them.
Currently, the NWSA provides over 40% of all ground resources utilized on wildfires across the national.
Either way, Miley said the industry, whether public or private, is truly done out of love of the work.
"You don't work 14 days straight 12 to 16 hours a day and sleep on the ground if you don't love what you are doing," she said.