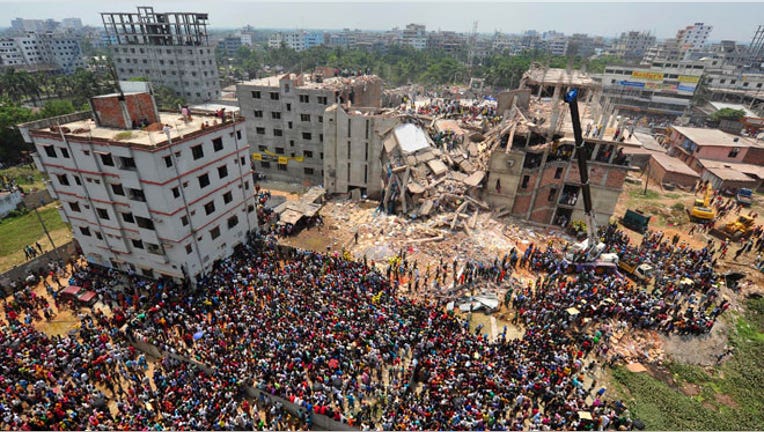 As the death toll reaches 1,127 in the Bangladesh building collapse, officials are beginning to take efforts such as adopting unions and raising wages to protect the country's workers as outcry mounts in the aftermath of the garment industry's worst-ever disaster.
The Bangladesh government on Monday reportedly voted to allow the country's garment workers to form trade unions without prior permission from factory owners, according to the Associated Press.
That decision came a day after it agreed to raise the minimum wage for garment workers who are paid some of the lowest industry wages in the world, one facet that has made Bangladesh so attractive to global retailers as a manufacturing hub. The country is the world's second-biggest exporter of clothes behind China.
The labor improvements follow an eight-story building collapse on April 24 that killed at least 1,127 people. The building's owner, Mohammed Sohel Rana, has been arrested in connection with the collapse after reports showed upper-management knew about a crack that had developed the day prior.
Low retail wages and dangerous garment factory conditions have long been the fuel of trade unions campaigning for massive changes in what is seen by many as a flawed sector.
Factory owners keep wages and benefits low in an effort to attract global retailers looking for cheaper manufacturing costs, while retailers outsource their production to suppliers and third-party suppliers and manufactures often unaware of the severity of mistreatment faced by factory workers.
The International Labor Rights Forum and United Students Against Sweatshops, two leading anti-sweatshop and anti-deathtrap factory groups, have been calling for "immediate action" from multinational corporations, specifically pointing to Gap (NYSE:GPS) and Wal-Mart (NYSE:WMT) among other global brands.
The ILRF launched the Bangladesh Fire and Building Safety Agreement last month in an effort to create "rigorous inspections, transparency and oversight."
Last month's collapse came just five months after a fire at Tazreen Fashions garment factory near Dhaka killed 112. Another Bangladesh factory fire earlier this month killed eight people, while data from the Bangladeshi government shows 414 apparel workers died in fires between 2006 and 2009, while two large fires resulted in the deaths of 50 workers in 2010.
"We need brands to make significant changes in how they monitor their suppliers and to make a meaningful commitment to worker safety," said ILRF Executive Director Judy Gearhart.
Amid mounting criticism, however, some brands have slowly started to pull out of Bangladesh and up their guard against poor factory conditions. Walt Disney (NYSE:DIS) in March put a stop to production of branded merchandise in the country following a factory fire while Wal-Mart (NYSE:WMT) said boxes of sweatshirts said to be shipped to the world's largest retailer were moved there without its knowledge.
A supply chain and customs expert from the U.S. National Retail Federation was not available to comment on this topic on Monday. However, a spokesperson for the world's largest retail trade association said the expert is "working with various groups on this."
A Bangladesh government spokesman told reporters the Cabinet approved an amendment to the 2006 Labor Act on Monday lifting restrictions on forming trade unions.
"No such permission from owners is now needed," he told reporters after the vote. "The government is doing it for the welfare of the workers."
On Sunday, the government set up a new wage board comprised of factory owners and workers as well as the government employees overseeing minimum wage. It is expected to issue pay raise recommendations within three months, according to the AP report.