Arkansas Small Business Owners Uncertain About Midterm Elections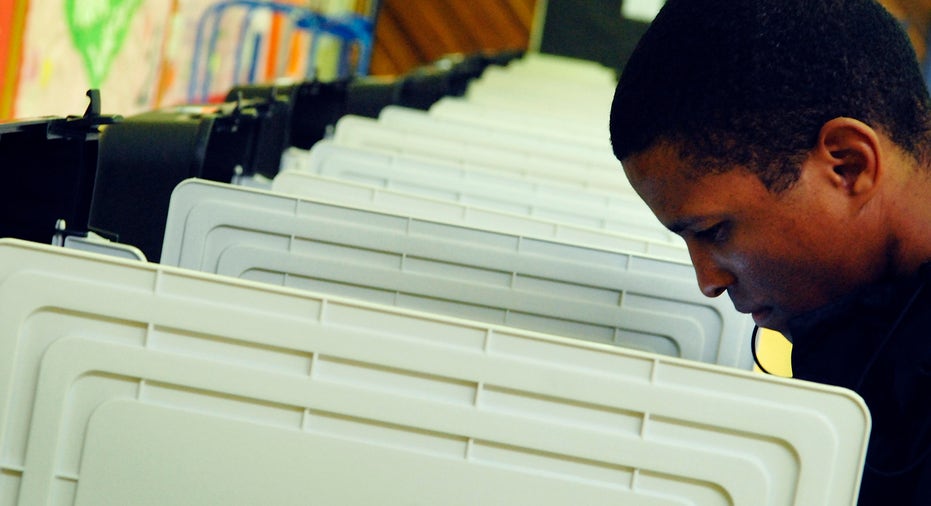 In Arkansas, business owners are focusing more on their bottom lines than the political headlines.
Even as local news reports of a tax scandal surrounded gubernatorial candidate Asa Hutchinson's campaign last week, entrepreneurs in the Natural State said they aren't paying much attention to midterm-election talk. Hutchinson, a Republican, is running against Democrat Mike Ross for governor, while the Senate race has incumbent Sen. Mark Pryor, D-Ark., up against Rep. Tom Cotton, R-Ark.
"I haven't really been paying attention to the races … I'm really just trying to keep doing what I've been doing the whole time and not change anything too much," said Jeanne Johansson, the owner of Little Rock women's boutique Scarlet. While Johansson said she struggles somewhat with taxes for Internet sales, she said she doesn't expect help any time soon from state politicians.
Like Johansson, Boulevard Bread Co. owner Christina Basham said she has yet to eye the upcoming election.
"I have to do more research on the candidates and who stands for what, and then base my voting on those kinds of things," said Basham, who's a registered Democrat. Boulevard Bread Co. has four locations in Little Rock, with approximately 45 employees in total.
Polls Show a Tight Race
The most recent polls show voters split more or less down the middle for both races. Pryor's campaign recently conducted a poll showing a six-point lead over Cotton, while a Talk Business and Hendrix College poll found Cotton ahead of Pryor by two points.  In terms of the gubernatorial race, Talk Business and Hendrix College show Hutchinson with a 46-41% lead over Ross.
As in many parts of the country, small business experts said regulations, taxes, immigration and the economy will be the factors that affect how small business votes this election season.
"We're seeing slow growth in the economy. It's positive growth, but it's not robust and it doesn't lead to expansionary type plans for many businesses," said Arkansas Chamber of Commerce president Randy Zook. "We've got an industrial sector here that's heavily influenced by housing and construction, which has had a slow recovery."
As of June, the unemployment rate in Arkansas was 6.2%, just slightly over the national unemployment rate of 6.1%, according to the Labor Department.
Zook added that Arkansas, a heavily agricultural state, has been helped in recent years by healthy commodities prices, but is currently taking a hit as prices have fallen.
National Federation of Independent Business State Director Sylvester Smith said regulations are particularly important for these agricultural businesses. The NFIB has endorsed the Republican challenger Cotton in the Senate race.
"I think if I lived in Little Rock, I would not be concerned about the Farm Bill or how a candidate voted on that, but if I lived [in more rural areas], then a Congressperson's vote on the Farm Bill is something that's very important to me," said Smith.
Smith said many of the state's agricultural businesses see the EPA's crackdown on carbon dioxide emissions as a jobs killer. Meanwhile, Hutchinson this week said if elected he'd push for Arkansas to join a lawsuit challenging the federal government's proposed rules for power-plant emissions.
Gene Klaasmeyer, who founded Klaasmeyer Construction Co. in 1971, said regulations are also a challenge for his business.
"The multitude of information you need to send to the federal government is time consuming, and it's taking away from time spent on the business itself," said Klaasmeyer.
Immigration a Major Issue
Another pain point for the agricultural and construction-related businesses is immigration.
"There are lots of cases of workforce shortages where there aren't enough people available to do small business work," said Zook. "It's not an existential threat, but it certainly is affecting construction companies and parts of the agriculture sector … Immigrants would be welcome participants."
Indeed, farmer Wayne Wilkison said he depends on recent immigrants to help him on his 12,000-acre farm in Wynne, Ark.
"Immigration is the only way I can work my farm. That's the truth – I can't find Americans to work on the farm," he said. "Americans want government handouts."
Wilkison said he generally votes Republican, but has not been following the race closely yet. In Black Rock, Ark., Eagan Manufacturing owner Richard Eagan said he's also struggling to find American laborers looking for work.
"I feel myself there are too many entitlements and not enough motivation to work. We're in a small town in a rural area, and we employ about 60 people in a town of less than 1,000,"said Eagan, whose company makes poultry housing. "We really struggle keeping a workforce, because a lot of people are on entitlement programs."
Worn Down by Negativity?
In Walnut Ridge, Ark., Bob Heard, the owner of Heard's Farmer's Market, who typically votes Democrat – said he doesn't like what he is hearing so far, from either side.
"They get so cutthroat and childish. I don't care about voting for anyone right now," said Heard. "They're just trying to cut each other down."
Klaasmeyer said he's also not thrilled about his options.
"I think Tom Cotton is a little too much of a Tea Party type for me," said Klaasmeyer. "I generally vote Republican, but I'm not too happy with the candidates this time."