Arizona Cardinals' David Johnson Named NFL's Top 'Rising Star'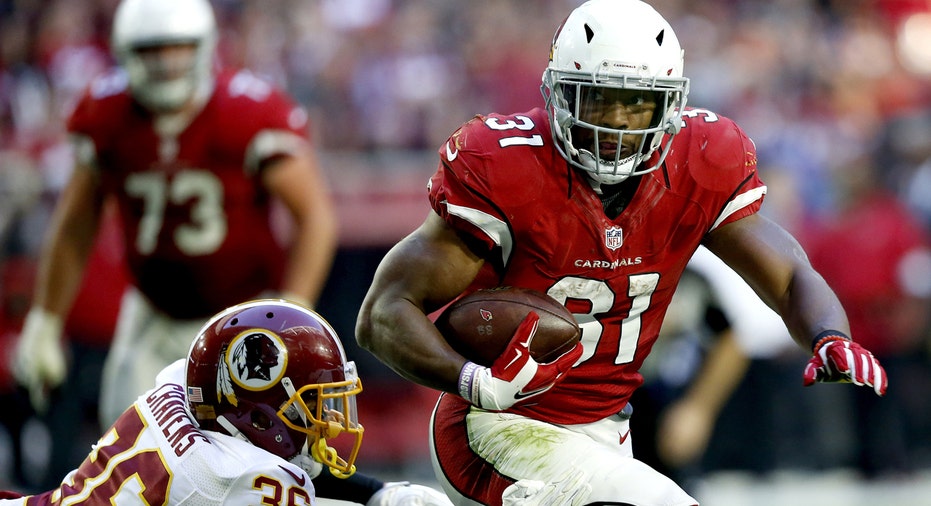 Arizona Cardinals running back David Johnson is the NFL's next marketing star, according to annual projections released Tuesday by the league's players union.
Johnson topped this year's National Football League Players Association's "Rising 50" list after rushing for more than 1,200 yards and 16 touchdowns during a breakout 2016 campaign. In addition, Johnson caught 80 passes for 879 yards and four touchdowns. Based in part on that performance, the NFLPA's marketing arm identified the 25-year-old rusher as a player poised to join the league's list of top-selling athletes in terms of licensed merchandise.
"To be number one on the NFLPA's Rising 50 list is a great accomplishment," Johnson said in a press release. "Growing up, I never really had the recognition of being a fan favorite. Finally getting that recognition, the supporters and fans going crazy with my jersey or my Fathead or bobblehead, is really cool."
The NFLPA ranks rising stars based on various factors, including on-field performance, marketing demand from its affiliated sponsors and popularity in fantasy football games. Johnson succeeds St. Louis Rams running back Todd Gurley, who topped the "Rising 50" list in 2016.
The union touts its ranking as a way for the league's sponsorship partners to assess potential merchandise or product lines.
This year, four of the list's top five players are running backs – Atlanta Falcons RB Devonta Freeman ranked second, Miami Dolphins RB Jay Ajayi ranked third and Chicago Bears RB Jordan Howard ranked fourth.
Nine players selected in the first round of the 2017 NFL Draft were named to the list, despite having yet to play a down in the league. Defensive end Myles Garrett, whom the Cleveland Browns selected with the first overall pick, ranked sixth on the list, higher than any other rookie.
Dallas Cowboys running back Ezekiel Elliott topped the NFLPA's most recent top-selling player list, which was released earlier this month.