Are Newly Minted Mobile Banks for You?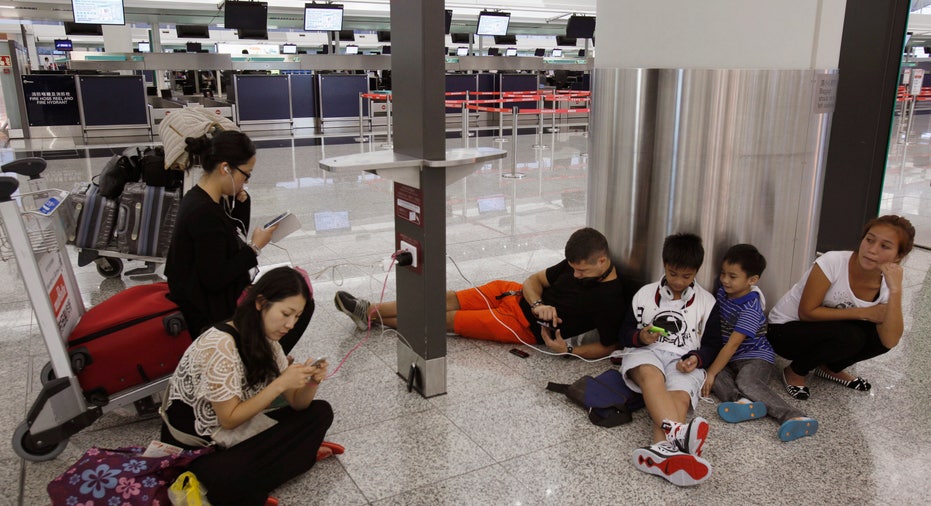 Mobile banks may be the new face of banking, where you can make transactions with just a few taps on your smartphone.
The banks, which include GoBank, Simple and Moven, are mainly targeted at millennials who are in their 20s and usually have tight finances. So mobile banks are offering up free checking accounts and specially designed tools for analyzing nuggets of spending data in real time that especially appeal to the money-minded younger set. Banking is also easy to master and is mainly done with your smartphone or debit card.
"Mobile banks provide a lot of instant feedback on accounts that traditional banks don't offer," says Ron Shevlin, a senior analyst at Aite Group. Most bank spending tools are online, he adds, so you have to log in to use them. With mobile banks, you don't even have to log in to begin banking.
Find Alot of Perks with Mobile Banks
Take Simple, a banking startup where you can bank online or by downloading a mobile app. There are no minimum balance requirements and no monthly checking fees or even any overdraft fees. And you can access 55,000 fee-free ATMs nationwide. You also can transfer money or pay bills for free.
Simple also adds bells and whistles like its Safe-to-Spend feature, says Daoud Fakhri, a senior retail banking analyst at Datamonitor Financial. The money management tool totals your expenses, purchases and even savings goals and then calculates your balance. So if you want to know how much you can spend now, the mobile app will add up your pending checks and even factor in savings goals, giving you a total that's, well, safe to spend.
"People can now know what they can afford to buy," says Josh Reich, CEO of Simple. They can check their balances and look at the ebbs and flows of their cash -- and save more money. Tight control of your money also helps avoid fees, he says.
No Physical Branch Banks
Like other mobile banks, Simple's account was designed to replace traditional checking accounts. But the minimalist offerings are limited to checking and savings, for now. Still, there are no physical branches to visit and no paper checkbooks. Deposits are made via mobile deposit, where you snap a picture of a check and deposit it using the downloadable smartphone app.
GoBank, a mobile banking offshoot of the prepaid debit card giant Green Dot Bank, is one of the newest entrants. Launched in January 2013, GoBank's low-fee approach is similar to Simple. GoBank customers can choose to pay no fee or a fee of no more than $9. There's also a fee-free network of 42,000 ATMs to tap into, mobile deposits and no minimum deposit requirement.
GoBank also has easy-to-use money management tools that dig into your financial data and give you real-time answers about expenditures. For example, its Fortune Teller tool lets users ask whether they can afford to make a purchase. "Those features do set mobile banks apart," Fakhri says.
GoBank's consumer deposits are held by the Federal Deposit Insurance Corp.-insured Green Dot Bank. At Simple, the money is held by the FDIC-insured Bancorp Bank. Moven, which is also a downloadable mobile app on iTunes and elsewhere, banks with the FDIC-insured CBW Bank.
Branches Still Matter -- For Now
Still, mobile banks aren't for everyone. Offerings are limited to simple banking transactions and there are no credit or investment products, Aite's Shevlin says. That lack of product diversity is a weakness, he says.
Greg McBride, CFA, chief financial analyst at Bankrate, says people who are mobile-bank hunting may want to stick with their own banks. "Mobile banking is ubiquitous at large national banks," he says. "And, smaller community banks and credit unions are rapidly adopting mobile technology, so you may not need to switch financial institutions."
Mobile banking apps at traditional banks are also fairly comprehensive, says Fakhri, and they usually include mobile deposits and money transfers.
Also, many people prefer banking at a branch, Fakhri says. According to a Datamonitor survey released last year, he says, 90% of people in the U.S. chose their banks because they had conveniently located branches.
Not a Bank for Complex Transactions
"Complex transactions require a lot of research," Fakhri says. "And mobile isn't the ideal channel for that. It's more suited to basic, everyday transactions."
Still, banks are increasingly shedding their branches. Across the country, big banks ranging from PNC Financial Service Group to Bank of America are pruning hundreds of branches. And the trend shows no sign of slowing as the digital banking movement grabs hold, according to several analysts.
As brick-and-mortar banks morph, there's room for mobile banks. "There's a huge need for good mobile banking," says Mary Monahan, a research director at Javelin Strategy and Research. "Doing your banking online on a small smartphone screen can drive you crazy." But mobile banking, which was designed for smartphones, gives you more flexibility, such as doing your banking while waiting for a train.
Another advantage is that you don't have to worry about security with mobile banks, Monahan says. The apps are safer to use than online banking. Criminals are still catching up to mobile banking and duping people online is easier -- for now.
So what does the future hold? Banking eventually will be mobile, Monahan says. "It's only a matter of time."
Copyright 2014, Bankrate Inc.