Are Gift Cards Still Impersonal? Negative Stigma Fades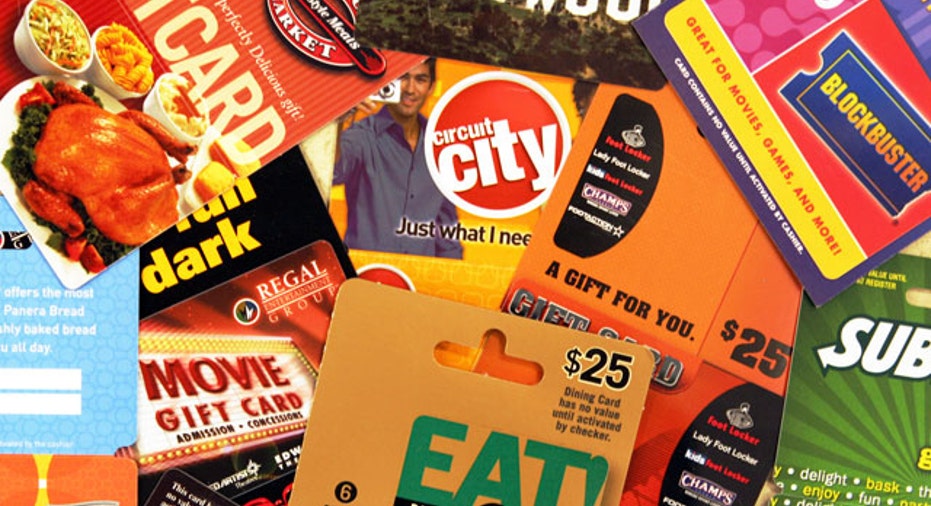 Gift cards used to be seen as cold and impersonal gifts reserved only for that coworker you knew nothing about.
However, consumers, especially younger ones, are increasingly happy to give and receive gift cards for everywhere from Amazon.com (NASDAQ:AMZN) to Starbucks (NASDAQ:SBUX).
A recent survey by First Data Corp. reveals 93% of recipients would prefer to receive a gift card valued at $25 than a gift valued at $25. In fact, 49% of survey recipients said they would favor a $25 gift card to a present with a price tag of $50.
"The growing gift card economy seems to be magnifying a slow but lasting change in the consumer psyche; we prefer to have a liquid asset we can use ourselves over a non-liquid asset we may have no use for," Nicholas Colas, market strategist at ConvergEx Group, wrote in a recent note.
That thinking helps explain why Americans are increasingly shunning the previous thinking that gift cards --  now a $100 billion industry -- are impersonal. In fact, some may believe gift cards are more thoughtful than clothes that will just have to be returned anyway.
According to a recent Swagbucks member survey provided exclusively to FOX Business, 76% of gift card recipients don't believe they are impersonal. Swagbucks, a Los Angeles-based online rewards program, surveyed about 12,000 of its members earlier this month.
"The gift card suggests you may know where the recipient may want to shop, just not exactly what he or she wants."
"I do think it's become a much more accepted practice in the last three to five years," said Brian Yarbrough, a consumer research analyst at Edward Jones. "It's a lot more convenient. People are a lot more cramped for time these days. It's an easier way to get your shopping done."
Gift Cards Offer More Freedom
Interestingly, consumers now seem willing to purchase gift cards for even close friends and family.
About two-thirds of Swagbucks survey respondents said they plan to buy a gift card for immediate family members, while 52% planned to do so for friends. However, just 17% expect to purchase a gift card for their spouse.
Forty-one percent of Swagbucks respondents said they prefer to give a gift card this holiday season, with 64% of them saying the main reason is because it allows the recipient to get what they want.
The increased willingness to go the gift-card route stems in part to the freedom that goes along with it.
"Physical gifts have sentimental value, yes, but that doesn't translate into liquid capital; gift cards do," Colas said. "The gift card suggests you may know where the recipient may want to shop, just not exactly what he or she wants."
According to FDC, in 2012 consumers purchased an average of five open loop gift cards, which can be used anywhere. The average value was $73.
Consumers bought an average of three closed loop, or store-specific, gift cards for an average of $42 last year.
Amazon Leads the Way
Despite the prevalence of e-commerce, retail stores are still the most popular place to purchase a gift card. Almost 60% of Swagbucks respondents plan to buy in the retail store, while 51% say they plan to do so online and 32% at a grocery store. Only 4% of respondents expect to buy a gift card through a mobile app.
Likewise, consumers still favor physical gift cards to digital or electronic gift cards, which can be delivered via email but aren't ideal for placing under the Christmas tree. Just 21% of consumers bought at least one e-gift card in 2012, up from 19% in 2011, according to FDC.
But look for e-gift cards to be a rising force in the future as a way to give consumers a more seamless transaction.
"All of the major retailers are getting into the e-gift cards right now," said Scott Dudelson, chief operating officer and co-founder of Swagbucks.
So what are the most popular brands to buy a gift card for?
Amazon.com led the way among Swagbucks users with 54% respondents saying they are most likely to buy a gift card at the world's largest online retailer.
The next most popular retailers among survey respondents were Wal-Mart (NYSE:WMT) (34%), Starbucks (25%), Target (NYSE:TGT) (24%) and Best Buy (NYSE:BBY) (12%).
Gift Cards Lure in Traffic
The increased popularity of gift cards is likely a positive for retailers.
That's because gift cards help solve one of the biggest problems for retailers: luring in customer traffic. If a gift card recipient wants to use the funds, they have to either travel to the store or navigate to their website.
It's also a positive for retailers because customers frequently spend more than the allotted amount.
The Swagbucks survey shows 71% of recipients spend more than the gift card value, while 26% say they use only the full value. Just 3% of respondents said they don't use the full value.
That brings up another potential positive: breakage. Retailers can often log a gain on cash inflow without drawing down inventory when gift cards go unspent.
According to a study by CEB Tower Group, some $1.7 billion in gift card money went unspent in 2012.
However, recent state and federal legislation has expanded the amount of time before a gift card can legally expire, giving consumers more time to spend the funds.
"Giving a card used to be a bit of a black hole. If you didn't use it would go away," Adam Pressman, a principal in the retail practice of global management consulting firm A.T. Kearney.