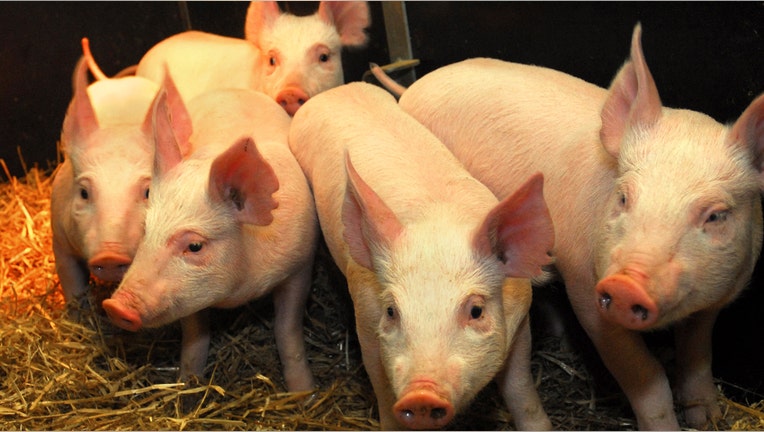 Media and environmental groups went into overdrive last month when the Food and Drug Administration (FDA) approved the nation's first genetically altered animal—a salmon— engineered to grow twice as fast as it naturally would. Now, other biotech scientists are working hard to get their genetically modified (GM) animals approved.
Prof. Bruce Whitelaw, head of development biology at the University of Edinburgh's Roslin Institute has already produced swine fever-resistant pigs through a new gene-editing technique.
"We need to challenge our animals and we have that power now with new technology," Whitelaw tells FOXBusiness.com. "We can sequence the entire blueprint to make an animal better."
Whitelaw says he created the swine resistant pigs because there are no drugs or treatments for the disease.
"The only treatment is to kill them and it's a huge problem. An outbreak can really impact the pig industry," he says. "GM animals will help with some of that concern and make animals more resistant."
Whitelaw used a new technique called gene-editing, where the piglets genetic code has been flipped to make their immune system slightly closer to a warthog's—a wild African pig that is more resistant to the swine fever disease.
"It's a swap of sequence. It's a .00000001 percent change, which is a tiny portion," he adds. "The technology has allowed us to add in and create very precise breeding."
Although Whitelaw admits there is still a lot more work that needs to be done until the pigs are available for consumption, he does say that he thinks GM pigs will be available for "the human food chain within 5 or 10 years."
"I don't know how society will pick it up, only time will tell. But I think eventually people will start asking for it. It's like breeding animals for farm use which man has been doing with pets for decades."
Costco (NASDAQ:COST), Safeway (NYSE:SWY), Target (NYSE:TGT), Trader Joe's, and Whole Foods (NASDAQ:WFM) are among the long list of retailers who are refusing to sell the FDA approved GM salmon from AquaBounty Technologies.
"I would have no problems eating GM salmon. This is a landmark and a huge step for us," says Whitelaw.
The Non-GMO Project, a non-profit dedicated to educating consumers about GMOs says the FDA's approval of genetically modified salmon is "irresponsible and dangerous."
"Genetically engineered plants are bad enough, but GM animals are alarming on a whole new level. Who wants to eat a genetically engineered fish for dinner? These salmon have been engineered to produce growth hormone such that they purportedly grow at twice the rate of real salmon—it's just not appetizing," Megan Westgate, Director at the Non-GMO Project tells FOXBusiness.com.
The Center for Food Safety, another non-profit dedicated to protecting America's food supply, is planning to file suit against the FDA.
"The sample size Aquabounty did was incredibly small. The analysis that the company did doesn't pass basic statistics. So, we really don't know how safe it is to eat because of the data that they presented," says Jaydee Hanson, Senior Policy Analyst for the Center for Food Safety.
Ronald Stotish, Ph.D., and Chief Executive Officer of AquaBounty says, "AquAdvantage Salmon is a game-changer that brings healthy and nutritious food to consumers in an environmentally responsible matter without damaging the ocean and other marine habitats."
Whitelaw says that it's part of the scientist's job to convey to the public how this science works and how these animals are created and why it's an advantage.
"Then they will make up their own minds. Only time will tell. This technology improves farming and there are massive benefits to this," he adds. "And in no way are we looking to replace agriculture. All we want to do is add to it."