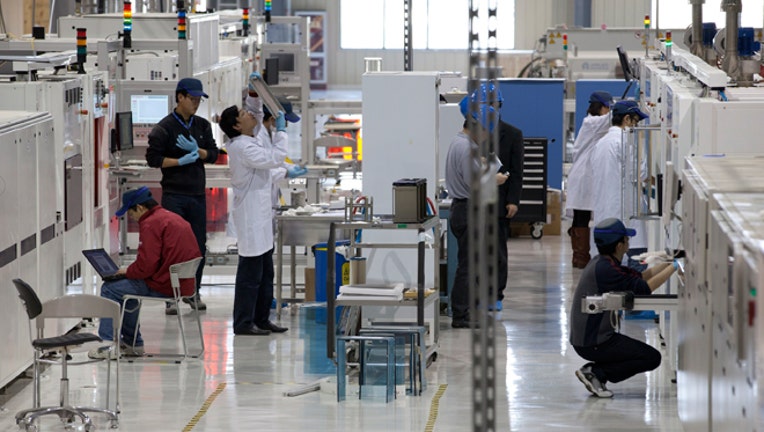 Top chip gear-maker Applied Materials Inc (NASDAQ:AMAT) posted fiscal fourth-quarter revenue that modestly exceeded estimates as foundry customers build new production lines, but its forecast for the current quarter was shy of some analysts' expectations.
The company said it saw a 16 percent increase in orders for new equipment in the fourth quarter, driven by contract manufacturers, known as foundries, as well as NAND memory chipmakers. Spending by logic chipmakers such as Intel Corp , hurt by lackluster PC demand, accounted for a smaller portion of new orders.
Top foundry Taiwan Semiconductor Manufacturing Co Ltd has been preparing new cutting-edge 20 nanometer manufacturing lines, although it recently warned of a fourth-quarter slide in revenue as smartphone sales weaken.
Applied Materials Chief Executive Officer Gary Dickerson told analysts on a conference call that new technology would lead to an increase of between 10 percent and 20 percent in global wafer fabrication equipment investment by chipmakers next year.
"We expect to see a year-over-year increase in foundry, NAND and DRAM investment, with logic and other spending flat to down," Dickerson said.
In September, Applied Materials agreed to buy rival Tokyo Electron Ltd in an all-stock deal worth more than $10 billion, combining the No.1 and No.3 makers of chip-manufacturing gear as the number of major customers declines.
As the cost of manufacturing more complex chips increases, only a handful of companies, such as Intel, TSMC and Samsung Electronics Co Ltd, have pockets deep enough to compete at the cutting edge.
Applied Materials reiterated on Thursday that it expects to get approval for the Tokyo Electron merger in the middle of or second half of next year.
As well as chip-making tools, Applied Materials provides manufacturing equipment and services for flat panel displays, solar photovoltaic and related industries.
In its report, Applied Materials said it had a net profit for the quarter ended in October of $183 million, or 15 cents a share, compared with a net loss of $515 million, or 42 cents, in the same quarter last year.
Excluding items, the company earned 19 cents a share in the fourth quarter. Analysts on average expected EPS of 18 cents, according to Thomson Reuters I/B/E/S.
The company reported fourth-quarter revenue of $1.99 billion, up from $1.65 billion in the year-ago period.
For the current quarter, Applied Materials expects revenue to rise between 3 percent and 10 percent from the fourth quarter, the midpoint of which is about $2.12 billion.
Analysts expected fourth-quarter revenue of $1.974 billion and first-quarter revenue of $2.193 billion.
It expects non-GAAP adjusted diluted EPS between 20 cents and 24 cents. Analysts expected 23 cents.
Applied Materials shares dipped 0.51 percent in extended trade after closing down 0.62 percent at $17.56 on Nasdaq.