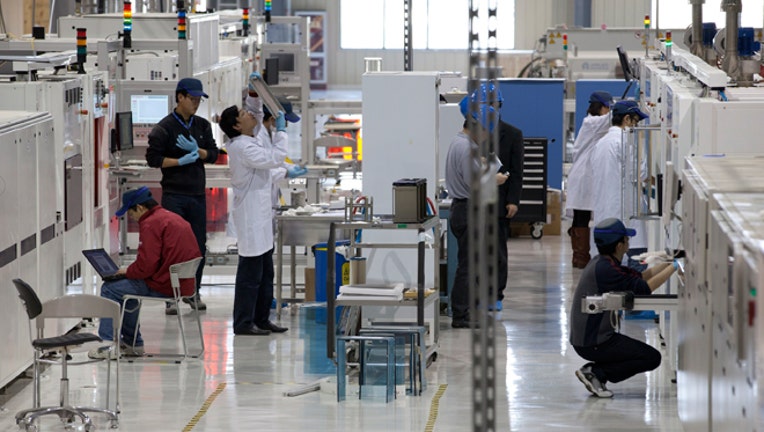 Applied Materials Inc. on Thursday gave an upbeat profit outlook for its current quarter and reported financial results for its latest reporting quarter that edged above Wall Street expectations, despite flat orders.
For its fiscal second quarter ending in April, Applied Materials forecast adjusted share earnings of 30 cents to 34 cents. Analysts polled by Thomson Reuters had recently forecast 26 cents a share.
For the first quarter ended Jan. 31, the company reported new orders were essentially flat compared with the previous year at $2.28 billion. It said silicon-systems orders fell 11% to $1.28 billion. That business supplies equipment used to fabricate semiconductor chips. New orders in its global services segment rose 12% to $773 million.
Orders in the display business, which sells products for making the LCDs and other technologies used in TVs and smartphones, jumped to $183 million from $107 million a year earlier, the company added.
Earnings fell to $286 million, or 25 cents a share, from $348 million, or 28 cents a share, a year earlier, the company said. Excluding special items, earnings were 26 cents a share. Analysts had expected 25 cents a share in earnings. Meanwhile, operating expenses rose 12%.
Revenue fell 4.3% to $2.26 billion. Analysts had forecast $2.24 billion in revenue, according to Thomson Reuters.
The company's stock price jumped 7.2% to $18.41 a share in after-hours trading on Thursday.
The maker of semiconductor manufacturing tools, often seen as a proxy for chip makers, experiences wide swings in its financial results as makers of chips or computer displays react to demand by building or cutting production capacity.
Applied Materials has seen caution from foundries, a large category of com panies that make chips to order for others for applications like mobile phones.
Write to Chelsey Dulaney at Chelsey.Dulaney@wsj.com
Copyright © 2016 Dow Jones Newswires