Apple's 'Newsstand' Sparks Surge in Magazine Subscriptions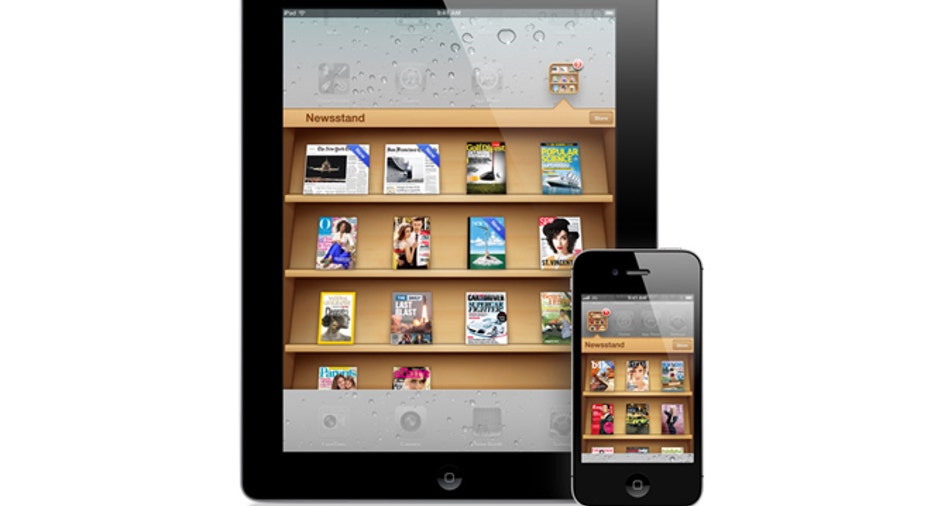 Apple's Newsstand application, which allows iOS 5 users on the iPhone, iPad and iPod touch to subscribe to and purchase magazines, has reportedly resulted in a surge of magazine subscriptions.
Keep up with the latest technology news on the FOX Business Technology Facebook page.
According to paidContent, Condé Nast recently said its weekly subscription sales for nine of its digital magazines (Allure, Brides, Glamour, Self, GQ, Golf Digest, The New Yorker, Vanity Fair and Wired) increased 268% since the storefront made its debut alongside iOS 5.
In addition, sales of single issues surged 142% in comparison to the eight weeks prior to Apple's launch of Newsstand. "Putting all the magazines in one place just makes the most sense, in terms of allowing easy discovery for consumers," Condé Nast executive vice president Monia Ray told paidContent. "Furthermore, the update from iOS 5 is terrific, especially the background loading. We have a lot of features embedded in our titles and they take time to load. Background loading helps ease the wait-factor. But for the most part, before, the App Store represented a wide-ranging bazaar. Now, it has clear aisles to make it simple for consumers to browse."
This content was originally published on BGR.com
More news from BGR:- In-Stat: Low-cost Android phone shipments to reach 339 million in 2015- Sprint says iPhone deal is worth $15.5 billion- Sony will pay €1.05 billion to de-Ericsson its mobile joint venture