Apple's Jobs Unveils iCloud, OS Updates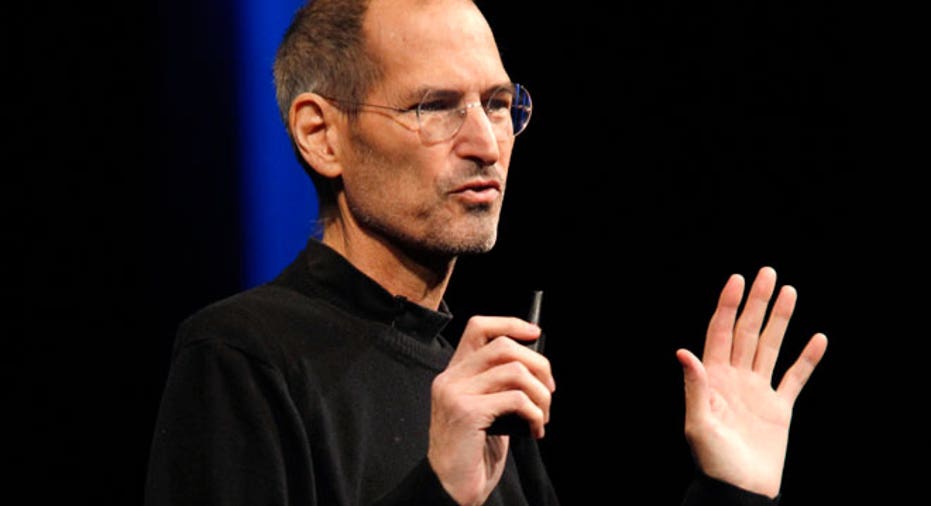 Apple Inc CEO Steve Jobs strode back into the spotlight on Monday to unveil the iCloud, a music-streaming service that the company hopes will power its next stage of growth and popularize Web-based consumer services.
A still thin-looking Jobs walked out to a standing ovation from the more than 5,000 Apple faithful at its Worldwide Developers' Conference in downtown San Francisco's Moscone Center, making opening comments for just a few minutes before ceding the stage to marketing chief Phil Schiller.
The Silicon Valley icon emerged from medical leave to launch an Internet-based service for consumers called the iCloud, which lets users play their music and get access to their data from any Apple device -- a crucial capability for users increasingly accustomed to performing tasks on the move.
Jobs, whose decision to headline the event assuaged some concerns on Wall Street about his health, walked briskly onstage after James Brown's seminal soul classic "I Got You (I Feel Good)" blasted over the sound system.
In cloud computing, data and software are stored on servers and devices get access to it through the Internet. Analysts say the iCloud could create a new model for media consumption -- bringing the cloud, which corporations are already familiar with, to many consumer devices.
Monday was only his second appearance in public on his company's behalf since he went on medical leave in January.
He shared the spotlight, letting his executive team showcase new features in Apple's mobile and computer operating software, before returning to the stage to lead the launch of the iCloud -- Monday's headline event.
Apple shares fell as much as 1.1 percent to $339.83.
"It was good to see him appear despite being on medical leave," said Sterne Agee analyst Shaw Wu. "And at the same time, it looks like he is having his lieutenants handle most of the keynote, which is good in showing that Apple is a team and not a one-man show."
PIE IN THE SKY
Apple's expansion into cloud computing comes as the company strives to stay a step ahead of rivals such as Google Inc and Amazon.com in the mobile and online content business.
It could ignite more demand for devices from the iPhone to the iPad, while helping sales of music through iTunes.
More than 25 million iPads sold in the 14 months since the tablet computer was launched, software chief Scott Forstall told the crowd. And customers have bought more than 15 billion songs from iTunes, the world's biggest music store.
Jobs laid out his vision for the iCloud, whose launch marked the elimination of MobileMe, which had the dubious distinction of being among the few Apple products that failed to take off.
He said people will be able to share book purchases, music and data in general, such as calendar items, across different devices, while backing up and updating information regularly.
Apple also introduced software upgrades at the conference, including Lion, its Mac OS X computer operating system and the next version of its mobile operating system.
Among the new features that executives sketched out were an improved email infrastructure and multi-touch features for the Macintosh operating software. Early impressions by experts watching the presentations were favorable.
For the iPhone and iPad, executives described how the fifth version of the iOS software will feature drop-down notifications for everything from Twitter feeds to Facebook alerts, and new applications such as Safari tab browsing.
Jobs' decision to headline such events often is news in itself, and his appearance likely heartened investors worried about his health after the pancreatic cancer survivor went on his third medical leave in January for an undisclosed condition.
Apple, legendary for keeping its agenda under wraps, has been unusually open about what it plans to show at its annual developers' conference, a five-day extravaganza for developers who rely on Apple for much of their livelihoods.
Its shares were down 0.5 percent at $341.60 on the Nasdaq stock market. The stock traditionally gains before a major event -- of which there are only a handful throughout the year -- before dipping on the day itself.
"They telegraphed in advance what they were going to say and that Steve Jobs was going to show up," said Daniel Ernst at Hudson Square Research. "It's pretty boring, which is, for Apple,bad. It's all good, but everybody always expects them to walk on water unfortunately."
(Writing by Edwin Chan. Editing by Robert MacMillan)
((poornima.gupta@reuters.com +1-415-677-2536; Reuters Messaging: poornima.gupta.reuters.com@reuters.net))