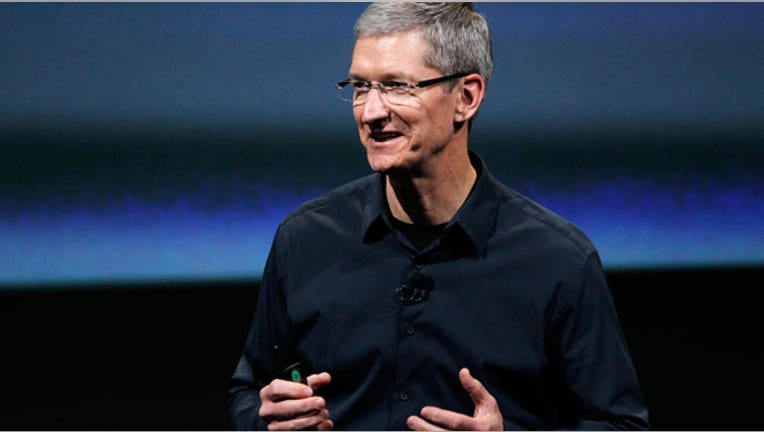 Apple Inc's surprisingly strong performance in China has soothed fears that iPhone sales were losing steam, though analysts wondered how long Chief Executive Tim Cook could sustain the company's sizzling growth without a revolutionary new product.
Shares of the world's most valuable technology company, recouping much of their losses over the past two weeks, leapt about 9 percent on Wednesday after Apple again blew past Wall Street targets, tacking on another $50 billion in market cap.
The bulls point to emerging markets - in particular China, whose mobile market is the world's largest and far from saturation - and upcoming products like a 4G-enabled iPhone 5 and the oft-rumored Apple TV, as sustaining eye-popping growth such as the near-doubling of its net income in the second quarter.
But the bears, with a longer-term view, fear that Google Android devices will eventually put pressure on Apple's margins in China as they have elsewhere, and wonder if Apple will be successful in tacking on another blockbuster consumer device to its portfolio.
Sales in China, particularly, are key for Apple to maintain its pace of revenue growth in the longer term, said Carolina Milanesi, consumer technologies analyst at Gartner.
"That's the big question," she said, referring to market share in China. "From an affordability perspective, I think the opportunity is there to allow it to maintain that growth or at least not to see an immediate drop in sales."
In products, "TV seems to be one that everybody is looking at," she added.
Shorter term, over the next year, some investors and Wall Street analysts note that Apple's sales of the all-important iPhone could flatten out over the next few quarters as consumers await the next version of the popular smartphone.
Apple's own revenue forecast was more conservative than usual for the fiscal third quarter, a period during which an upgrade of the iPhone or iPad are unlikely.
"We note that iPhone product cycles appear to be getting increasingly pronounced, with fiscal first quarter and second quarter benefiting from very strong iPhone 4S product cycles in the US and China respectively," said Toni Sacconaghi, analyst with Bernstein Research, adding he expected the next couple of quarters to see "more sluggish unit sales."
But for now, sales of 35.1 million iPhones in the last quarter saw Wall Street analysts extend their love affair with Apple shares with a slew of hiked stock-price targets as concerns eased that the company was losing market share in the cut-throat smartphone market.
At least 14 brokerages revised their targets on the stock by $40 on average, a day after the company posted a quarterly profit that blew past Wall Street estimates.
Apple shares were up 8.8 percent at $610.06 in afternoon trading on Wednesday. The stock earlier touched an intraday high of $618, for an advance of 10.3 percent, the biggest intraday percentage gain by Apple shares in more than three years.
"Last night, Apple's performance once again demonstrated how quickly Apple fever is spreading around the world and this trend continues to drive meaningful upside in the company's financial results," said Topeka Capital Markets' Brian White, who raised his stock-price forecast to $1,111 from $1,001.
CHINA ROARS
Sales in greater China accounted for about 20 percent of Apple's $39.2 billion quarterly revenue, a three-fold increase from a year earlier. The numbers showcase Apple's sky-rocketing growth in China, which made up just 4.5 percent of its revenue in fiscal 2010.
Already sales in China this year are on track to nearly double, with a combined revenue in the first two quarters of $12.4 billion. That compares with revenue from China of $13.3 billion in all of fiscal 2011.
Giri Cherukuri, head trader and portfolio manager, OakBrook Investments in Illinois, said Apple had room to grow in China, but would also look to other developing countries with large populations - such as India and Brazil - to keep up the pace of sales.
"They are methodically just growing country by country, both just building Apple stores in these countries and building distribution," Cherukuri said. "That's partly why you are getting strong numbers now. When a new iPhone or iPad comes out, they can rapidly deploy those all over the world."
In China, Apple has yet to seal a contract for the iPhone with China Mobile, the world's largest mobile operator in terms of subscribers, with 660 million users. A deal with the carrier for the next iPhone has the potential to considerably boost iPhone sales in the country.
"The main challenge for Apple is to penetrate China Mobile's 600 million subscribers. The numbers look pretty good now, but would be much better with China Mobile," said Nomura analyst Huang Leping.
But doing business in China has its challenges. Apple has faced a raft of negative publicity in China in recent years, including worker suicides at its supplier Foxconn Technology and accusations from Chinese groups blaming the U.S. firm for environmental pollution, and copyright and trademark infringement.
Now, Apple also needs to find a way to stop users who hack into the iPhone's software to download free apps or solicit services from e-commerce sites to download apps at a fraction of their cost in the App Store or iTunes Store.
MARGINS DELIGHT
Apple's strong results followed a 13 percent decline in the company's shares over the past couple of weeks that erased about $78 billion from its market value.
Following the earnings announcement, analysts discounted worries about rising competition and pricing pressures, noting the company's stronger margins in particular.
"Apple's margin upside has the most important long-term implications for the story," said Goldman analyst Bill Shope, who raised his target price on the stock by $100 to $850.
Citigroup was a bit more conservative with its $20 increase to $720.
Helped by lower-than-expected commodity costs, Apple's gross margins climbed to 47.4 percent from 41.4 percent a year earlier.
Kulbinder Garcha, an analyst with Credit Suisse, said he expected gross margins to narrow a little from the second quarter's high base, though supply-chain efficiencies and lower component prices would be supportive of margins.
"Apple is building its efficient supply chain, and component reuse which is unprecedented in the tech industry."