Apple's 4Q Results Miss; Shares Fall After Hours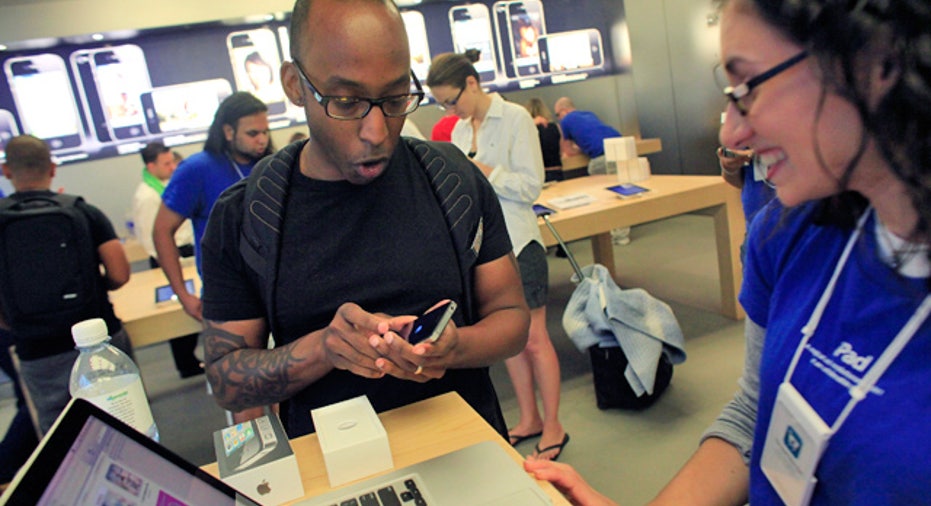 Apple Inc. (NASDAQ:AAPL) delivered a rare earnings miss on Tuesday after the market closed, which sent the stock sliding more than 6% in after-hours trading.
Still, the company reported impressive gains in both profit and revenue compared with the year-ago quarter, as net income rose to $6.62 billion, or $7.05 a share, up from last year's fiscal fourth-quarter profit of $4.31 billion, or $4.64 per share.
Revenue increased to $28.27 billion, compared with year-ago sales of $20.34 billion. Gross margin widened to 40.3% compared with 36.9% one year ago. The company said 63% of revenue came from international sales.
The results missed expectations; analysts had expected earnings of $7.39 a share on revenue of $29.69 billion, according to Thomson Reuters. Sales of the iPhone rose 21% year-over-year to 17.07 million units, well below the Street's forecast for 19.82 million.
Sales of the iPad were also lower-than expected, rising 166% to 11.12 million units, while the Street had forecast shipments of 11.68 million. Mac sales increased 26%, year-over-year to 4.89 million units. Sales of the iPod fell 27%, compared with last year, selling 6.62 million units.
For the fiscal first quarter, Apple expects earnings of $9.30 a share on revenue of $37 billion, above the Street's projection for earnings of $8.98 on revenue of $36.63 billion.
"We are thrilled with the very strong finish of an outstanding fiscal 2011, growing annual revenue to $108 billion and growing earnings to $26 billion," said Tim Cook, Apple's CEO, in a statement. "Customer response to iPhone 4S has been fantastic, we have strong momentum going into the holiday season, and we remain really enthusiastic about our product pipeline."
Apple has dominated the headlines of late with the unveiling of the iPhone 4s on Oct. 4, and the death and subsequent outpouring of grief for its beloved co-founder, Steve Jobs, on Oct. 5. Still, the shares have surged, rising 5.5% in the past month, as sales of the iPhone 4S have been robust. The company boasted that sales of the device topped the 4 million unit-mark over its first weekend, and saw one million iPhones sell within the first 24 hours it was available.
Shares of Apple rose $2.25 on Tuesday, finishing the day at $422.24. The stock was down $26.47, more than 6% after the close on the disappointing results.