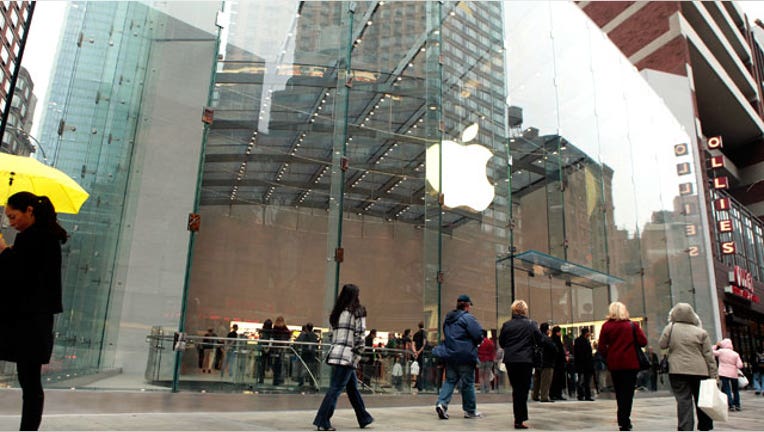 Apple Inc. (NASDAQ:AAPL) delivered a sweet second-quarter financial earnings beat, buoyed by international sales, and also logged better-than-expected iPhone sales, moving the shares higher after-hours trading.
In the fiscal second quarter, the technology juggernaut posted net income of $11.6 billion, or $12.30 a share, compared with year-ago profit of $5.99 billion, or $6.40 a share.
Revenue rose to $39.2 billion, up from last year's second-quarter sales of $24.67 billion. International sales accounted for 64% of revenue, with revenue from the company's Asia-Pacific region rising 114% to $10.2 billion and revenue from Japan up 91% to $2.6 billion during the quarter.
Revenue from Europe and the Americas rose 46% and 41%, to $8.8 billion and $13.18 billion, respectively.
The results easily beat expectations; the Street was looking for earnings of $10.04 a share on revenue of $36.81 billion, according to a poll by Thomson Reuters.
IPhone sales came in strong, at 35.1 million units, as sales of the iPad were just shy of expectations at 11.8 million, and the company sold four million Mac units. The Street had expected iPhone sales in the range of 30 to 33 million, with iPad sales between 12 and 13 million, and Mac sales between 4 million and 4.4 million units.
The report should help Apple shares make up some of the ground lost in 10 of the last 11 sessions. The world's largest company by market value has lost more than 8% in the past five days, and the stock is down more than 12% since its peak on April 9 of $644 a share.
After the company reported first-quarter results on Jan. 24, the stock shot up 6.2% the following session.
"We're thrilled with sales of over 35 million iPhones and almost 12 million iPads in the March quarter," said Tim Cook, Apple's CEO. "The new iPad is off to a great start, and across the year you're going to see a lot more of the kind of innovation that only Apple can deliver."
The company forecast third-quarter revenue of about $34 billion and earnings per share of approximately $8.68, below expectations for revenue of $37.4 billion and earnings of $9.93 a share.
Shares of Apple fell 2% in Tuesday's session, finishing the day at $560.28. The stock rallied nearly 7%, or $39 a share, in after-hours trading. Even after the recent drop in share price, the stock is still up nearly 38% so far this year.