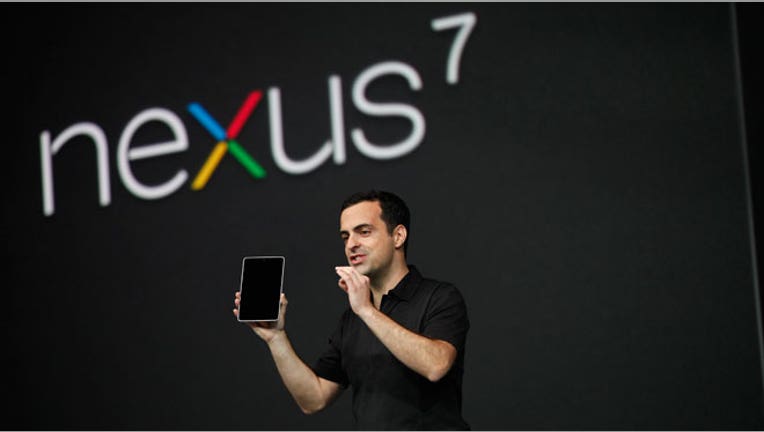 Who says the developer crowd is geeky?  Skydivers, omniscient spectacles and after party with international DJ sensation Paul Oakenfold, an unusual combination of eclecticism that kicked off Google's I/O developer conference.
Proving that Apple (NASDAQ:AAPL) isn't the only game in town with flash and imagination, Google (NASDAQ:GOOG) opened its I/O conference at the Moscone Center with a keynote address unwrapping the latest hardware and software developments from the search giant.
As expected, the company uncased the newest operating system update, called Jellybean, with many Apple Siri-like and iOS-like features and some that even outshine any of Apple's offerings. Innovative features like smart widgets that automatically resize, a Google voice search for a more robust mobile experience and more content and richness in Google Play, an iTunes competitor. Google shows that its software genes are thriving still. Galaxy Nexus, Moto Xoom, Nexus S will get over-the-air Jellybean updates in July. It is unclear when other device owners will be able to access it.
On the hardware side, the biggest surprise was not a new tablet – because we knew that was coming – but 2 new pieces of hardware. Sidestepping any comparisons to the iPad with many of its features, Google showed off the Nexus 7 tablet made by Asus. Available for delivery in July and with a price point of $199, Google showed that Amazon.com's (NASDAQ:AMZN) Fire was in its competitive sight.
Boasting a sleek 7-inch display, Tegra 3 chipset, 1280x800 HD, and nine hours of battery life, amongst other features, it shows competitiveness in a increasingly crowded space. Much of this was anticipated by the tech industry. The Nexus 7 is available for preorder on the Google Play website for delivery next month. Most, if not all, of the features are available in other manufacturer's devices. It is the magic combination of the Jellybean OS and the hardware that best showcases it that make this an appealing proposition especially with its affordable price tag.
What was not expected was the release of Nexus Q. Unlike the Nexus 7, with its bullseye on Amazon, the "Q" is staring down Apple TV. Nexus Q, available for pre-order also today on Google Play, is a media streaming orb for the home.
It connects to your home system and is controlled by a tablet or smartphone device, bringing you the best of HD TV, movies, YouTube and more in a more appealing and tinier package that Apple offers up. This appears to be Google's first in-house manufactured consumer product, and learning from Microsoft's failings (remember the Zune), it remains risky terrain. Weighing 2 pounds and measuring 4.6 inches, this $399 gadget offers up another choice in entertainment. It is Google's less ambitious way of entering the family living room that then failed Google TV experiment was.
Last but not least: the skydivers. Proving that buzz can still be created at the Moscone Center and you don't need an "i" in front of a product to do so, Google executed a brilliant and exhilarating demo of its Google Glass spectacles. Available in beta form but only for developers at the I/O conference who have $1500 to burn, the keynote audience and web watchers were glued to their screen as they saw a spectacular demo of the all-seeing glasses – the first public demo of this kind.
Skydivers, wearing the spectacles, dove from the sky with Google co-founder Sergey Brin narrating what the Google Glass was "seeing." The skydivers were met on the rooftop by BMX bikers, who wowed the audience with tricks and aerial views caught by the Google technology. Finally someone rappelling scaled the walls of the Moscone Center and entered the convention hall to greet Brin on screen.
What was once seen as a far-off product and one tech watchers didn't quite understand, Google Glasses created a "wow" that left watchers, including me, contemplating shelling out for a demo pair.
The conference continues this week in San Francisco with almost 6,000 attendees including a couple who is celebrating their honeymoon at the conference! The after party tonight will featuring Train and Paul Oakenfold.
Remind me again, Apple who?