Apple Unveils iTunes Radio Service, Revamps Software at WWDC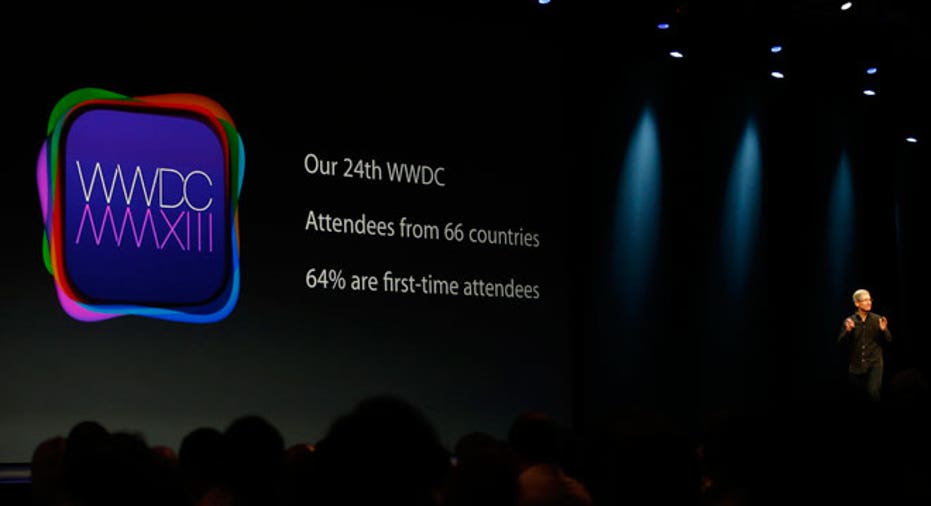 Apple (NASDAQ:AAPL) on Monday took the wraps off a lineup of new and updated products, including a service that streams music for free, at its Worldwide Developers Conference.
Perhaps the most anticipated announcement of the day came near the end of Apple's presentation, as its long-rumored music streaming service got a name: iTunes Radio.
The application for iOS devices and Apple TV will be free with ads displayed, or users can alternatively pay for premium service iTunes Match and gain access to the radio service ad-free.
Apple's iTunes Radio will also launch in the fall after the company reportedly completed deals with Vivendi's Universal Media Group, Access Industries' Warner Music Group and Sony's (NYSE:SNE) music divisions in recent weeks.
The company worked out individual licensing deals with music companies, rather than getting a compulsory license from the government, according to The Wall Street Journal. As a result, record labels will get about a 50% share of advertising and publishers will get 10%, more than double the ad revenue paid by Pandora (NYSE:P) under an Internet radio rate established by the government.
The upcoming Apple service will stream music based on a user's interests and be supported by text and audio ads. It will also feature "Buy" buttons to drive paid music downloads.
While Apple has found success with iTunes, more users are taking advantage of free music offerings or services that charge a flat fee for unlimited streaming. Google (NASDAQ:GOOG) and Microsoft (NASDAQ:MSFT) offer paid music streaming, while Amazon.com (NASDAQ:AMZN) is said to be talking to record labels about its own service.
The tech giant started its keynote presentation by unveiling fresh versions of its Mac operating system and iOS mobile software, in addition to new hardware.
The new operating system for iPhones and iPads, iOS 7, will be released in the fall and features a redesigned interface with new icons and colors. It also brings multitasking to mobile devices, a feature already available on competing devices and something developers have long sought.
Chief Executive Tim Cook called it the "biggest change" to iOS since the first iPhone.
In an interesting twist, Apple said search results obtained through Siri will come from Microsoft's Bing platform, as the company continues to move away from Google. Last year, Apple abandoned Google and turned to its own Maps application.
The company said OS X Mavericks, named after a California surfing spot, will give Mac users better battery life and support for multiple displays.
Apple also detailed an upgraded Macbook Air, which is immediately available, and a new Mac Pro that will be assembled in the U.S. and sold later this year. The former is an ultra-portable notebook, and the latter is a desktop aimed at professional users.
Shares turned lower after the WWDC keynote concluded, falling $2.64 to $439.17 in late afternoon trading.