Apple Tops 4Q Views Amid iPhone Growth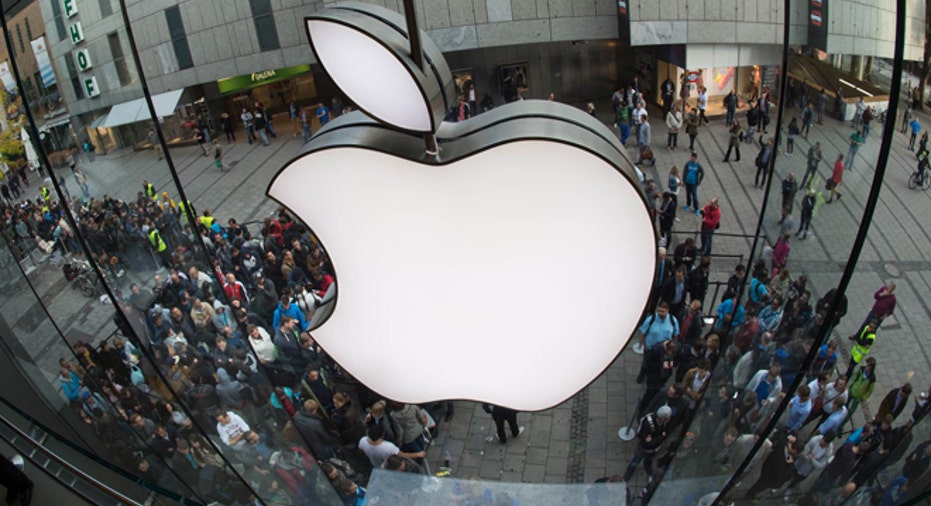 Apple's (NASDAQ:AAPL) fourth-quarter earnings rose 13% and easily topped Wall Street estimates, helped in part by the release of new iPhone devices at the tail end of the period.
The consumer tech giant said Monday after the closing bell, its profit climbed to $8.47 billion from $7.51 billion in the year-ago period. On a per-share basis, earnings checked in at $1.42 versus $1.18 when adjusted for Apple's recent stock split.
Revenue grew 12% to $42.12 billion, well ahead of a consensus estimate of $39.85 billion. Analysts were looking for earnings of $1.31 a share.
Apple shares rallied 1.1% to $100.85 in after-hours trading.
In a research note to clients earlier Monday, analysts at Cantor Fitzgerald said Apple shares remain undervalued and could get a lift when the tech titan enters a new product category early next year with its announced Apple Watch.
Cantor Fitzgerald believes "Apple is in the midst of another 'super cycle'" given the new watch, the launch of Apple Pay and the company's entry into large smartphones, the analysts wrote in a separate note.
The investment firm also noted fears around Apple's position in the smartphone market have eased.
Apple is looking to hold off Samsung Electronics and other rivals with new mobile features like Apple Pay, which launched Monday at 220,000 stores. McDonald's (NYSE:MCD), Walgreen (NYSE:WAG) and ticket seller StubHub are among the early adopters of the new payment service. Visa (NYSE:V), MasterCard (NYSE:MC) and American Express (NYSE:AXP), plus the top six card issuers, also signed up.
Apple launched the iPhone 6 and iPhone 6 Plus on Sept. 19, before the end of the company's fourth quarter. More than 10 million units were sold in the first weekend, a new record for the iPhone.
Fourth-quarter iPhone sales jumped to approximately 39.3 million units versus 33.8 million a year earlier.
While sales of the iPhone have grown more than 10% over the past three quarters, iPad demand has faltered amid increasing competition in the tablet segment. Apple sold 12.3 million iPads in the fourth quarter, down from 14.1 million. The Cupertino, Calif.-based company introduced a new slate of iPad devices last week.
Sales of Apple's Mac computers rose to 5.52 million devices from 4.57 million. Apple said it sold 2.64 million iPod music devices, well below the prior year's 3.49 million.
Revenue from iTunes, software and services increased 8% to $4.6 million.
Total revenue in the Americas jumped 17% year-over-year to $16.2 billion, while European sales were up 19% at $9.5 billion. China revenue improved nearly 1% to $5.78 billion.
Despite the company's iPhone launch in the U.S. in September, Apple, whose overall results have been supported by a bigger international footprint, didn't begin selling the newdevices in China until last week.
Retail sales also showed progress, advancing 15% to $5.1 billion.
During the period ended Sept. 27, Apple bought back $17 billion worth of shares, including $9 billion under its share repurchase program.
In an open letter to Apple earlier this month, activist investor Carl Icahn reignited pressure on the company to expand its share buybacks. Apple hiked its buyback program to $90 billion in April, up from $60 billion. It also unveiled a 7-for-1 stock split, which happened in June.
For the current quarter, Apple expects to book revenue between $63.5 billion and $66.5 billion. Analysts are forecasting first-quarter sales of $63.52 billion.