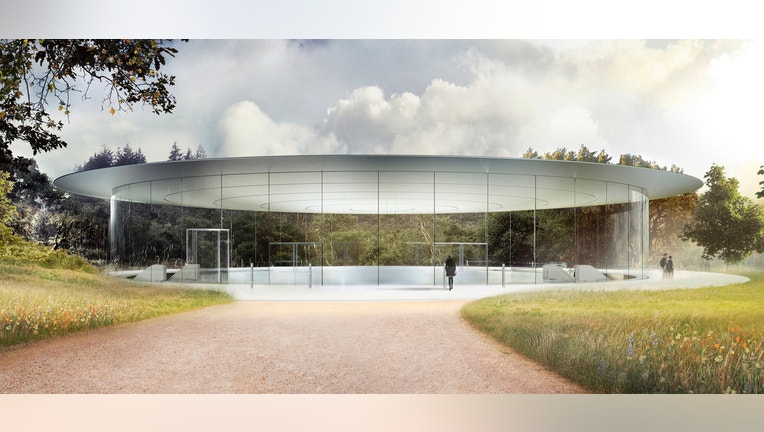 Apple Inc. said Wednesday it will open its new campus in April and spend six months moving employees into a glass-encased building reminiscent of a spaceship.
The 175-acre campus, which will be called Apple Park, was one of Apple co-founder Steve Jobs's final projects. Apple hasn't disclosed the cost of the new campus but reports have put it in the range of $3 billion to $5 billion.
The centerpiece of the project is a 2.8-million-square-foot building shaped like a ring and encased entirely in curved glass. It will bring together some 12,000 employees currently spread across a multitude of buildings at Apple's nearby 1 Infinite Loop campus.
Apple named a 1,000-seat auditorium at the center of the campus the Steve Jobs Theater in memory of its late co-founder. Located on top of a hill, the theater entrance features a 20-foot-tall glass cylinder with a carbon-fiber roof. It will be used to host Apple-related events in the future. Apple's next announced event, its Worldwide Developers Conference in June, will be held at the McEnery Convention Center in San Jose, Calif.
The campus is located on land once used for Hewlett-Packard's Cupertino, Calif., campus. Apple acquired the land in 2010 when Mr. Jobs felt like the company had outgrown its current facilities and needed a new campus where staff could work together.
"This land is kind of special to me," Mr. Jobs said during a 2011 presentation to the Cupertino City Council. He called his vision for 12,000 people working in one building "odd" and helped cement it in the public imagination as a flying saucer by describing it as "a little bit like a spaceship."
Apple designed the campus in collaboration with Foster + Partners, a London-based architecture firm. Most of the parking will be underground so that roughly 80% of the land will be landscaped. It will be powered by 17 megawatts of rooftop solar installations.
In a statement, Apple Chief Design Officer Jony Ive said the company approached designing the building the same way it designs its products. He added, "Connecting extraordinarily advanced buildings with rolling park land creates a wonderfully open environment for people to create, collaborate and work together."
Apple Park will include a visitors center with an Apple store and cafe open to the public. Employees also will have access to a 100,000-square-foot fitness center and 2 miles of park land with running paths, an orchard, a meadow and pond.
Write to Tripp Mickle at Tripp.Mickle@wsj.com