Apple investors urge action to curb child gadget addiction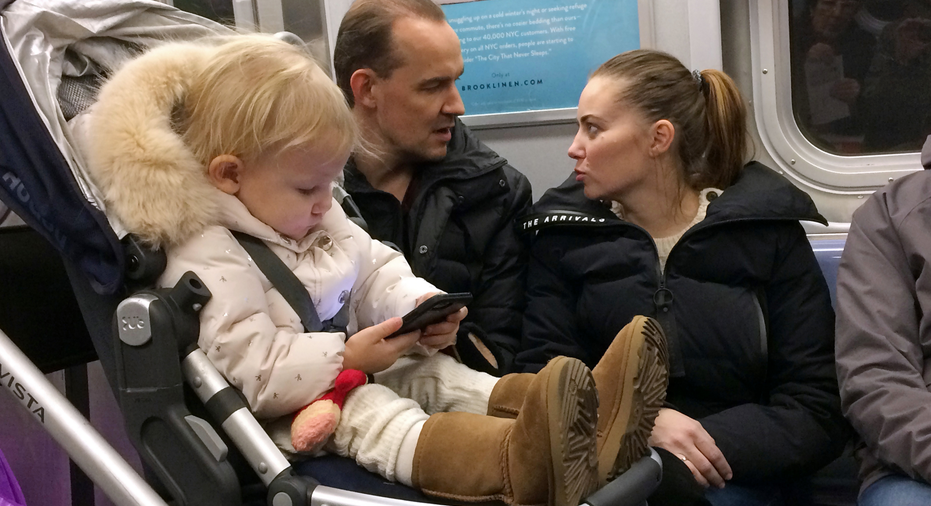 Two major Apple investors have urged the iPhone maker to help curb smartphone addiction among children, highlighting growing concern about the effects of gadgets and social media on youngsters.
New York-based Jana Partners LLC and the California State Teachers' Retirement System said in open letter to Apple that the company must offer more choices and tools to help children fight addiction to its devices. The two investors collectively control $2 billion worth of Apple shares.
"Apple can play a defining role in signaling to the industry that paying special attention to the health and development of the next generation is both good business and the right thing to do," the letter said.
Among their proposals to Apple: Establish a committee of experts, including child development specialists; offer Apple's "vast information resources" to researchers; and enhance mobile device software so that parents have more options to protect their children's health.
In a statement, Apple said the iPhone and other devices running on its mobile software already offer a variety of controls that enable parents to restrict or block "effectively anything a child could download or access online."
The investors' letter cited various studies on the negative effects of smartphones and social media on children's mental and physical health. Examples include distractions by digital technologies in the classroom, a decreased ability of students to focus on educational tasks, and higher risks of suicide and depression.
A study published in November suggested that heavy smartphone use and social media exposure among teens may contribute to depression and other traits linked with suicide. But that and similarly designed research cannot rule out that already troubled teens may be more likely than others to be frequent users of smartphones and social media.
In its most recent update on teens and media use, the American Academy of Pediatrics said in 2016 that social media and internet use have benefits and potential risks for teens. It urged families to create their own media use plans that include consistent time and content limits.
The American Psychiatric Association does not consider heavy internet use a true mental addiction and says more research is needed.
The letter released Saturday touches upon the growing concerns about the long-term impact of gadgets and social media, especially for those who start to use smartphones at an early age.
While tech companies have not acknowledged openly that their gadgets may be addictive, some Silicon Valley insiders have begun to speak about how gadgets, mobile applications and social media sites are designed to be addictive and to keep users' attention as long as possible.
Facebook's founding president, Sean Parker, said recently, for example, that the company exploits a "vulnerability in human psychology" to addict its users. He called its stream of comments, "likes" and reactions a "social validation feedback loop that exploits how human brains work." And, he said, "God only knows what it's doing to our children's brains."
James Steyer, the CEO of Common Sense Media, a nonprofit that studies kids' technology use, called the letter a "big deal" in the ongoing effort to make it clear that cellphones are a "public health concern."
"It's the beginning of a much bigger conversation about these issues and it's great that shareholders care about it," he said.
Apple said it regularly considers how the iPhone and its other products affect the people who use them. "We take this responsibility very seriously and we are committed to meeting and exceeding our customers' expectations, especially when it comes to protecting kids," the company said.
Steyer said Apple is in a position to do more. Among other things, he said, Apple can finance independent research on the effects of mobile phone use and pay for public education campaigns that teach parents and kids about responsible technology use. He said Apple can also design addiction-prevention features, such as an automatic shut-off after an hour.
But Steyer said a bigger problem is with social media companies "designing platforms to grab and retain your children." He said companies such as Twitter, Facebook and Snap will change "only with major pressure from the public and from shareholders."
The Apple letter is the start of a bigger push by one of the investors, Jana, to focus on socially responsible investing, according to a report in The Wall Street Journal. The investor, the Journal said, is planning to raise billions of dollars to launch a new fund, Jana Impact Capital, to invest in companies that should be "better corporate citizens." The idea is that responsible companies can produce better long-term value not just for shareholders, but for society.
___
This story has been corrected to reflect the actual day the letter was sent.