Apple 3Q Earnings, Revenue Shatter Expectations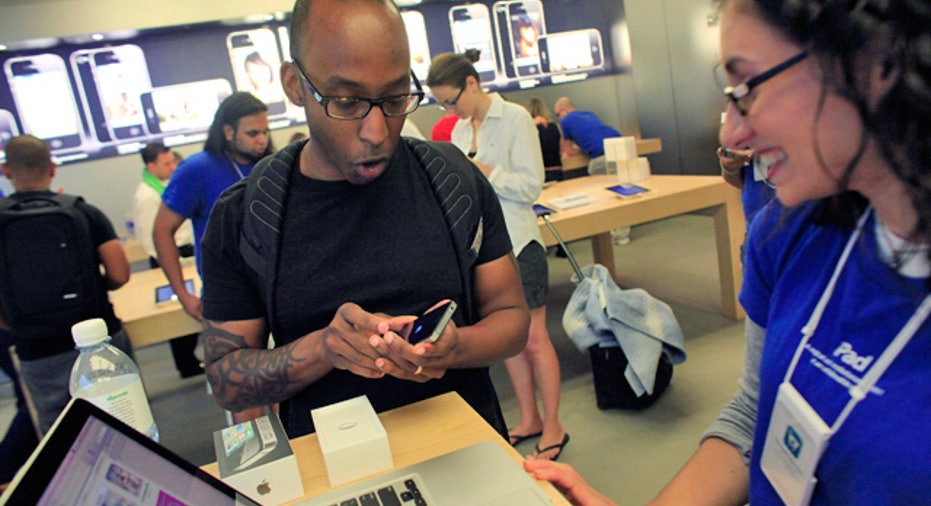 Apple (NASDAQ:AAPL) rocked the Street after the bell on Tuesday with fiscal third-quarter earnings and revenue that blew expectations out of the water, though the company issued a conservative forecast for the fiscal fourth-quarter.
The shares were soaring in after-hours trading.
The Cupertino, Calif.-based company posted third-quarter net profit of $7.31 billion, or $7.79 per share, more than doubling the companys year-ago earnings of $3.25 billion, or $3.51 per share.
Revenue rose to $28.57 billion, compared with year-ago sales of $15.70 billion.
The Street had high expectations for Apples results, which the company easily topped; analysts were looking for earnings to rise 66% to $5.85 a share on revenue of $24.99 billion, according to a poll by Thomson Reuters.
"We're thrilled to deliver our best quarter ever, with revenue up 82% and profits up 125%," said Steve Jobs, Apple's CEO, in a release. "Right now, we're very focused and excited about bringing iOS 5 and iCloud to our users this fall."
Apple had projected gross margin of 38%, and the company beat that forecast, weighing in with gross margin of 41.7% during the quarter, compared with 39.1% in the third quarter last year.
Sales of the iPhone came in at 20.3 million units during the quarter, beating analyst expectations for 16.5 million units sold. Sales of Macs came in a little below expectations at 3.9 million, compared with the 4.2 million Macs the Street had expected. IPad sales came in well ahead of forecasts at 9.25 million units, compared with the Streets view of 7.8 million units of the device sold.
Despite the impressive third-quarter report, the company issued a muted outlook that was below forecasts. Apple forecast fourth-quarter earnings of $5.50 a share on revenue of $25 billion, as analysts were calling for fourth-quarter earnings of $6.42 a share on revenue of $27.70 billion, on the expectation that sales will be buoyed by strong iPhone sales on the release of the iPhone 5.
Of course, Apple is well known for offering conservative guidance, then crushing it.
Meanwhile, concern about the status of current chief executive Jobs, who has been on medical leave for most of this year, is still very much on Wall Streets radar. The Wall Street Journal reported late Tuesday afternoon that some members of the companys board have informally discussed a succession plan with executive recruiters, an allegation Jobs himself told the Journal was hogwash in an email on Monday.
Shares of Apple rallied nearly 1% higher ahead of Tuesdays close, to finish the session up $3.05 at $376.85 a share, a new record close in regular trading. The stock was up $27.80 per share, more than 7%, in after-hours trading.