Apollo Scoops Up McGraw-Hill's Education Business for $2.5B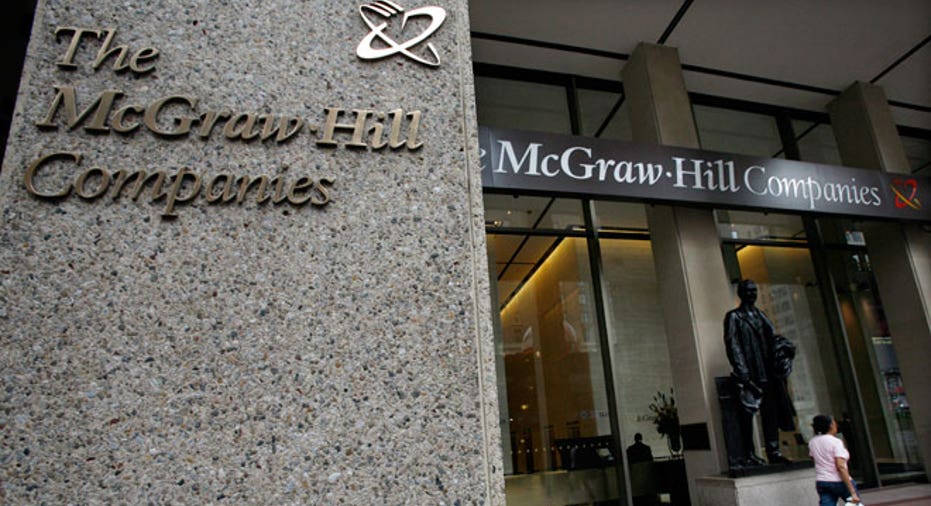 McGraw-Hill (NYSE:MHP) agreed to sell its education business to Apollo Global Management (NYSE:APO) for $2.5 billion on Monday, a crucial step as part of the publishing conglomerate's efforts to break in two.
Subject to certain customary closing conditions and regulatory approvals, the transaction is slated to close later this year or in early 2013.
The New York-based publishing company and owner of the Standard & Poor's ratings firm, which reported stronger-than-expected quarterly earnings earlier this month and raised its fiscal 2012 outlook, has been looking to split into two separate publicly-traded companies.
McGraw-Hill CEO Harold McGraw III said the sale gives it an "unprecedented opportunity" to focus on accelerating the growth of its remaining brands such as Standard & Poor's, Platts and J.D. Power and Associates.
The long-term vision included the spin-off of its struggling education business, which posted an 11% decline in sales to $836 million last quarter amid a weak K-12 market. The business, though, cut expenses by 9% last period and saw weak sales buoyed by strong digital sales.
"After carefully considering all of the options for creating shareholder value, the McGraw-Hill board of directors concluded that this agreement generates the best value and certainty for our shareholders and will most favorably position the world-class assets of McGraw-Hill Education for long-term success," McGraw said.
McGraw-Hill, which first announced its divestment plans in September 2011, had planned to make a definitive decision about the education business by the end of this month.
"McGraw-Hill Education is a leader in digital learning with world-class content and enormously talented and committed employees," McGraw said. "I look forward to seeing their continued success with the expertise and support of Apollo."
Upon closing, McGraw-Hill will be renamed McGraw Hill Financial and will have customers in more than 150 countries. It forecasts 2012 revenue of $4.4 billion, with nearly 40% coming from international markets.
McGraw-Hill said it will use approximately $1.9 billion of the after-tax proceeds to undergo a stock buyback program, and may also make selective "tuck-in acquisitions" to enhance the finance business's portfolio.
The company will take a non-cash impairment charge in the fourth quarter of $450 million to $550 million related to the school education group.
Shares of McGraw-Hill climbed more than 2.4% to $52.88 in recent trade.