APNewsBreak: Tesla in Autopilot sped up before Utah crash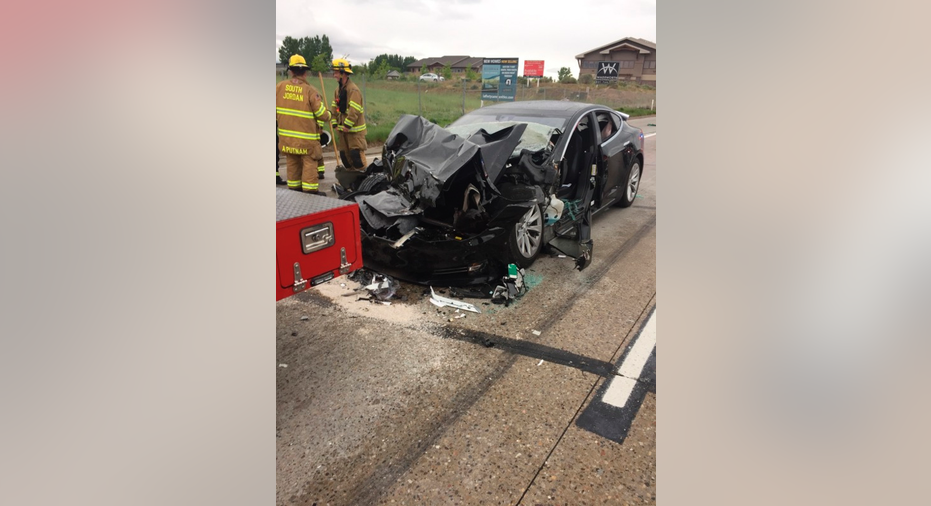 A Tesla that crashed while in Autopilot mode in Utah this month accelerated in the seconds before it smashed into a stopped firetruck, according to a police report obtained by The Associated Press Thursday. Two people were injured.
Data from the Model S electric vehicle show it picked up speed for 3.5 seconds shortly before crashing into a stopped firetruck in suburban Salt Lake City, the report said. The driver manually hit the brakes a fraction of a second before impact.
Police suggested that the car was following another vehicle and dropped its speed to 55 mph to match the leading vehicle. They say the leading vehicle then likely changed lanes and the Tesla automatically sped up to its preset of 60 mph (97 kph) without noticing the stopped cars ahead of it.
The police report, which was obtained through an open records request, provides detail about the vehicle's actions immediately before the crash and the driver's familiarity with its system.
The driver of the vehicle, Heather Lommatzsch, 29, told police she thought the vehicle's automatic emergency braking system would detect traffic and stop before the car hit another vehicle.
She said she had owned the car for two years and used the semi-autonomous Autopilot feature on all sorts of roadways, including on the Utah highway where she crashed, according to the report.
Lommatzsch did not return a voicemail Thursday. A Tesla spokesperson did not respond to a request for comment.
The car company has said it repeatedly warns drivers to stay alert, keep their hands on the wheel and maintain control of their vehicle at all times while using the Autopilot system.
Police say car data show Lommatzsch did not touch the steering wheel for 80 seconds before the crash. She told police she was looking at her phone at the time and comparing different routes to her destination.
She broke her foot in the crash and this week was charged with a misdemeanor traffic citation. Online court records do not show an attorney listed for her.
The driver of the firetruck told police he had injuries consistent with whiplash but did not go to a hospital.
Tesla's Autopilot system uses cameras, ultrasonic sensors and radar to sense the vehicle's surrounding environment and perform basic functions automatically.
Among those functions is automatic emergency braking, which the company says on its website is designed "to detect objects that the car may impact and applies the brakes accordingly." Tesla says the system is not designed to avoid a collision and warns drivers not to rely on it entirely.