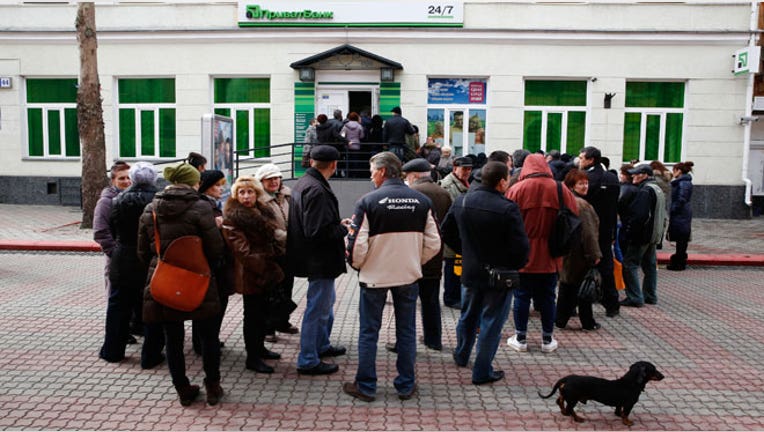 As geopolitical and financial volatility builds in Eastern Europe, banking analysts at Keefe, Bruyette & Woods warned this week that Citigroup's (NYSE:C) exposure to emerging markets creates a near-term headwind.
While Citi's exposure to individual countries like Ukraine is minimal, KBW said the banking conglomerate's combined exposure to emerging markets is "increasing meaningfully" and any contagion to Poland or Russia would be "meaningful."
"There has been an uptick in volatility in emerging markets and we expect this to weigh on shares of Citigroup on a relative basis given the company's EM exposure," KBW analyst Frederick Cannon wrote in a note to clients on Monday.
The comments come as Ukraine has been thrust into the geopolitical spotlight in recent weeks following the ouster of Ukraine's pro-Russian President Viktor Yanukovych and the decision by Russia's Vladimir Putin to invade the strategic peninsula of Crimea.
In response to the recent tensions and the threat of sanctions from the West, Russia's stock market tumbled as much as 13% on Monday, wiping out nearly $60 billion in market cap before mounting a rebound on Tuesday. Russia's currency also tumbled to record lows, prompting the country's central bank to sharply hike interest rates.
Earlier this week, Citi disclosed $130 million of net investments in Ukraine, where the bank acknowledged "political changes, civil unrest and military action" have contributed to "significant economic uncertainty and volatility." Citi said substantially all of that investment is hedged, but also listed total third-party assets of about $600 million at a Ukrainian subsidiary.
KBW characterized Citi's exposure to Ukraine as "modest" compared with exposure to other emerging markets.
"Citi continues to closely monitor the political, economic and military situation in Ukraine, and will continue to take actions to mitigate its exposures to potential risk events," the bank said in a filing on Monday.
KBW said it believes the "greater risk" to Citi is contagion to Poland, the bank's largest exposure in Eastern Europe.
Likewise, Citi disclosed $10.3 billion of select assets in Russia at the end of 2013, excluding cash and other assets. KBW said that means Citi's exposure of total assets is "likely higher" than $10.3 billion, but noted details for the company's ZAO Citibank subsidiary were not available.
KBW said that while a Russian default like in 1998 is not likely, such an event would cause "material" potential losses for Citi. Economic sanctions could also cause elevated credit losses, lower revenue or even a loss of Citi's banking license, the firm said.
"Even without contagion, increased EM volatility creates an overhang on shares of Citigroup that will likely remain for the near-term," Cannon wrote.
Shares of New York-based Citi rallied 1.93% to $48.53 Tuesday morning, trimming their 2014 losses to 6.8%. The gains come as U.S. and global markets bounce back amid easing tensions between Russia and Ukraine.
Earlier this year, investors focused on Citi's exposure to Argentina, which was taking the brunt of emerging market turmoil. Citi listed $4.2 billion of assets and $749 million in equity in its Argentine subsidiary as of the third quarter of 2013.
Citi recently revealed $400 million of fraud at a Mexican subsidiary and also said it received subpoenas from U.S. authorities probing the bank's anti-money laundering controls.