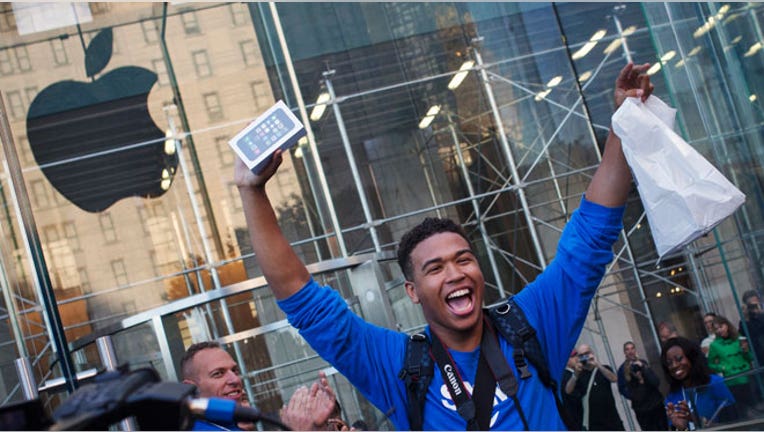 Apple (NASDAQ:AAPL) began selling new models of its iPhone on Friday, and Cantor Fitzgerald is quite bullish on the launch.
The launch includes the flagship iPhone 5S, which features upgraded hardware and a new fingerprint scanner. Apple is also offering the iPhone 5C, a cheaper alternative that is similar to last year's smartphone.
Analysts largely expect the consumer tech giant to sell more devices in the first weekend versus last year, partly because China is being included in the initial launch for the first time.
In a note sent to clients on Friday, Cantor Fitzgerald projected Apple will sell 6 million to 6.5 million new iPhones this weekend, compared to over 5 million iPhone 5 devices sold during the opening weekend last year.
The firm, which rates Apple a "buy" with a price target of $777, noted that launching two new iPhones simultaneously will help the Cupertino, Calif.-based company reach a larger percentage of the smartphone market. Apple's decision to stop selling the iPhone 5 should also drive sales for the new phones.
"Thirdly, the iPhone 5C was available for pre-orders starting on September 13, and our research suggests the tech supply chain made ample supply available for the launch," Cantor Fitzgerald said, adding that online shipment times this morning were around one to three days.
Cantor Fitzgerald cautioned that on the negative side, Apple's higher-end device wasn't available for pre-orders this year. In 2012, over 2 million iPhone 5s were sold in the first 24 hours.
Meanwhile, ISI Group called the long line at Apple's midtown New York City store "is a very-positive indicator of robust demand." ISI is also looking for about 6 million devices to be sold this weekend.
Shares were trading slightly higher on the first day of the launch. The stock was up $3.77 at $476.07 Friday afternoon.