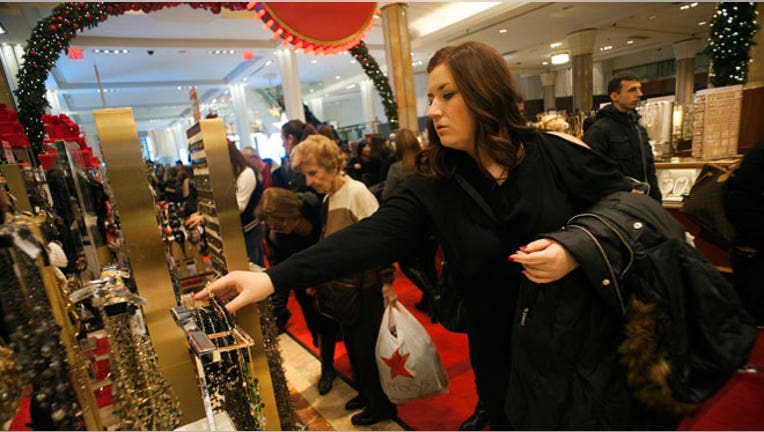 Sterne Agee declared Macy's (NYSE:M) the retail winner on Black Friday, as sales of cold weather apparel and discounted items fueled store traffic over the holiday weekend.
Analysts at the firm also hailed J.C. Penney's (NYSE:JCP) return to its old playbook as a success, indicating the struggling retailer got off to a strong start during the busiest shopping season of the year.
In a research note to clients, analysts at Sterne Agee said Macy's gets their "Elf On The Shelf Award" for its performance over the weekend.
The company benefited from an earlier Thanksgiving open and a wide array of door busters, the note explained, while promotional intensity was prominent with a large number of signs throughout the store.
Macy's also got a boost from sales of winter outerwear, a trend that Sterne Agee recognized across most retailers.
The analysts, who visited multiple stores over a 12- to 16-hour window, wrote that their Black Friday checks indicated strong sales of cold weather gear, thanks in part to colder temperatures. "We saw this across our department stores with shoppers buying coats, jackets, and boots/footwear with more frequency vs. last year," they said.
Sterne Agee also liked J.C. Penney, saying the retailer "got back to its roots" by going toe-to-toe with competitors on start times and door busters.
Traffic at J.C. Penney locations wasn't as strong as Macy's, but Sterne Agee analysts said they noticed "quite a few" J.C. Penney shopping bags during their checks.
"Looking ahead, success over the holiday season will be critical for JCP as it seeks to re-acquire many consumers that left during 2012," the analysts wrote. "Our reads suggest a good first step this weekend."
But across the board, Sterne Agee believes many shoppers "cherry-picked" deals that were offered at certain times, particularly at both Wal-Mart Stores (NYSE:WMT) and Target (NYSE:TGT). The analysts said their field work revealed noticeable shopping lulls in between those time-specific sales.
Stores also seemed to have inventory of discounted items well into the Black Friday rush. Sterne Agee, which described door buster sell-throughs as a baseline for overall volume, was "surprised to see several retailers with front-page items…still available late Friday" morning.
According to the National Retail Federation, a record 141 million people shopped during the four-day Thanksgiving weekend. However, Black Friday sales fell 13.2% as more people shifted their gift buying to Thanksgiving Day.
Retailers largely traded lower Monday afternoon. J.C. Penney was down 1.7% at $10.01, while Macy's fell 40 cents to $52.86.