An Unapologetic Black Friday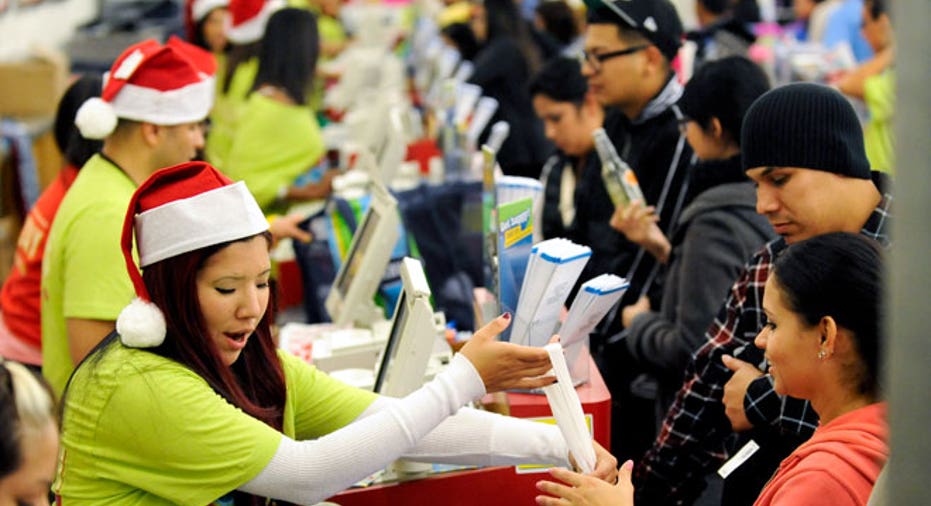 As you read this, I am likely in a big fat American mall. I know if I want to claim my piece of the moral high ground I should be lying through my teeth and saying I'm strolling my town and shopping at its local businesses. Ho ho ho.
But not so fast on this holier-than-thou tone that seems to be all the rage regarding Black Friday. Oh, those shallow wretches duking it out for the toy of the moment at some mammoth department store. How could they be thankful for the air they breathe one day and muscling some old lady out of line the next?
Could we all get a grip please? Who are we kidding?
First of all, if you are indeed one of those who takes the time to express gratitude on Thanksgiving instead of simply tolerating a day with the in-laws, congratulations. With each passing year, I find it makes life immeasurably better to live in a way where gratitude is at the forefront most of the time as opposed to one day a year. So there's that.
Second, I love many of my local businesses and frequent them as much as I can. If I give anyone jewelry or chocolate, it will be from small shops in Hoboken. Much of my clothing the last few years has been purchased in a boutique in town. I am very much a part of supporting my local community. The delightful store where I've purchased Christmas ornaments for various family members and friends closed this year and I'm so disappointed not to have that lovely haven in my neighborhood.
But Black Friday for me is about much more than my town. It's about tradition, gathering, sisterhood and, yes, a centrally located mall that will boast its share of bargains on this particular day. We'll shop at Macy's and Lord and Taylor and Bath and Body Works and complete strangers will share coupons and hum along to carols, all amidst pretty lights.
Not exactly Dante's version of hell.
Over the years we've had plenty of people tell us we're nuts. I've always been cool with that. I enjoy myself regardless. I don't need approval. But this year has been particularly over the top with the "crazy" and "soul-less" labels as we head into the season. Just because one store will have heavily discounted flat screen TVs and a trampling incident doesn't mean that's the norm.
This year more than any other I can recall it will be a therapeutic day. Our Cheesecake Factory lunch, always lively, will include at least three, maybe four or five of us, and we've all got Hurricane Sandy stories to tell. We're all from New Jersey. We all came of age at the Jersey Shore. My sister's friend Kathy, who practically grew up in our house and shared plenty of beach vacations with us, will tell us what it was like for her family of five to live without power or a flushing toilet in the storm's aftermath. This Black Friday tradition is our "normal" and we've been missing the heck out of our normal. It is, in fact, my routine that I am adding to my gratitude list this year; who knew it was such a blessing to have a routine?
We will miss our cousin who is on the other side of the world courtesy of a Fulbright. And we will miss her mother, another of our regulars, because she's on call for work. But my sister and I will be there, holding court and breaking bread in the middle of the shopping.
While I'm on the shopping, there is a part of large chain store purchasing that is often a necessity unless you've got a cash tree in your backyard. It's bang for the buck. When I help my sister pick out gifts to give her staff at work, a staff she treasures, it is not just fun to figure out how to do it creatively but to be smart and take advantage of discounts that allow her to show her appreciation that much more.
It's all part of the experience, an gloriously exhausting day that begins at roughly 6 a.m. My sister will try to convince me to get up earlier, but I stand my ground, maybe giving in just a little if she gets some coffee into my system first thing. I don't see it as much different than going to an annual football game with friends. It's really not about the football, is it?
The way I see it, I'll happily get my piece of the moral high ground some other way, some other day. In the meantime, pass me a coupon.
Nancy Colasurdo is a practicing life coach and freelance writer. Her Web site is www.nancola.com and you can follow her on Twitter @nancola. Please direct all questions/comments to FOXGamePlan@gmail.com.