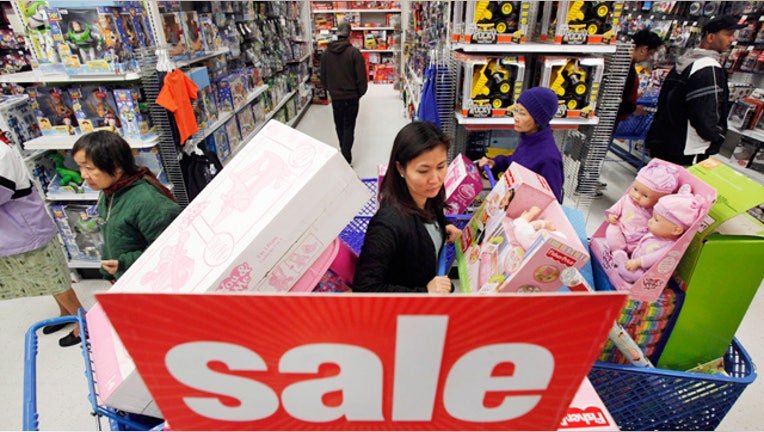 Welcome to OnSale at FOXBusiness, where we look at cool deals and insane bargains.
This new app tells you when to buy to get the best deal. Get a new phone from AT&T for only a penny this Black Friday, and don't forget to feed the red kettle– this year it takes plastic. Groupon wants you to help needy families, and this display has it all, plus a great low price.
Decision Timetells
No savvy shopper enjoys the sinking feeling that comes with realizing an item they bought last week is now $50 less than what they paid. With this in mind, e-commerce company "Decide" created a service that can determine whether it's best to buy a product now or later.
Just in time for the holidays, Decide has a new, free iPhone app to help shoppers make smart decisions when they hit the mall to tackle their gift-buying lists. Just like the site, the app offers pricing history for TVs, tablets, phones, laptops and cameras, along with notifications for when the next model will hit store shelves. There's a barcode/QR code scanning feature that lets users compare online prices with prices at nearby stores, and a listing of the latest products, including all specs, in more than 30 different categories. Don't have an iPhone? Don't worry. Decide.com has a mobile version of their site that works just as well.
Phones for a Penny
AT&T (NYSE:T) is going all out with Black Friday deals this year. Starting at 12:01am on Black Friday (the day after Thanksgiving), AT&T will slash prices on all of its touchscreen devices, including smartphones and tablets. The deals will last through the following Monday. so bargain-seekers better act fast.
Shoppers looking for a new Windows 7 phone will be happy to know that on Saturday, they can buy one for just one cent. Some Android devices are included in that deal, too.
On Sunday, the BlackBerry 9860 drops to just one penny. Looking for an HTC Red Inspire? You'll find that for just $30 this weekend. AT&T will then sell the HTC Inspire, Motorola Atrix, and other select models for one cent. Of course, there is a catch. All phones selling for a penny must be purchased with a two-year service plan, plus monthly data and messaging. See all the deals here.
Charity Takes Credit
It's that time of year again – the Salvation Army's bell ringers are out in full force with their red kettles and occasional Santa hats. This year there's no excuse not to send a little spare change their way, they now accept credit cards.
Each bell ringer will have a Square credit card reader for those who only carry plastic. Donors can also set up their own "virtual kettle" online to ask for donations for the Salvation Army from friends and family.
Learn more by clicking here.
Good Deeds at Groupon
Speaking of charitable giving, Groupon teamed up with Feeding America to let deal seekers feed the hungry.
Feeding America, which provides food for more than 37 million Americans every year, aimed to get 200 $11 donations from Groupon users to feed 200 families for two weeks. Two hundred was miniscule compared to what they actually received.  As of press time, more than 5,000 people got on board with Groupon's G-Team, helping to feed thousands of families. Those of you who missed the Groupon can still donate to Feeding America and track G-Team good deeds in your community by signing up here.
AOC on Display
LCD/LED monitor and HDTV manufacturer AOC just revealed its latest creation for those seeking a better display for their computing activities. The 23-inch Aire Pro is a High-Definition monitor that is just 9.2mm and Dual HDMI ports.
With two built-in speakers, it works well for watching movies and TV shows, playing video games, or just listening to music while you work. The best part the retail price will likely be just $199. Stay current on release dates and other new products by visiting the company's corporate site.
Know of a killer deal or insane bargain? E-mail the goods to OnSale@FOXBusiness.com and share the wealth