Amtrak Food Service Lost $834M in 10 Years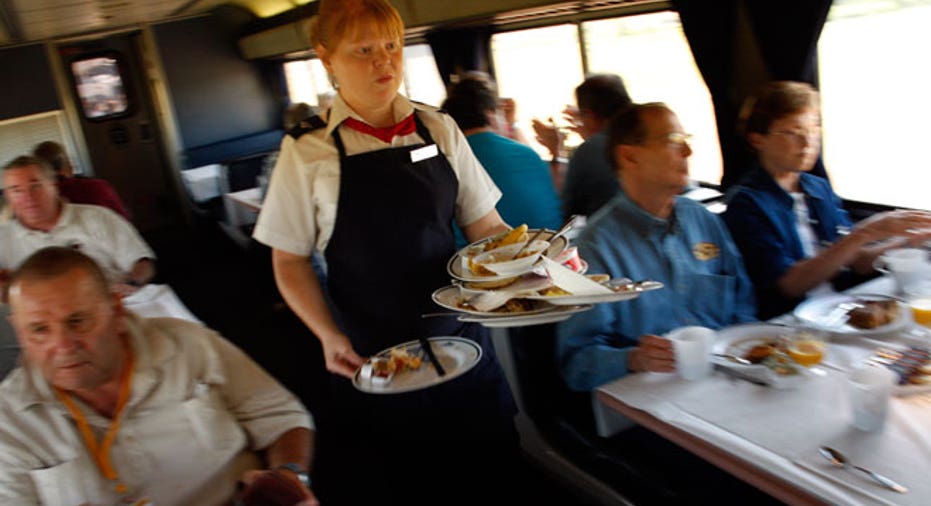 For cash-strapped schools and billion-dollar ballparks, selling food and drinks is usually a moneymaker.
For Amtrak, not so.
Each year, Amtrak loses millions feeding its passengers. Statistics compiled by the House Transportation Committee show losses of $84.5 million selling food and beverages last year and more than $830 million over the last decade. This, while Congress spends nearly $1.5 billion annually keeping Amtrak on the rails.
"I strongly suggest that you get your head out of the sand and look at the right way to deliver something like food and beverages in a profitable way," said Jean Schmidt, (R-OH), at a Thursday congressional hearing. "This isn't rocket science."
Dwayne Bateman, an Amtrak employee and the vice general Chairman of the Amtrak Service Workers Council, said "This whole expectation that we should operate like a restaurant, or that we are a restaurant, is absurd to me. We're not a restaurant."
Amtrak views its food service as a benefit to draw passengers from their cars and competing bus lines, not as a way to subsidize operations. "Part of what attracts people to Amtrak is the availability of food … If we were to eliminate food and beverage services, we would actually lose more money, because of the loss in associated ticket revenue," said Amtrak CEO Joe Boardman, according to his prepared remarks.
Republicans called the $833.8 million lost over ten years in food "outrageous," "astonishing" and "unbelievable" and partially blamed high labor costs as the reason for the loss. The Republican committee report claims 57% of its food service expenses in 2011 were labor costs.
Boardman told lawmakers that the financial performance of its food and beverage service is improving, claiming to have recovered nearly 60% of its costs last fiscal year. In 2006, Amtrak reported it recovered less than 50% of its food and beverage costs.
Despite the hearing's focus on millions in food-service losses, the conversation easily turned to the often debated billion-dollar federal cost of Amtrak. Congress provided more than $1.4 billion to Amtrak in 2012. Last month, the rail carrier also called for billions in additional spending on upgrading Washington D.C's Union Station and installing high-speed service in the northeast.
Republicans have generally supported funding cuts or selling off pieces of Amtrak to private bidders while Democrats identify Amtrak as a public service, arguing if the government can spend billions building roads, it should also do so upgrading rail transportation.
Thursday's hearing featured tense exchanges between lawmakers and witnesses. At the    session's conclusion, Rep. Bill Shuster, (R-PA), then presiding over the hearing, adjourned with a statement. Typically, hearings conclude with remarks from the chair. However, Rep. Corrine Brown, (D-FL), attempted a final thought and Shuster cut her off and said, "You don't get to close because I'm the chairman. That's the way it works." A visibly-upset Brown replied, "We need 218 to change it," referring to the number of lawmakers a party must have in a full House of Representatives to gain control.
"That's exactly right," Shuster responded, smiling.
Shuster and Brown then continued their argument before the cameras, though out of range of a microphone. Brown then approached fellow Democrat Rep. Elijah Cummings, (D-MD), where she said, "These people are the worst. They're cruel and they're mean … These people are mean! They take a mean class!"
During the hearing, Brown said the committee's focus on food service losses was "getting in the weeds" of managing Amtrak, when it instead should on other priorities, like the FAA and infrastructure.