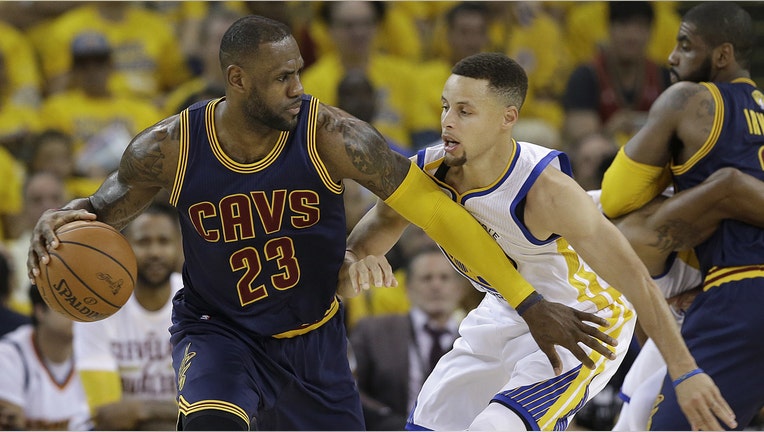 The Cleveland Cavaliers and Golden State Warriors' won't meet in this year's NBA Finals until Thursday night, but sports apparel giant Nike Inc. (NYSE:NKE) is already set to dominate its industry rivals in the upcoming championship series.
Of the players set to participate in the NBA Finals, 25 wear Nike sneakers, according to Eric Smallwood, president of Apex Marketing, an analytics firm. The list of Nike loyalists includes superstars LeBron James, Kyrie Irving and the entire Cavaliers roster, as well as Golden State Warriors stars Kevin Durant and Draymond Green.
Warriors forwards Matt Barnes, Kevon Looney and David West are the only three players in this year's finals who wear shoes manufactured by German brand Adidas, Nike's chief competitor in the sports apparel space. Warriors guard Stephen Curry is Under Armour's (NYSE:UAA) lone representative in the series, though his line of signature sneakers is among the world's most popular.
Klay Thompson, Curry's teammate and "Splash Brothers" running mate, will wear his signature Anta sneakers as part of his endorsement deal with the Chinese brand.
Nike's overwhelming level of representation in this year's championship comes at a time of intense competition in the apparel space. All brands in the performance basketball sneaker category have struggled due to a shift in consumer taste toward fashion-forward retro and classic brands. Adidas' sales in North America rose 30% in its most recent fiscal quarter, far more than Nike's recent growth in the region.
However, Nike remains the dominant force in basketball sneaker sales, thanks in large part to the continued success of its Jordan brand and deals with Irving and James. Trevor Edwards, president of Nike brand, said during an earnings call last March that the "Kyrie 3" sneaker is the "top-selling basketball sneaker in the marketplace" since its release in December.
James and Irving's lines of Nike basketball sneakers were the top-selling NBA signature styles over a 12-month period through March 2017, according to NPD Group data obtained earlier this month by Forbes. Curry's Under Armour sneakers ranked third, while his teammate Durant's Nike sneakers ranked fourth.
This story has been updated.