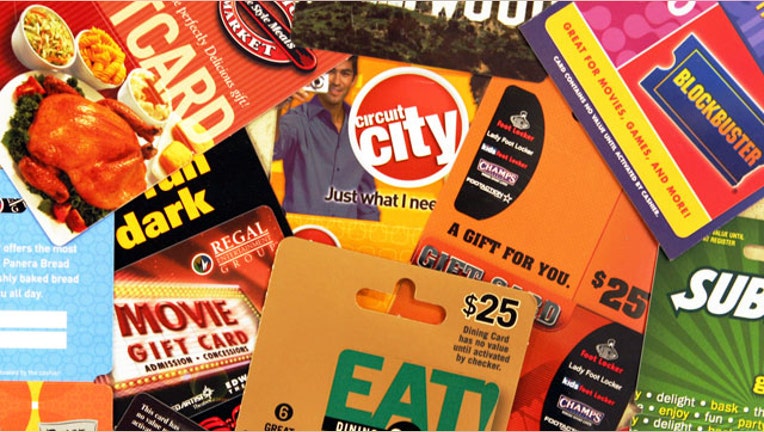 Savvy shoppers and consumer-friendly regulations will keep more value on holiday gift cards than ever before, according to researchers at an executive think tank. In a statement to reporters, representatives from CEB TowerGroup Research said that nearly 85% of the U.S. population exchanged prepaid gift cards during 2012, for a total of over $110 billion in stored value.
However, as a result of the Credit CARD Act of 2009, retailers and gift card issuers can't pocket leftover funds on most gift cards until at least five years after their last load. CEB's research shows that "gift card spillage" dropped from $8 billion per year in 2007, to just under $1.7 billion in 2012.
CEB TowerGroup officials credit the proliferation of "open loop" gift cards with much of the market's expansion. Bearing Visa, MasterCard, American Express, and Discover logos and redeemable at most retailers, open loop gift cards account for much of the industry's growth over the past five years. Researchers reported that 75% of consumers redeem these gift cards in full, while 30% of consumers will spend as much as $25 in cash to complement their gift card redemptions.
Research also indicates that physical gift cards remain far more popular among gift-givers than electronic vouchers. E-cards accounted for just $3 billion of the gift card market in 2012, especially as holiday shoppers picked up attractive, last-minute gift card packages at supermarkets, banks, and convenience stores. CEB TowerGroup senior research director Brian Riley told reporters that the "variety and assortment of gift cards available" helped gift givers pick cards that their recipients will actually use.
At this rate, researchers said, the gift card market could top $130 billion in annual sales by 2015, with electronic gift cards accounting for about 15% of the industry's revenues. With sustained demand for gift card activations at retail locations, American Express and Chase have expanded plans to use the same channels to support new prepaid debit card products.
The original article can be found at CardRatings.com:Americans squeeze more value from gift cards, even as stored balances soar