Americans Kiss and Make up With Real Estate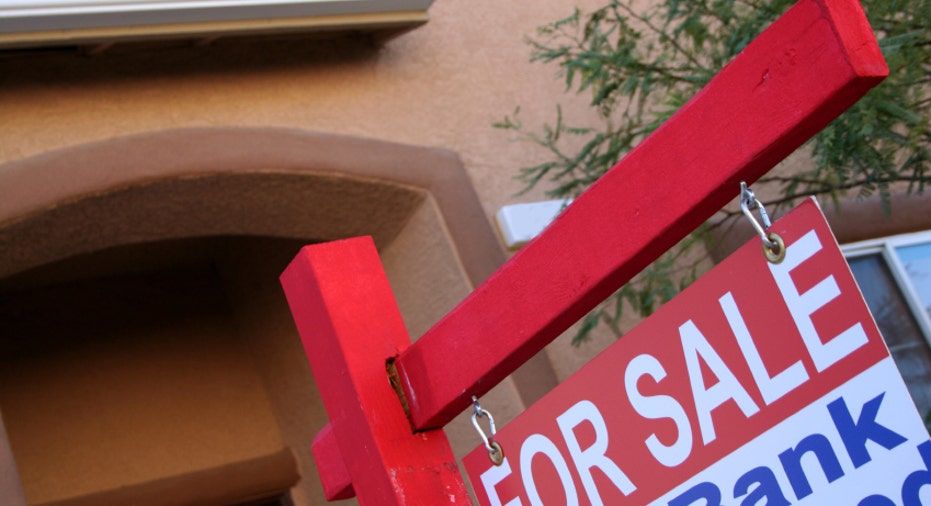 Once bitten, twice ... bullish? Five years after a housing market crisis nearly sent the nation into a second Great Depression, Americans are feeling pretty great about the future prospects for the nation's real estate.
In a national poll conducted as part of Bankrate's monthly Financial Security Index, a majority said they expect the value of American homes to increase over the next 12 months. 55% say home prices will go up, compared to just 9% who think they will fall and 27% who say they will stay flat.
Coming on the heels of Bankrate's July FSI survey that showed real estate ahead of stocks as Americans' preferred way to invest money they won't need for 10 years, the new findings suggest that a horrific crash hasn't done much to dim Americans' enthusiasm for housing as an investment, says Greg McBride, CFA, senior financial analyst for Bankrate.com.
Watch Greg McBride's analysis of the poll results.
"It appears that Americans' love affair with real estate is back," McBride says. "Even though the housing bust shows that housing prices don't just go straight up, people just don't have the same risk aversion to real estate and homeownership that they do to stock ownership."
Public probably right on rising prices
Given recent trends, it's actually pretty realistic to expect home prices to continue rising over the next year, says Jeremy Edwards, a lead analyst at industry research firm IBISWorld.
"Data from the (Standard and Poor's/Case-Shiller) home-price index have shown that housing prices have risen 7.1% in the last quarter, and we expect that trend to continue throughout 2013," says Edwards.
If a substantial run-up in home values sounds disturbingly familiar, keep in mind that prices are still well below where they were in 2008, and -- at least at this point -- price increases look to be driven by economic fundamentals, says Edwards.
"Generally speaking we've seen improving economic conditions. We've had real (gross domestic product) revised up (to a growth rate of) 2.5% for the second quarter of 2013," Edwards says. "Consumer confidence is rising and was up again in August by 0.5 points, and this is largely the result of improving short-term expectations from consumers, mostly to do with more upbeat business expectations and better job prospects."
Foreclosure trends and Fed have helped
The fact that many banks have finally managed to clear out their inventory of foreclosed homes in many areas, as well as some help from the Federal Reserve in the form of low rates, also have helped values recover, says William Delwiche, an investment strategist for Robert W. Baird and Co.
"We got past that wave of the foreclosure crisis and banks trying to dump all their homes on the market," Delwiche says. "Lower mortgage rates have had an undeniably positive effect on not just household balance sheets, but also the housing market generally. It makes it much easier to buy a house if you're so inclined."
In turn, a healthier housing market has beneficial effects for the entire economy, as rising home values tend to make consumers feel more confident about their overall financial situation and thus more likely to spend money on other things.
An uneven recovery
Thanks to the intrinsically localized nature of real estate markets, the recovery in housing values hasn't benefited all areas equally, says Chris Leinberger, a professor at the George Washington University School of Business and chairman of the school's Center for Real Estate and Urban Analysis.
Home values in areas that are high-density, urban and walkable have tended to rise faster than real estate in low-density, suburban areas where you have to drive, says Leinberger.
"Those two markets are going in two different directions, because we've overbuilt drivable suburban, which was the ultimate cause of the Great Recession, and of the mortgage meltdown," Leinberger says. "Drivable suburban, particularly on the fringe, collapsed ... while walkable urban went down a little bit but basically went flat, and that's where most of the price appreciation in the future will be taking place."
And while it may seem odd considering that many blamed the housing crisis on rampant overbuilding, a sharp decrease in homebuilding after the financial crisis has actually created a shortage of available homes in some areas, says Leinberger.
"There's pent-up demand for walkable urban products for many, many years to come," he says.
Not all is well in real estate
Despite the recent good news, the housing market has a long way to go before it receives a clean bill of health and stops being a drag on the economy in many areas, says Baird's Delwiche.
"The percentage of people that are still underwater in their homes is still quite high," Delwiche says. "You can step back and see that home values have increased over the past year pretty well, but you look at overall price levels and there they still haven't recovered much of that big decline from the financial crisis."
Where those values go over the long term depends a lot on supply and demand, says Albert Saiz, an associate professor at the Massachusetts Institute of Technology's Center for Real Estate.
The supply of houses is now tight in some places, because homebuilding dropped off sharply after the economic crisis. How high prices rise will depend on how quickly homebuilders in those areas ramp up construction of the types of homes people want.
"There's a huge lag now in construction, so it might take three or four years from the inception of a project ... to the end," he says.
The level of demand for homes will depend on factors such as: employment, which gives consumers the means to make mortgage payments; and interest rates, which affect their capacity to borrow. If rates rise too quickly, it could lower demand and put a damper on the growth of home prices, he says.
"It's going to be a race now between interest rates and how fast the economy grows," Saiz says.
Copyright 2013, Bankrate Inc.