American Spirit Strong Despite Fireworks Cancellations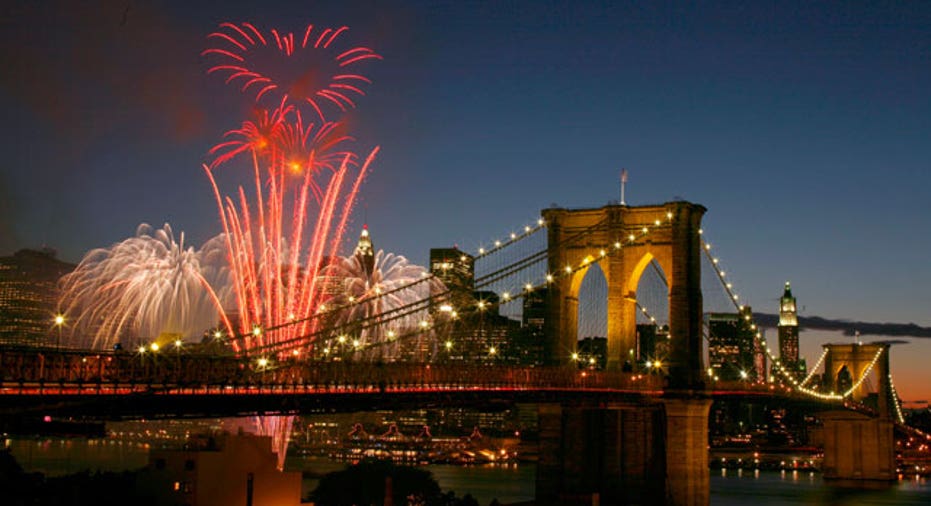 History lovers may find some humor in the fact that the skies over a city named New Britain were supposed to be dark this Fourth of July.
Unfortunately, theres nothing funny about the $10 million budget shortfall that forced the city to abandon a national tradition.
Local governments are strapped for cash and many of them -- even biggies like Chicago and Cincinnati -- have resorted to canceling their July 4 fireworks programs in an effort to control their spiraling deficits.
But instead of settling for a July 4 without the requisite boom and bam, some communities have shown they arent giving up without a fight.
New Britain, Conn., is one of them.
Just weeks after New Britain Mayor Timothy Stewart announced there would be no fireworks celebration this year, quite a few of the citys 71,000 residents participated in a national online contest sponsored by Liberty Mutual called Bring Back the 4th and the city was awarded one of 10 $10,000 grants to put toward reinstating a fireworks show. Organizations within the community also pledged money of their own, and as of last week, the city of New Britain had amassed slightly more than $50,000, topping the budget for last years event.
Im not really all that surprised, says Stewart. I knew how important this was to people. It says a lot about our community.
Stewart says the funds will be split down the middle between the actual fireworks show and the overtime and personnel costs associated with the festivities. He says if there happens to be any money left over, it will be put toward next years show that is, if there is one.
Itll be a hurdle next year. Well see how it happens, he says.
That uncertainty begs a bigger question: If cities cant dig themselves out of the hole, will it spell the end for the companies that produce fireworks shows?
From the looks of it, probably not.
Cities and towns are important accounts for fireworks companies, but in some ways, their importance may be more symbolic than financial. Famous family-run fireworks company Zambelli Fireworks, which was founded in 1893, actually owes most of its business (60% to 65%) to events hosted by companies and private organizations. Fireworks by Grucci, another storied family-run business, doesnt generally work with any local governments.
Why? Philip Butler, producer at Grucci, says most cities employ a bid program to select their fireworks providers and generally go with the cheapest offer. The government is not a loyal customer, he says.
Every year, no matter how good a program [a fireworks company] does, they will be right back on the bid list this year.
Butler says the opposite is true of private clients, like some of the casinos he works with in Las Vegas, where quality is the first priority.
The casinos they dont nickel and dime, he says. If they want the best, they just say Are you available?
Gruccis strategy seems to be working. The company drafts multiyear contracts with clients (i.e. companies that want to do a July 4 show have to sign a four-year contract agreeing to a minimum budget of $25,000 a year) and says it's very rare that clients try to wiggle out of them. Because of that, the companys schedule has been full even in these uncertain times.
Every year, including this year, we have turned away probably eight or nine programs that we just couldnt do because were fully booked, he says.
Over at Zambelli, business also appears to be booming. Zambelli Chairman George R. Zambelli says that despite some cancellations and smaller budgets, the company has managed to reel in new customers and increase its number of displays by 10% this year. (The company will do about 2,500 fireworks displays total, 800 of which will occur on or near July 4.)
Though he says its natural to sometimes lose a bid with a local government because of pricing, Zambelli says his company has the infrastructure to work within a communitys budget by making changes to the venue or the types of pyrotechnics used.
The nature of our business is to try to work with everyone, he says.
Zambelli says that if communities continue to struggle with their budgets next year and beyond, the company will continue to adapt.
Well just have to get more creative and be able, as we did this year, to change the nature or makeup of fireworks displays so that if another community or two or 10 get in that budget crunch, we can make it work again.
What matters most to him is that the show still goes on especially in these tough times.
When economic climate is bad, in some respects you need fireworks more than ever as a community morale booster, he says.