American Eagle's Gloomy Guidance Sparks Another Dive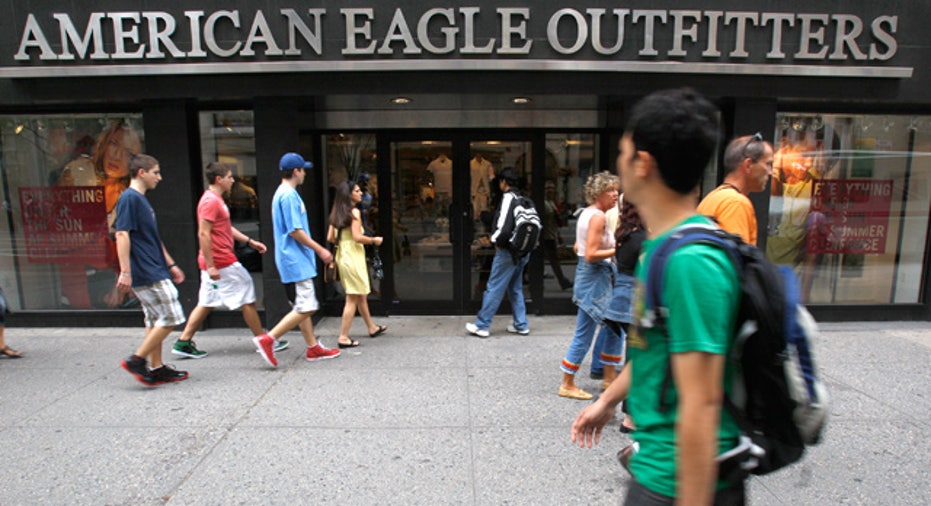 Struggling American Eagle Outfitters (NYSE:AEO) issued a bleak outlook on Wednesday following a 1.7% dip in second-quarter sales as the apparel maker turns to heavy discounts to combat a traffic slowdown.
Shares of American Eagle, which tumbled double-digits earlier this month on a profit warning, slumped another 7% in premarket trading on Wednesday.
Management forecasted third-quarter EPS of 14 cents to 16 cents, which is not even close to expectations on Wall Street for 35 cents or the year earlier EPS of 41 cents.
American Eagle said same-store sales are expected to decline in the mid-to-high single digits amid sluggish traffic.
The company said it earned $19.6 million, or 10 cents a share, last quarter, compared with a profit of $19 million, or 9 cents a share, a year earlier. That matches preliminary numbers issued by the company on August 6, but is less than half the Street's view of 21 cents at the time.
Sales dropped 1.7% to $727.3 million, compared with consensus calls from analysts for $719.5 million. Same-store sales slumped 7%, reversing an 8% jump in the year-earlier period.
Gross margins shrank to 33.8% from 37.4% amid higher incentives.
"We faced a highly promotional and competitive retail landscape and a decline in traffic, which have continued into the third quarter," CEO Robert Hanson said in a statement. "We are working hard to strengthen our assortments, marketing efforts and overall execution, while maintaining tight inventories and disciplined expense management."
Hanson added that he is "extremely disappointed with our results," but that he remains "confident in the strength of our brands," strategic initiatives and the team's "resolve to regain momentum."
Wall Street pounded Pittsburgh-based American Eagle for the gloomy guidance, driving its shares 7.33% lower to $15.18 ahead of the opening bell. Even before Wednesday's selloff, American Eagle shares had lost 20% of their value this year.