American Eagle Swoops Lower on Tepid 1Q Outlook, Tumbling 4Q Profits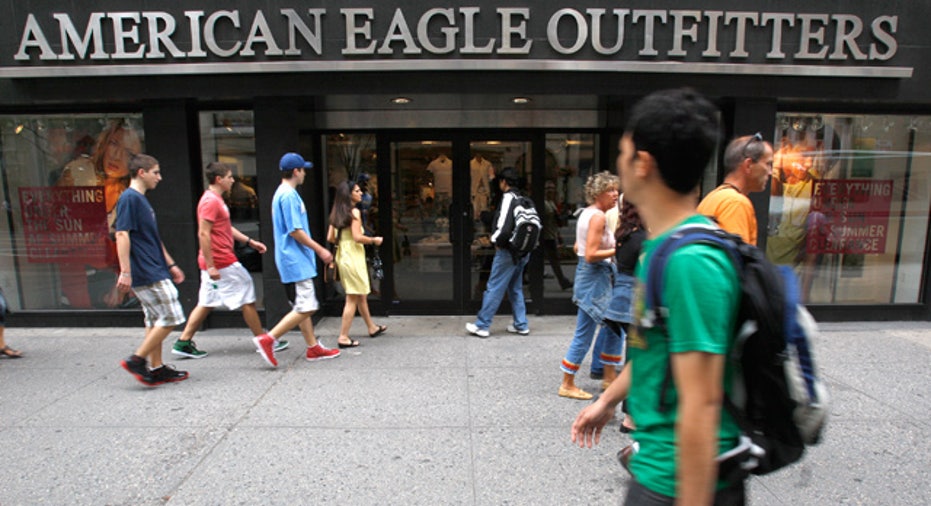 American Eagle Outfitters (NYSE:AEO) disclosed plunging fourth-quarter profits on Tuesday amid heavy discounting and the apparel maker spooked investors by warning of below-consensus first-quarter earnings.
Wall Street zeroed in on the tepid guidance and margin contraction, driving American Eagle's shares more than 5% into the red in premarket action.
The retailer said it earned $10.5 million, or 5 cents a share, last quarter, compared with a profit of $94.8 million, or 47 cents a share, a year earlier.
Excluding one-time items, American Eagle earned 27 cents a share, down from 55 cents the year before and a penny better than analysts called for. The company issued soft guidance for the fourth quarter back in January.
Revenue fell 7% to $1.04 billion, compared with the Street's view of $1.03 billion. Same-store sales slumped 7%.
In a sign of heavy incentives, American Eagle's gross margins tumbled to 29.4% from 41.2%.
"The company's results in 2013 were highly disappointing. While tough macro conditions have persisted in our retail sector, our merchandise and overall customer experience fell short of expectations," American Eagle interim CEO Jay Schottenstein said in a statement.
Looking ahead, American Eagle projected breakeven earnings in the first quarter, which widely miss estimates on Wall Street for EPS of 13 cents. Management warned of a high single-digit decline in sales.
"Business conditions remain challenging, with severe weather contributing to weak demand," the company said.
American Eagle said it ended the quarter with total cash and investments of $429 million, compared with $631 million the year before.
Shares of Pittsburgh-based American Eagle slid 5.35% to $13.45 ahead of Tuesday's opening bell. The selloff puts the company on track to extend its 12-month slump of 31%.