Amazon's Holiday Deliveries Face Turbulence From Pilot Strike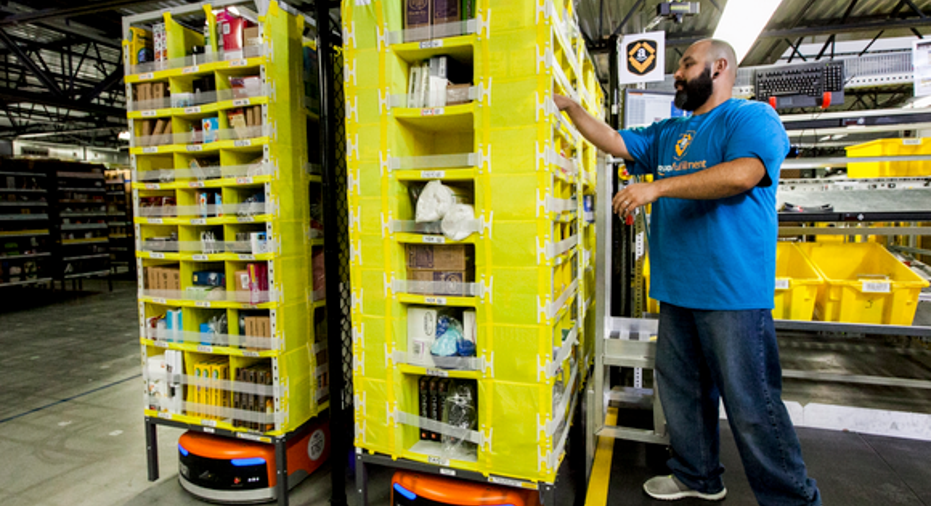 Amazon.com Inc.'s newly established in-house transportation network is facing a rocky start to its all-important holiday season.
Pilots contracted to deliver Amazon packages began picketing Tuesday because of a longstanding labor dispute, a sign of further potential disruptions through the end of the year at one of Amazon's two airline partners.
The pilots are employed by Air Transport Services Group Inc., which alongside Atlas Air Worldwide Holdings Inc., was hired by Amazon to fly its packages in 40 dedicated jets by the end of 2018. About 16 will be in operation by the end of the year, according to the companies.
But the contracts with Amazon, which is beginning to build its own transportation network through these kinds of partnerships, have added more flights and staffing needs at ATSG and Atlas. The increased demand is upsetting pilots as they try to agree on new labor contracts with management.
In a complaint filed in federal court Tuesday, ABX Air Inc., a subsidiary of ATSG, said Christmas shopping and deliveries have already been disrupted and could worsen if the industrial action continues.It also filed a request for a temporary restraining order. Atlas declined to comment on whether it was affected by the ATSG industrial action on Tuesday.
Amazon said it works with a variety of carriers and is "confident in our ability to serve customers."
This holiday season is the first major test of whether Amazon can lessen its reliance on traditional delivery partners like United Parcel Service Inc. and FedEx Corp. In addition to the plane leasing, Amazon is putting more drivers on the road in vans branded with its logo to take on huge amounts of additional packages. It also wants to be a competitor to UPS and FedEx, according to people familiar with the matter.
Amazon has asked certain last-mile delivery partners to increase holiday capacity by as much as double in recent weeks a difficult ask due to an already tight labor market and shortage of rental vehicles, according to people familiar with those requests. It is tied to Amazon's move to consolidate deliveries to the same address into one vehicle, known as "Project Zero", instead of routing them through several different carriers.
"It's unrealistic to ask you to double your capacity at a week's notice," said an executive at one of those companies.
Amazon said that there hasn't been a recent shift in its holiday forecasts or capacity needs.
Amazon determined that it needed to take its destiny into its own hands after holiday delivery problems in 2013, when bad weather followed by a flurry of last-minute online orders at retailers caused millions of packages to arrive after Christmas.
Since then, it has increased its reliance on the U.S. Postal Service, regional delivery companies and smaller, last-mile delivery companies, as well as its own citizen courier fleet of Flex drivers, as it built out its network of warehouses. Amazon started a trial in September last year with ATSG, initially leasing five Boeing Co. 767 freighter jets to link its distribution centers through the airline's Wilmington, Ohio, hub.
However, Amazon also walked into longstanding labor disputes over pay and working conditions at some cargo airlines, though both ATSG and Atlas said they have had no problem recruiting extra pilots.
ABX's legal filing said that the Tuesday action caused the cancellation of 26 flights and stranded more than 1.25 million pounds of cargo for its other major customer, Deutsche Post AG's DHL.
If more flights are canceled due to the action, it "will result in millions of dollars of freight and packages not timely being delivered to retailers and homes," the complaint said.
Aside from ATSG's base in Ohio, the jets are operating up to eight daily flights for Amazon from airports that include the online-retail giant's Seattle base, Stockton and Ontario in California, Rockford, Ill., Lehigh Valley Airport in Allentown, Pa., and Tampa, Fla.., according to people familiar with the network.
Write to Laura Stevens at laura.stevens@wsj.com and Doug Cameron at doug.cameron@wsj.com