Amazon Pushes Barnes & Noble's Back to the Wall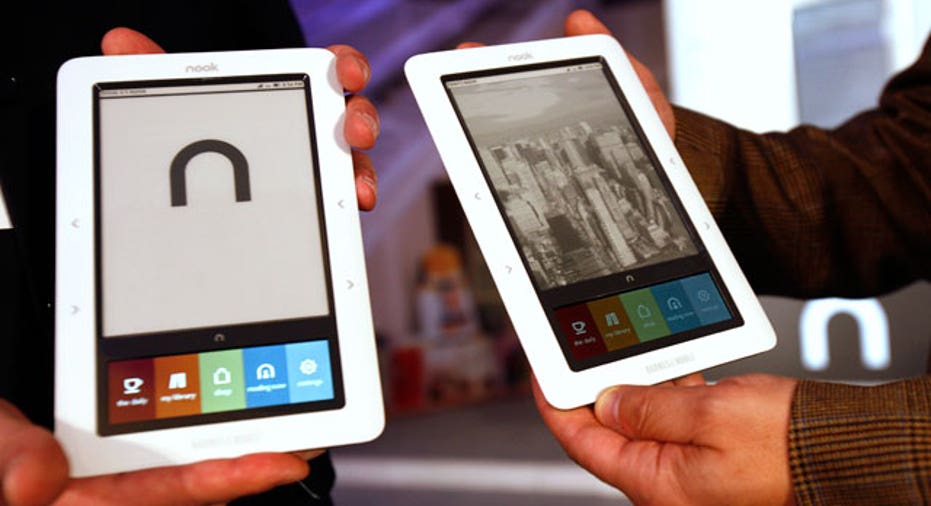 Amazon.com Inc's aggressive pricing on its Kindle devices leaves Barnes & Noble Inc little choice but to match the online retailer and update its own devices, even if that means more damage to the bookstore chain's bottom line.
Amazon introduced its long expected Kindle Fire tablet on Wednesday, as well as a touchscreen device and a cheaper version of its basic Kindle e-reader. [ID:nS1E78Q21B]
Those items are less expensive than their counterparts in Barnes & Noble's series of Nook devices and have the added benefit of giving consumers access to Amazon's cloud computing and entertainment services.
Barnes & Noble shares closed down 6.8 percent after falling as much as 13.3 percent earlier.
"It hurts them a lot more than it does Apple because they're so reliant on the Nook," said Michael Souers, an analyst with S&P Equity Research, forecasting lower Nook prices. "They need to maintain market share, which means their profitability is going to decline."
Barnes & Noble, which is facing an industry-wide decline in book sales, has gotten some relief from its Nook, launched in 2009 about two years after the first Kindle came on the market.
Last month, Barnes & Noble forecast sales of its Nook devices and e-books would double this year and reach $1.8 billion, or nearly a quarter of its revenue, even as its same-store sales stagnate.
Forrester Research estimates Barnes & Noble has a fifth of the e-book and e-reader market, compared with Amazon's 60 percent.
Barnes & Noble, which forecast a loss for the current fiscal year, suspended its dividend in February to hoard more money to invest in Nook.
It has so far proven a feisty challenger. It got the Nook Color to market a year before Amazon's Fire and a touchscreen version was introduced in May.
The Kindle Fire costs $199, compared with the Nook Color's $249. Amazon also lowered the price on its basic Kindle to $79, including ads. That compares with $139 for the basic Nook.
With the holidays nearing, the pressure is on. The bookseller must also contend with Amazon's ability to bundle its Kindles with other services, such as its cloud music storage and movie streaming, McQuivey said.
"It just means that Barnes & Noble has no time to really rest because on every single product front they have to respond," said Forrester Research analyst James McQuivey. "Barnes & Noble cannot offer all this media experience."
But Janney Capital Markets analyst David Strasser said he expected "a major product refresh" given that Nook Color is a year old now.
"They're going to need faster hardware for sure. The Nook is a reasonably good performing device, but it's certainly not something you'd call quick," Tim Stevens, editor in chief of technology blog Endgadget, told Reuters at the Amazon launch in New York. "And there is no access to a broad Android market like there is here."
Others say the game may still be too early to call.
"We are in the fairly early innings of the e-reader and digital transformation," said Morningtar's Peter Wahlstrom.