Amazon Offers to Invest Up to $500M in California to Avoid Tax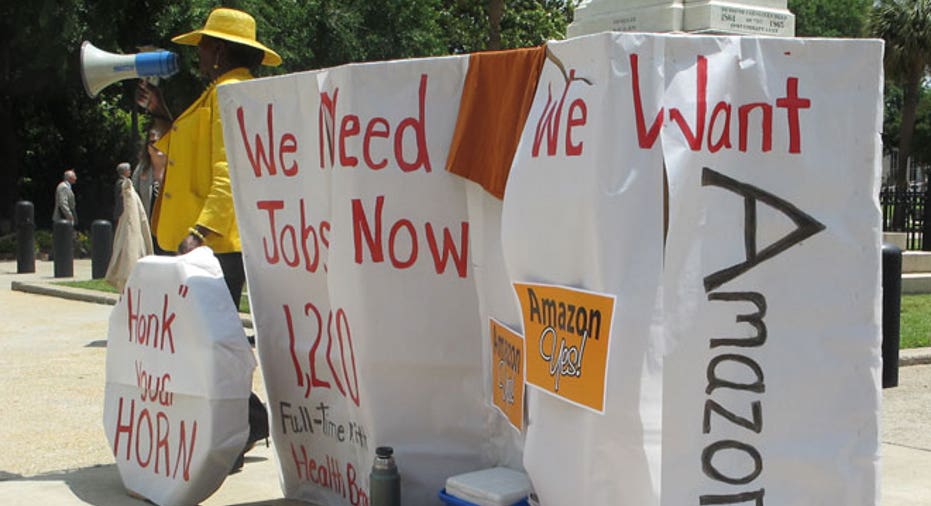 Amazon (NASDAQ:AMZN) is reportedly willing to build distribution centers and hire hundreds of workers in California in an effort to temporarily squash state efforts to tax web purchases.
The online retail giant proposed the plan in the form of draft legislation at a meeting Tuesday night between Amazon lobbyists and representatives of companies that belong to the California Retailers Association, according to the Los Angeles Times.
Regulators in the Golden State are trying to collect some $300 million a year in unpaid taxes in Internet sales. As part of its most recent offer, Amazon promised to invest as much as $500 million in new centers if California delayed the tax, according to the report.
Amazon has expressed its distaste for the bill, and has already started campaigning to repeal the law on the June 2012 ballot. In the latest push, the Seattle-based company asked California to refrain from enforcing the tax until at least January 2014.
In return for the postponement, Amazon offered to hold signatures it has already collected for the repeal, build two fulfillment centers in California totaling some one million square feet, and hire at least 1,000 employees, according to the newspaper report.
The company also reportedly offered to send its customers statements each year listing their Amazon purchases and advising them they owe California use tax on the goods.
Apparently lobbyists for the bill were not in favor of the offer, with Lenny Goldberg, a legislative advocate for the California Tax Reform Association, calling the move a totally cynical maneuver, according to the LATimes.
Brick-and-mortar stores like Wal-Mart (NYSE:WMT) and Best Buy (NYSE:BBY) that have backed the tax are not interested in cutting any deals with Amazon, people familiar with the matter told the Times.
The Amazon rivals have claimed the online retailer has an unfair advantage because it doesnt collect taxes in certain states.