Amazon founder Bezos' $65M jet seen at airports near potential HQ2 sites
Amazon founder and CEO Jeff Bezos' corporate jet visited airports at or near locations being considered for its second U.S. headquarters about the time the company made announcements regarding its search.
The billionaire's Gulfstream G650ER was at Boston Logan International Airport just days before and after Amazon said last year that it would commence its hunt for its "HQ2," according to the Puget Sound Business Journal, citing flight records of Bezos' aircraft. The records do not say who was on board or what the purpose of the trip was.
Then, after the company shared its shortlist of 20 finalists earlier this year, the jet was at Reagan National Airport, near Washington, D.C. Bezos, who owns The Washington Post, also has a home in the nation's capital.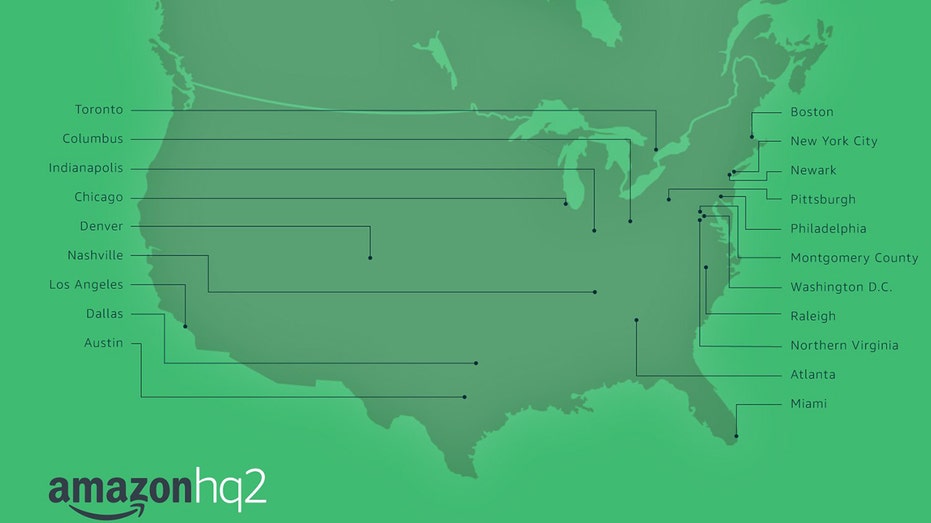 So far this week, the aircraft has made flights to Dallas Love Field and California's Hollywood Burbank Airport. Additional stops Bezos' Gulfstream made this year include airports in Teterboro, New Jersey, near Newark; the Boulder airport in Colorado, near Denver; and Los Angeles International Airport.
The aircraft visiting these locations is owned by Bezos' holding company, Poplar Glen LLC, and costs $65 million. With the ability to carry eight passengers more than 8,600 miles at a speed slightly higher than 650 miles per hour, the G650ER is an appropriate choice for zipping across the U.S. to visit other locations on Amazon's shortlist.
Amazon reached out to FOX Business following our report with the following statement:
"There's no connection between Jeff's personal and business travel, and our HQ2 search."