Amazon: Can two headquarters still equal one culture?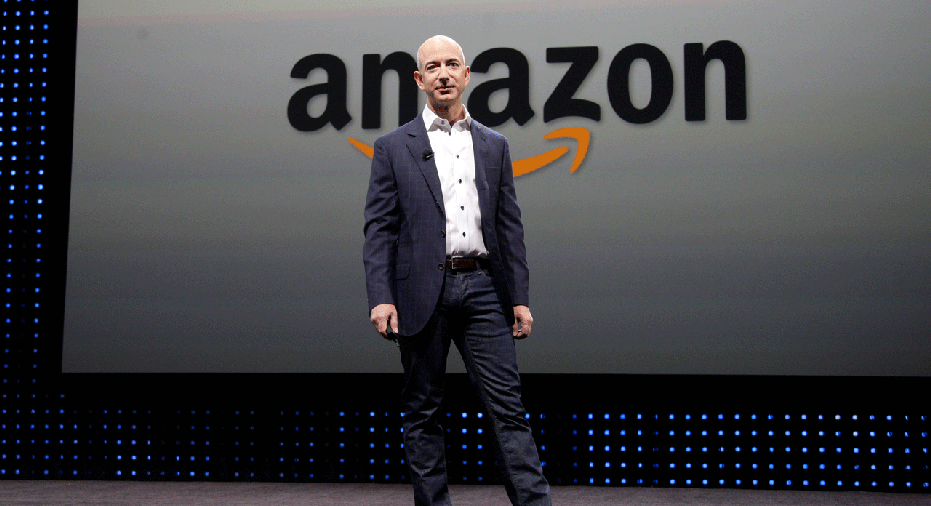 In planning Amazon.com Inc.'s (NASDAQ:AMZN) second headquarters, Chief Executive Jeff Bezos faces a new challenge: how to maintain the online retail giant's carefully cultivated culture when he can't be in two places at once.
The answer to his riddle may lie in one defining element of Amazon's business practices. Its highly decentralized structure, with small, siloed teams, is the equivalent of "1,000 independent businesses, all marching in the same direction," says former Amazon senior manager Eric Heller, who now helps brands sell on the site.
Mr. Bezos has been fundamental in defining the Seattle-based company's culture, setting the tone on everything from innovation to how many pizzas teams should need to order in for lunch. Amazon emphasizes 14 leadership principles that guide employee behavior, focus and goals.
Former executives say that while they saw Mr. Bezos infrequently -- in part because the 33-building Seattle campus is so large -- he still has an outsize presence at the company he founded in his garage in 1994. Mr. Bezos is known for encouraging employees to reach out via email directly for his guidance. That's even as the number of Amazon's employees surpasses 450,000 globally, including the recent acquisition of Austin, Texas-based Whole Foods Market Inc.
But Amazon, having outgrown Seattle, is now planning to split its headquarters in half, an unusual step that presents the risk of reduced collaboration, decreased face time and an off-kilter leadership structure if executives don't split their time evenly between the two sites, management experts say.
Amazon said the new location, which could house as many as 50,000 employees, will be equal in stature to Seattle. Amazon is soliciting proposals for the $5 billion project from metro areas that meet criteria including access to an international airport, mass transit and more than a million people.
An Amazon spokesman declined to comment on the company's plans.
Multinational corporations like Lenovo Group Ltd. and advertising giant WPP maintain several large business centers, but most are the result of mergers or cross-border shareholding structures, such as Airbus SE.
Amazon already has more than a dozen tech hubs across the U.S. as well as international offices, with about a quarter of its corporate staff operating outside Seattle. But Amazon's power center has always remained in and around the place where Mr. Bezos founded the company.
Mr. Bezos, 53 years old, still works to preserve the remnants of startup culture at Amazon, including a mandate to make quick decisions.
"I've been reminding people that it's Day 1 for a couple of decades," he wrote in his annual shareholder letter this year. "Day 2 is stasis. Followed by irrelevance. Followed by excruciating, painful decline. Followed by death. And that is why it is always Day 1."
Mr. Bezos constantly emphasizes Amazon's leadership principles, such as customer obsession, ownership and frugality. Managers know that the optimal size of a team is one that can be fed on two pizzas.
He frequently forwards customer emails to teams with the message "??," to jog them to respond.
Through "feedback mechanisms like that, we got clarity of what he was looking for," said Jennifer Arthur, who worked at Amazon for 16 years and is now a general manager at online home-improvement marketplace BuildDirect. "He also delivered a lot of the messages and a lot of that consistency" via his senior leadership team.
Indeed, Mr. Bezos is likely to lean heavily on his team of senior executives in opening the second headquarters. Veterans, including senior executives who have shadowed Mr. Bezos, are often chosen to open new remote offices to help ensure cultural cohesion.
A similar tactic is likely to be used at the new headquarters. Amazon has said team leaders will be allowed to choose whether to keep their reports in Seattle, move them, or work out of both locations.
Mr. Bezos will "probably send over some of his leaders who he thinks are some of his strongest culture carriers," says Adam Grant, an organizational psychologist and professor at the University of Pennsylvania's Wharton School. "The people make the place."
One trait that might prove helpful for a dual-headquartered company is the decentralization of teams at Amazon. A former lead engineer recalls being kept in the dark about other projects under way just a floor or two above him in the same office building. Other former employees say teams were at times purposefully kept unaware of similar projects.
"Every team functions like an independent company," says Elaine Kwon, founder of e-commerce management and software firm Kwontified and a former Amazon manager. "They're all moving as quickly as they can because they're given a lot of autonomy."
That can lead to confusion or duplication at times, some former employees say -- something that could worsen with two headquarters.
"One team rarely knows what another team is doing," says Chris McCabe, a former Amazon performance evaluation and policy enforcement investigator who now works with sellers on the retailer's marketplace.
Still, Mr. Bezos expects employees to act like owners, even if that pits teams against each other.
While launching the sports and outdoors marketplace platform about a decade ago, former Amazon senior manager Mr. Heller was given only a few weeks to get it up and running. He later even competed directly against Amazon's internal retail team, something he said demonstrated the leadership principle of putting the customer first.
"You really had to almost represent it as your own business," says Mr. Heller, who has since founded consultation firm Marketplace Ignition.
Write to Laura Stevens at laura.stevens@wsj.com
(END) Dow Jones Newswires
September 15, 2017 05:44 ET (09:44 GMT)