Amazon announces its list of 20 candidates for second headquarters
While the race is far from over, Amazon (NASDAQ:AMZN) announced Thursday it has narrowed down its list of 238 proposals from across to the U.S., Canada, and Mexico to 20 candidates, who all hope they will get a chance to become the e-commerce giant's second headquarters.
"Thank you to all 238 communities that submitted proposals. Getting from 238 to 20 was very tough – all the proposals showed tremendous enthusiasm and creativity," Holly Sullivan at Amazon Public Policy said in a statement. "Through this process we learned about many new communities across North America that we will consider as locations for future infrastructure investment and job creation."
Amazon said it evaluated each of the proposals based on the criteria outlined in the request for proposal (RFP) to create the list of finalists that will continue on to the next stage.
Over the next couple months, the company said it plans to work with each of the candidate locations to dive deeper into their proposals as well as evaluate the feasibility of a future partnership that can accommodate the company's hiring plans. Amazon added that it expects to make a final decision this year.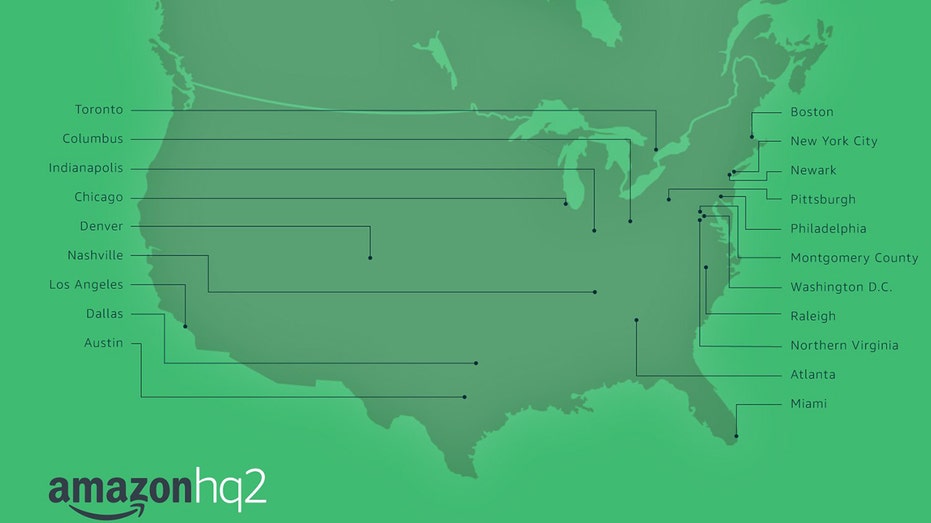 Amazon's new HQ2 will be a complete headquarters, with plans to invest over $5 billion and create as many as 50,000 high-paying jobs.
But not everyone is vying to become the new home of the retail giant. In October, Little Rock, Arkansas took out a full-page ad in The Washington Post to let the company know, it's simply not interested.
"Dear Amazon: It's not you, it's us," the city wrote in the ad.
"When we started really thinking about what our future would look like, we realized it would probably never work out between us. You want 50,000 employees for your new campus. We have a sizable, resourceful workforce, but if we were to concentrate them here, it would be a bummer. Our lack of traffic and ease of getting around would be totally wrecked, and we can't sacrifice that for you."
However, despite the withdrawal, the city ended by saying if any other expansion opportunities come up in the future, to "give them a call."
Here is the list of the 20 metropolitan areas that are moving to the next phase (in alphabetical order):
- Atlanta, Ga. - Austin, Texas - Boston, Mass. - Chicago, Ill. - Columbus, Ohio - Dallas, Texas - Denver, Colo. - Indianapolis, Ind. - Los Angeles, Calif. - Miami, Fla. - Montgomery County, Md. - Nashville, Tenn. - Newark, N.J. - New York City, N.Y. - Northern Virginia, Va. - Philadelphia, Pa. - Pittsburgh, Pa. - Raleigh, N.C. - Toronto, Ontario - Washington, D.C.