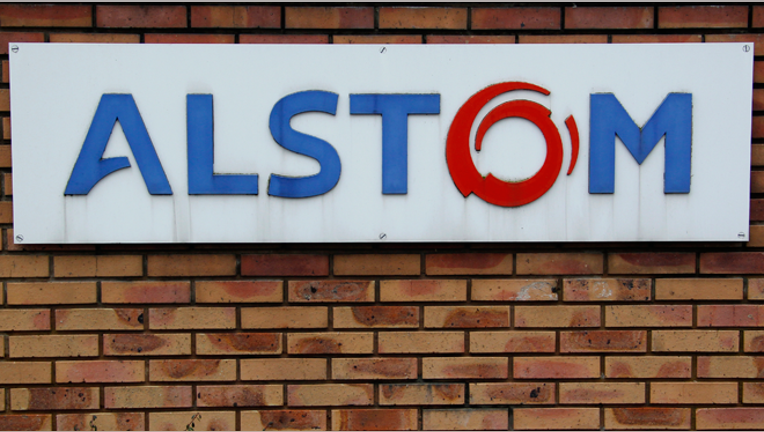 Shares in Alstom jumped more than 14 percent on Thursday after a report that U.S. conglomerate General Electric was in talks to buy the struggling French turbine and train maker for about $13 billion.
The companies may announce the deal as early as next week, Bloomberg cited people with knowledge of the matter as saying in a report late on Wednesday.
If confirmed, a takeover offer from a foreign company would raise eyebrows among politicians and unions in France, where Alstom employs around 18,000 staff, or 20 percent of its global workforce.
The group was bailed out by the French state a decade ago and has strongly relied on orders from national rail operator SNCF and utility EDF.
A deal, which would be GE's biggest ever and would hand it control of Alstom's high-speed TGV trains and rail-signal technology, has the support of Bouygues, Alstom's biggest shareholder with a 29 percent stake, the report said.
Alstom, which has put its transport division up for sale in an attempt to fill a hole in its balance sheet, said on Thursday it was "not informed of any potential public tender offer for the shares of the company" and promised an update on its options when it releases annual results on May 7.
Bouygues, which will hold its annual shareholder meeting later on Thursday, would not comment beyond saying that it supported Alstom's strategy but did not have control over the company. A GE spokesman declined to comment.
Before the GE bid report, Alstom shares had slumped 20 percent in the past 12 months on concerns over its cash flow. Those concerns prompted Bouygues to take a $1.9 billion writedown on its Alstom stake in February.
Analysts at Espirito Santo investment bank said that at an enterprise value to forecast 2015 EBITDA multiple of 9.6 and a premium of 27 percent to Wednesday's close, the price GE was reported to be offering still represented a 14 percent discount to the rest of the European capital goods sector.
Alstom shares were up 14.5 percent at 27.88 euros at 1143 GMT, short of the reported offer price, which works out at around 30.5 euros per share.
Alstom has been hit hard by Europe's economic weakness and a drop in orders for power equipment from utilities, which in turn are suffering from low electricity prices. Its train business has held up better and secured record orders.
The group, which has a market capitalisation of about $10.37 billion, announced 1,300 job cuts last year and put assets up for sale to raise cash, including a stake in its transport business, which makes France's prized high-speed TGV trains.
Alstom's transport chief told Reuters in February the group may use an initial public offering (IPO) to sell a stake in the business as early as June if a trade buyer could not be found sooner. It was unclear at this stage what impact a potential deal with GE would have on the unit.
INDUSTRIAL SENSE
Several analysts said a tie-up made industrial sense, as GE had the cash Alstom needed and a deal could help the U.S. group get infrastructure assets cheaply and make cost savings in power generation. For instance, GE is looking to expand in smart grid technology, where Alstom is a strong player.
Nomura's Daniel Cunliffe stressed a deal would also help Alstom strengthen its finances at a time when it is under investigation by the U.S. Justice Department for alleged bribery and as a result could face a heavy fine.
"GE is a big company with big cash flow. Alstom is under greater pressure than the market appreciates, especially due to the DoJ investigation," Nomura's Cunliffe said.
"The question I have is will the French government allow Americans to take over a power and rail company given infrastructure is so critical to the French economy?"
French Prime Minister Valls told reporters during a visit to a rubber factory near Paris that he would not comment on rumours but, as with other big French companies, the government would keep a close watch on jobs, technology and decision-making.
No one could immediately be reached for comment at the office of Arnaud Montebourg, France's Economy Minister in the freshly reshuffled Socialist government.
Montebourg, known for attacking big business and the European Commission, last year intervened to prevent Yahoo from taking over French online video-sharing site Dailymotion from telecoms operator Orange.
GE is targeting acquisitions in the $1 billion to $4 billion range, although it would consider spending more if the deal was "absolute strike zone," Chief Financial Officer Jeff Bornstein said in an interview last week.
Chief Executive Jeff Immelt is seeking to increase the company's profit contribution from its industrial manufacturing businesses, while reducing exposure to its GE Capital finance unit.
The U.S. company's shares have fallen 5.7 percent so far this year, underperforming a 1.5 precent rise in the S&P 500 index.