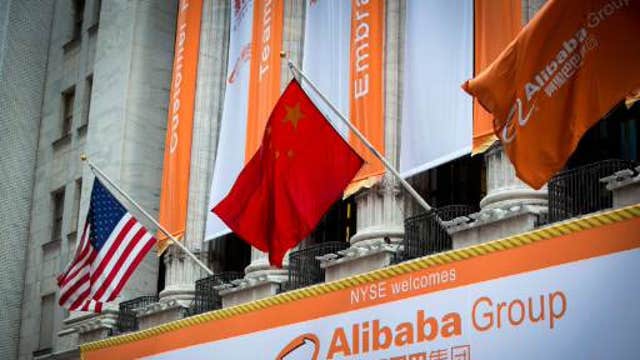 Chinese e-commerce giant Alibaba (NYSE:BABA) closed at $93.89 in its Friday debut, after opening at $92.70 and up 38% from initial offering price of  $68 per share. Releasing 320 million shares, Alibaba raised $21.8 billion, surpassing Visa to become the largest U.S. IPO ever.
"Going in we knew the stock was priced to sell and anticipated a pop," said Dan Stefan, senior IPO analyst at private capital research firm Privco. "Our analysis gave us a fair value of $100 and we see room to grow given the strategic acquisitions, investments and profit sharing partnerships the company has made."
"I feel excited and honored and I also feel very humbled," Executive chairman and founder Jack Ma told FOX Business in a televised interview. "It's a great blessing from the world and we are so excited by the trust we got today."
Ma personally owned 9% of Alibaba before the offering, and sold 12.8 million shares in the IPO. A marked change from his salary in his schoolteacher days, Ma says he does not plan to increase his expenditures with his billions. "The money I got, it's the trust of people in me. They think I can spend money better than most people."
Alibaba closed the day with a market value of $231 billion, above U.S. rivals like Amazon (NASDAQ:AMZN) and eBay (NASDAQ:EBAY), but beneath Google (NASDAQ:GOOGL).
Alibaba's largest shareholders include Japanese telecommunications corporation SoftBank, which owned 34% pre-IPO and Yahoo (NASDAQ:YHOO) which had a 22% stake, but reduced it to 16% in the IPO. Yahoo's market cap has been closely linked to its Alibaba investment.
"We congratulate our partners at Alibaba on completing today's well-received IPO. Yahoo has enjoyed a nine year relationship with Alibaba, and we remain major investors in the company," said Yahoo CEO Marissa Mayer, in a statement.
Companies in the IPO pipeline will be watching Alibaba closely and a favorable trading performance could encourage other firms to list right now. Large offerings like Alibaba are considered a bellwether for the "IPO window."
In recent years, U.S. investors were skeptical of Chinese IPOs, following several accounting scandals. But increased scrutiny has led to renewed investor confidence in Chinese stocks, with new Chinese listings performing better than any other segment of the market this year.
Some are speculating that Alibaba, which has seen remarkable growth in its fifteen years as a company, will use some of the proceeds from the offering to be more acquisitive, buying up startups to expand its presence in the U.S.
In addition to the $21.8 billion raised in its offering, the company could stand to gain $25 billion if the full over-allotment is exercised. It would then surpass the Agricultural Bank of China to become the largest IPO in the world.
The IPO was led by Credit Suisse, Deutsche Bank, Goldman Sachs, JP Morgan and Morgan Stanley. Rothschild also served as an independent equity advisor to the company.