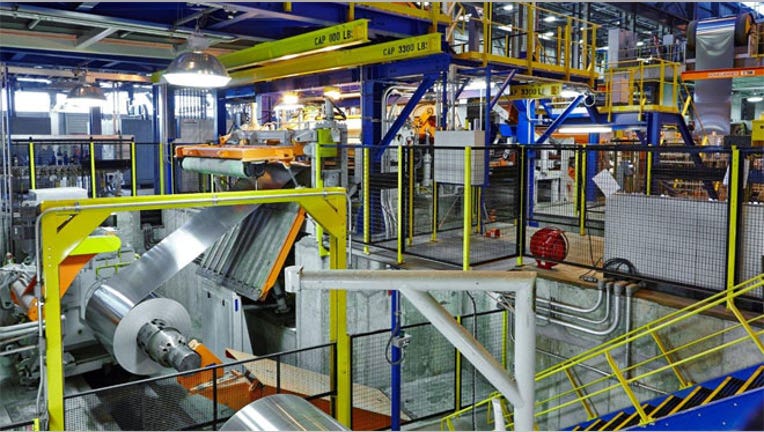 Alcoa (NYSE:AA) returned to profitability in its fiscal second quarter, driven by stronger results for the company's metals business.
The results beat Wall Street expectations. Shares of Alcoa, which kicks off the unofficial start of earnings season, jumped 1.4% to $15.06 in after-hours trading.
The aluminum maker said Tuesday it earned $138 million, or 12 cents a share, compared to a loss of $119 million, or 11 cents a share, in the year-ago period. Adjusted to exclude one-time items, per-share earnings climbed to 18 cents from seven cents.
Revenue ticked lower to $5.84 billion but still topped a consensus estimate of $5.66 billion. Analysts were looking for adjusted earnings of 12 cents a share.
Alcoa is considered an economic bellwether, and its earnings are closely watched. In recent quarters, the Pittsburgh-based company has benefited from stabilizing prices for aluminum. Alcoa shares have rallied 39.7% since the start of the year.
Alcoa is also working to broaden its portfolio beyond aluminum, expanding its footprint in aerospace and automobiles.
Last month, Alcoa reached a deal with Oak Hill Capital Partners to buy Firth Rixson, the maker of jet engine parts, for $2.85 billion. Alcoa, which already makes a wide array of airplane parts, expects sales at Firth Rixson to increase 12% annually through 2019.
"Our second quarter results prove Alcoa's transformation is in high gear," Alcoa chairman and chief executive Klaus Kleinfeld said in a statement. "We are taking the downstream business to new profitability heights, capturing midstream demand as auto lightweighting accelerates, while continuing to relentlessly improve upstream performance."
In the latest period, Alcoa's engineered products unit booked operating income of $204 million, a 5.7% improvement year-over-year. Alcoa saw higher volume across all businesses.
The metals segment, which includes raw aluminum, recorded an operating profit of $97 million, swinging from a loss of $32 million. Average realized aluminum prices grew 2.4%.
Global rolled products continued to capture automotive demand, Aloca said. The unit's operating profit increased $20 million to $79 million.
Alcoa reiterated its projections for aluminum demand and growth in the global aerospace industry. The company hiked its outlook for North American commercial transportation, saying the market will expand 10% to 14% amid rising truck orders. Alcoa previously called for growth of 5% to 9%.