Alabama-Clemson Football: Thrilling Upset, But TV Ratings Sink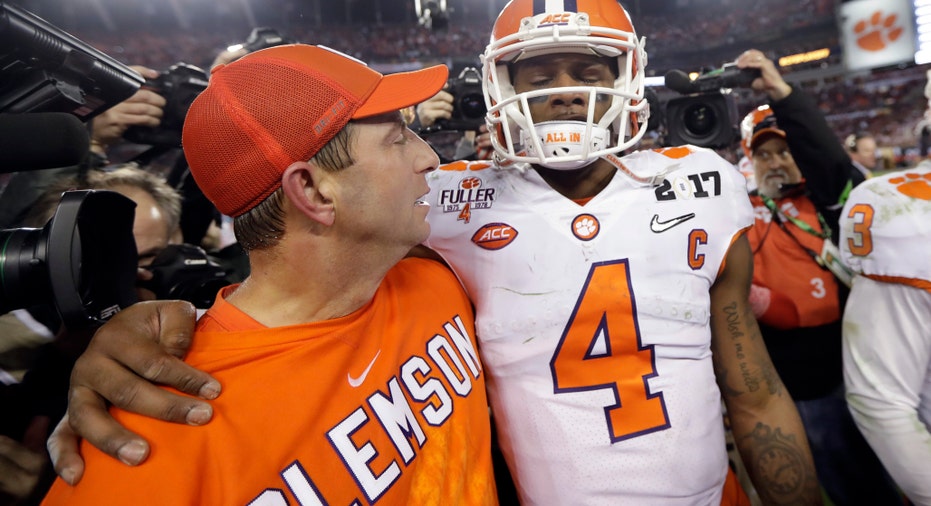 The Clemson Tigers' last-second comeback victory over the Alabama Crimson Tide gave the NCAA a national championship game for the ages, but it couldn't prevent ESPN's television ratings from falling short.
Clemson's 35-31 win in Monday night's College Football Playoff championship rematch drew an overnight household rating of 15.3. That number is down compared to last year's title game, when the Alabama-Clemson clash drew a 15.8 rating. The inaugural College Football Playoff final in 2015 earned a household rating of 18.5.
In terms of overall viewership, this year's Alabama-Clemson game drew 26.03 million viewers across all ESPN channels and streaming services. That total is down slightly from last season's championship game audience of 26.71 million viewers.
Tigers quarterback DeShaun Watson connected for a 2-yard touchdown pass to Hunter Renfrow with one second remaining on the clock to clinch Clemson's victory. Watson finished the game with 420 passing yards and three touchdowns.
Overall, the 2017 College Football Playoffs, composed of the semifinals and finals, drew a 12.7 overnight rating, according to ESPN. The three-game average is an 8% increase over last year, the network said. Collectively, the games drew an average audience of 22.23 million viewers.
Clemson's upset victory earned a record audience on ESPN's streaming services, with an average audience of 710,000 viewers and more than 2.4 million unique viewers.
This story has been updated with final viewership totals.