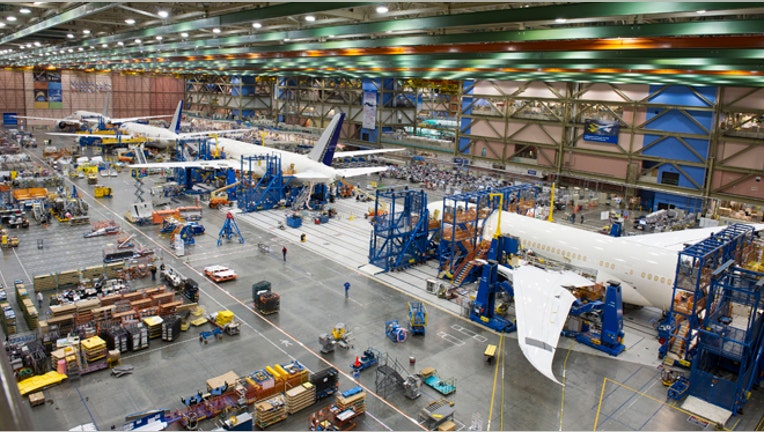 Airbus's summer sales campaign with the new A330neo airliner has triggered warnings of potential oversupply in the wide-body market and of a bruising price battle as the older-generation model undercuts rival Boeing's 787 Dreamliner.
Two weeks after Airbus announced a revamp of its A330 at the Farnborough Airshow, the battle for wide-body sales is heating up as Delta Air Lines seeks to renew part of its fleet.
The head of the U.S. carrier is so confident of getting a bargain he began negotiating in public, saying he would take the A330neo for barely a third of its $275 million official price.
His "high 70s, low 80s" bid was below the market value of such jets - but not by a massive margin, analysts said.
The aerospace industry is focusing on squeezing the maximum life out of existing products following some expensive upsets, including delays and technical problems on the 787 and Airbus's A380 superjumbo.
Airbus has upgraded the A330, and Boeing has updated its larger 777, even as both companies pour billions into developing next-generation models such as the 787 and the forthcoming A350.
But big jets bring proportionally bigger risks.
Now a debate is growing over whether the airline market can absorb the industry's older models at the same time as state-of-the-art new ones. That, analysts say, could have a bearing on pricing and margins right across the industry.
"I think particularly in the wide bodies, the market is looking overheated. The herd is running, and the A330neo is the latest example: the market wants the airplane," said Jerrold Lundquist, managing director of the Lundquist Group, who advises private equity investors in aerospace. "There appears to be demand for it now, but it just adds to the ordering."
Such warnings come on top of investor concerns that a recent boom in aircraft demand is peaking, causing the sector to lag global stocks by 4 percentage points since Farnborough.
"If everyone persists in going full throttle, there could be serious problems at the end of decade," said Richard Aboulafia, vice-president at Virginia-based consultancy Teal Group.
Airbus and Boeing, the world's only manufacturers of large jets, both dismiss talk of an aircraft 'bubble'.
Over the next 20 years, they both see room for over 4,500 jets worth $1 trillion in the 250-300 seat category, where most A330s and 787s are sold. That makes it the largest part of the wide-body jet market by volume and vital to their business.
Buyers of the A330neo and 787 say there is room for both.
"I think there is a nice match. Is it a perfect match? That depends on the how the world economy goes, but when we look at the supply-demand curve, it looks fine to us," said Jeff Knittel, president of U.S. lessor CIT Transportation.
The aircraft may indeed find homes, analysts say, but the question is at what price and whether both planemakers can meanwhile preserve pricing power for their newer jets.
Airbus says it can sell its A330 for 25 percent less than a 787 - the main 787 model is worth $257 million at list prices - and that it can do this without eroding sales of its own A350.
Boeing's business case for the 787 assumed a large premium for carbon-fiber technology over previous metallic jets. It says it can compete with the A330 on value rather than lower prices.
"We think what customers are really interested in is efficiency and lower operating costs in the long term. Operating costs that you pay day in and out are what drive profitability year in and out," said John Wojick, senior vice president, global sales & marketing, at Boeing Commercial Airplanes.
BOEING OPTIONS
Behind the scenes, many say Boeing is in a mood to fight.
It is expected to compete aggressively to prevent strategic customers from choosing the A330neo over the 787 and trimming its market-share advantage for high-margin, long-haul jets.
To win some flexibility, Boeing may change tactics by introducing segmented 787 pricing to offer discounts to airlines that don't need the aircraft's long range.
But the A330's refusal to die may also force Boeing to renew an attack on costs within the company and its supply chain so that it can shave prices further without sacrificing margins.
Even then, Boeing is expected to look seriously at whether it needs to increase supplies of the 787 to avoid being left out of the market, as Airbus seeks to add to 127 provisional sales.
Boeing is producing 10 787s a month. It plans to increase this to 12 a month in 2016 and 14 by the end of the decade.
Its options include accelerating that build-up or adding an extra step in order to bring production as high as 16 a month.
Some industry-watchers do not rule out a cautious increase in overbooking. The practice of selling more than you make to insure against default is widely used in smaller jets, but is rare for bigger models because they are harder to switch around.
Boeing's Wojick declined to comment on specific options.
His Airbus counterpart John Leahy said he was "not at all" worried about the A330neo destabilizing margins or supplies.
"In 2008/9 people were heralding cuts in aircraft production of 35 to 45 percent; they were absolutely certain production cuts were required. What happened? Production wasn't cut."
Despite the concerns, some analysts say the jet market, once subject to wild swings, itself has the means to prevent a glut.
Recent output delays have left some older aircraft flying and their retirement would help absorb the new supply, said Adam Pilarski, senior vice president at U.S. consulting firm Avitas.
Despite bitter exchanges at the air show, he doubted Airbus and Boeing would allow themselves to slip into a price war of the kind many people believe they have waged on smaller jets, where they face not just each other but also new competition.
"If Airbus and Boeing have rational thoughts, they should realize there is no competitor there. So why worry, why fight?"