After T-Mobile Deal, What Now for Sprint?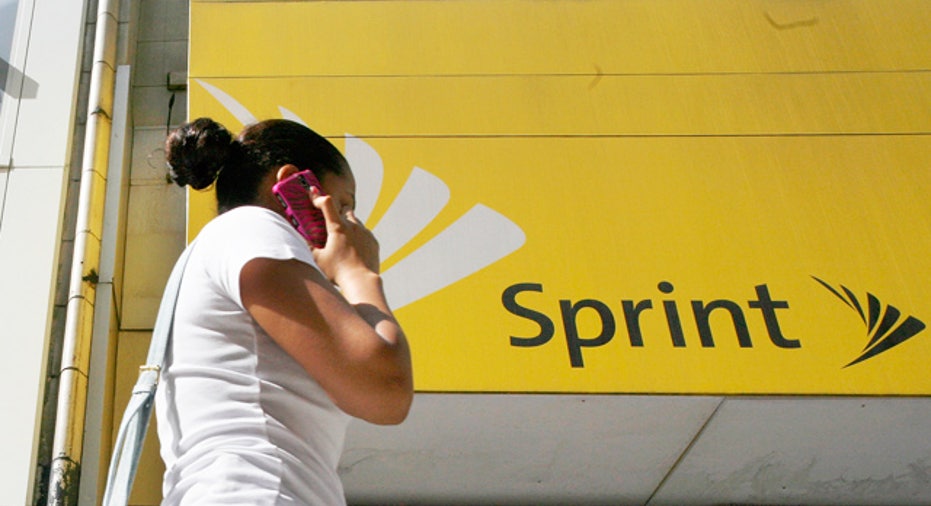 AT&T's (NYSE:T) surprise $39 billion takeover of T-Mobile has left Sprint Nextel (NYSE:S) reeling by removing a potential dance partner and shoving it even further away from the leaders of the pack.
The rapidly-changing landscape in the wireless market appears likely to force Sprint to assess its options, which include buying smaller rivals or positioning itself to eventually be acquired by a wireless carrier or even a cable company.
Sprint appears to be the loser in the T-Mobile deal, which if approved by regulators, will give AT&T nearly 130 million subscribers. That's more than a third more subscribers than Verizon Wireless, the No. 2 player in the industry, and towers over Sprint's 50 million.
"They've got to be kind of panicky about what's going to happen and looking at their options," said Jeff Muscarella, executive vice president of IT at NPI Financial.
Underscoring those jitters, Sprint's stock on Monday took its biggest plunge since March 2009, diving 13.66%. The stock recovered by about 2.5% on Tuesday.
The T-Mobile sale to AT&T took Sprint CEO Dan Hesse off guard as his company had hoped to merge with T-Mobile as a way to catch up with its rivals.
Hesse has been in the process of turning around Sprint, which had been plagued by poor customer service and mass subscriber defections. The No. 3 wireless provider has also struggled to bounce back from its failed $35 billion merger with Nextel, which has been regarded as one of the worst of the previous decade.
"He's played the best hand he can with the cards he was dealt. He came into a very bad situation," said Dick Martin, a former AT&T exec who keeps in touch with Hesse.
What's Left After T-Mobile?
Hesse's next major decision may be whether it should bulk up in an attempt to become more competitive against the industry leaders or to better position Sprint to be bought out.
"Although the AT&T / T-Mobile USA deal removes the option of Sprint partnering with T-Mobile, it still has other avenues," Raymond James analyst Ric Prentiss wrote in a note upgrading Sprint's stock to "strong buy" from "outperform."
Now that T-Mobile is off the table, Sprint could look to gain scale by snatching up smaller players such as Metro PCS (NYSE:PCS), Leap Wireless (NASDAQ:LEAP) and U.S. Cellular (NYSE:USM).
Buoyed by the $39 billion price tag on T-Mobile and the potential to become takeover targets of Sprint, all three companies' stocks soared on word of the deal.
San Diego-based Leap, which has a market cap just north of $4 billion and caters to low-cost customers, was the biggest winner amid the speculation, surging nearly 16% Monday in its biggest one-day gain since November 2008.  The company was spun off from Qualcomm (NASDAQ:QCOM) in 1998 and now has more than 5 million customers in 35 states.
MetroPCS, which had just over 8.1 million customers as of the end of 2010, has a market cap of $5.5 billion and also caters to down market customers. There's also Chicago-based U.S. Cellular, which has 6.1 million customers and runs on Sprint's CDMA technology.
Prentiss predicted Sprint could enter into network-sharing agreements with Clearwire (NASDAQ:CLWR), which it owns a majority stake in, and/or Lightsquared. Each of those companies are looking for capital and a greater relationship with Sprint could eventually lead to a buyout.
"This type of arrangement would be a win-win for all parties as Sprint would receive cash from its partners and Clearwire/LightSquared would save significant" capital expenditures, Prentiss wrote.
Schwark  Satyavolu, CEO of BillShrink, which helps consumers find savings on bills such as wireless plans, suggested Sprint could decide to invest more heavily in the prepaid market.
"There's an opportunity for them to go after that area and really become the pre-eminent player," said Satyavolu
Will Sprint Be Forced to Sell?
While gobbling up smaller competitors could help Sprint bridge the gap to AT&T and Verizon Wireless, the acquisitions may also just be aimed at making it a more attractive takeover target.
"We also believe there are interested parties in possibly acquiring Sprint, including wireless carriers, landline providers, or even cable companies," Prentiss wrote.
The obvious suitor would be Verizon Wireless, which is a joint venture between Verizon Communications (NYSE:VZ) and Vodafone (NYSE:VOD).
However, Verizon Wireless CEO Daniel Mead told Reuters this week his company "is not interested in Sprint," adding, "We don't need them."
Of course, that could change depending upon how the next few quarters go for Sprint, which has a market cap of $13 billion.
"If they keep losing subscribers and shrinking, those smaller players may be their only bet or at some point they become cheap enough where Verizon says, 'Sure what the heck,'" said Muscarella.
The cable route is also intriguing as operators like Comcast (NASDAQ:CMCSA) have been eyeing wireless companies as a way to increase their distribution networks.
However, Comcast, the No. 1 U.S. cable operator, may have its hands full integrating NBC Universal after paying General Electric (NYSE:GE) $13.8 billion for the parent of NBC and USA Network.
Lobbying Fight Set to Kickoff
While Sprint weighs its takeover targets and prospects, it will certainly be turning much of its attention to the looming regulatory battle in D.C. over AT&T's purchase of T-Mobile.
Sprint will be up against some serious political resistance as AT&T has given $46 million to politicians since 1989, making it the No. 1 corporate donor to Congress, according to the Center for Responsive Politics.
"They're going to be making a big effort to make their lobbying effort appear humble, while behind the scenes they are working at every lever they have. And they have a lot of levers," said Martin.
If the deal is given the green light by both the Federal Communications Commission and Department of Justice, as many industry insiders believe it narrowly will be, AT&T will likely need to make significant divestitures.
Sprint will need to be there to pick up the pieces, which are likely to include customers, wireless spectrum and cell towers, especially in rural areas.
"They'll do everything they can to make sure they get something out of this deal if it goes through," said Martin.
Yet considering the ground Sprint will have to make up, and its acquisition prospects, those pieces may just be scraps.